John, when is the best time to sell my Boston condo in 2023?
Loading...
John, when is the best time to sell my Boston condo in 2023?
If you're thinking about selling your Boston condo, you should know the number of homes for sale right now is low. That's because, this season, there are fewer sellers listing their houses for sale than the norm.
Looking back at every April since 2017, the only year when fewer sellers listed their homes was in April 2020, when the pandemic hit and stalled the housing market (shown in red in the graph below). In more typical years, roughly 500,000 sellers add their homes to the market in April. This year, we saw fewer than 400,000 sellers entering the market in April (see graph below):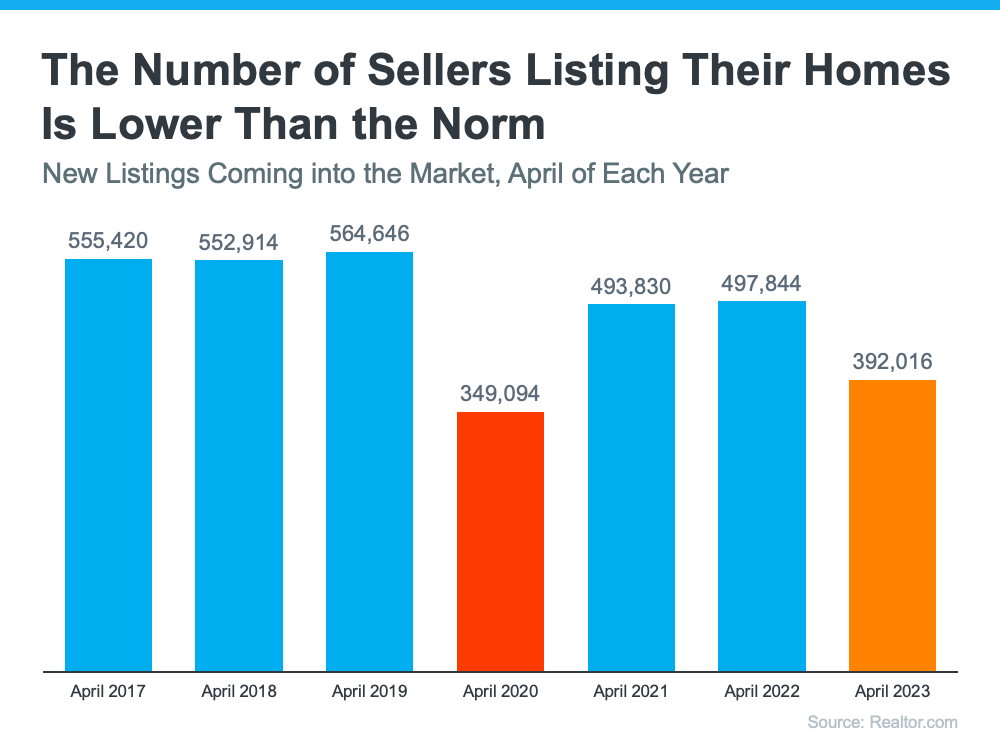 While there are a number of factors contributing to this trend, one thing keeping inventory low right now is that some homeowners are reluctant to move when the mortgage rate they have on their current house is lower than the one they could get today on their next house. It's called rate lock.
As a recent survey from Realtor.com explains, 56% of people who are planning to sell in the next 12 months say they're waiting for rates to come down.
While this wait-and-see approach is right for some sellers, it also creates an opening for more eager sellers to jump in now.
If your current house truly doesn't fit your needs anymore and you're ready to move, don't miss this chance to stand out. When fewer sellers are putting their homes up for sale, buyers will have fewer options, so you set yourself up to get the most eyes possible on your house. That's why your house could see multiple offers as buyers compete over the limited supply of homes for sale – especially if you price it right.
As Lawrence Yun, Chief Economist at the National Association of Realtors (NAR), says:
"Inventory levels are still at historic lows . . . Consequently, multiple offers are returning on a good number of properties."
If you're ready to sell now, beat the competition before it comes onto the market. If you do, your house should stand out and could get multiple offers. Let's connect to get you market ready.
___________________________________________________________________________________________________________________________________
If you're planning to sell your Boston condo this spring, get moving. A new report from Zillow says listing it on a Thursday in late April will reap you the greatest reward. 
While homes are selling fast year-round, homes listed in the spring bring in the highest sale prices, according to the report and homes listed in the second half of April could sell for 2.8% more or about $9,300.
Listing a home on a Thursday seems to generate the most interest ahead of the weekend and can sell for $1,100 more. 
The best time to list a home in Boston is late March which could have a potential sale price difference of $13,100. The worst time to list is early December. 
While homes continue to sell quickly year-round, it's in the spring when home sales bring the best results for sellers. The report found listing a home at the best or worst time can impact sales prices by as much as $21,000.
"With inventory as low as it is, home sellers can expect a quick sale pretty much year-round," said Zillow economist Nicole Bachaud. "Even as frantic buyers are snapping up homes days after they hit the market and often bidding them up above list price, there is still value to be had by listing a home during the right time of year, which is in the spring in most cases. This is a friendly market for sellers, but those who are simultaneously buying need a firm grasp on the right tools and strategies to win their next home."
Loading...
John, when is the best time to sell my Boston condo in 2022?
In this episode, Byron and Nicole discuss The Most Popular Time to Search for Homes, the savagely unhealthy housing market, and why the housing market is so competitive.
John, when is the best time to sell my Boston condo in 2022?
As you can see below, in this chart of top real estate markets by population, there is quite a bit of variety depending on location:
| City | Best day of the week for a quick sale | Best week for a quick sale | Best day of the week for an above-list sale | Best week for an above-list sale |
| --- | --- | --- | --- | --- |
| New York, NY | Wednesday | December 23-29 | Wednesday | December 23-29 |
| Los Angeles, CA | Thursday  | February 25-March 3 | Thursday  | April 22-28 |
| Chicago, IL | Thursday  | February 4-10 | Thursday  | February 18-24 |
| Dallas-Fort Worth, TX | Thursday  | March 18-24 | Thursday  | March 18-24 |
| Philadelphia, PA | Thursday  | December 23-29 | Thursday  | April 1-7 |
| Houston, TX | Thursday  | January 21-17 | Thursday  | March 25-31 |
| Washington DC | Thursday  | February 18-24 | Wednesday | March 18-24 |
| Miami-Fort Lauderdale, FL | Sunday | December 23-29 | Thursday  | May 13-19 |
| Atlanta, GA | Thursday  | February 25-March 3 | Thursday  | May 13-19 |
| Boston, MA | Wednesday | March 18-24 | Wednesday | April 8-14 |
Seasonality affects when to sell a house
Spring is typically the best time of year to list your home for sale — at least in the years before the pandemic-fueled housing boom. It's when buyers tend to come out of winter hibernation and hit the market in droves. 
It remains an open question whether 2021 will bring a return to normalcy in that sense. It's likely that seasonality in the housing market will remain in some form, even if the changes from season to season are less dramatic than in the past.  
Selling a house in the spring
As you can see from the trends above, people tend to shop for homes as the weather gets warmer, so prepping your home in the winter months to sell in spring usually makes sense. With tax refunds in their pockets, nicer weather for moving in the forecast, and summer break from the kids' school coming up, it's easy to see why spring is typically the most popular time to buy and sell.
Loading...
______________________________________________________________________________________________________________________________________________________________________________________________________________________________________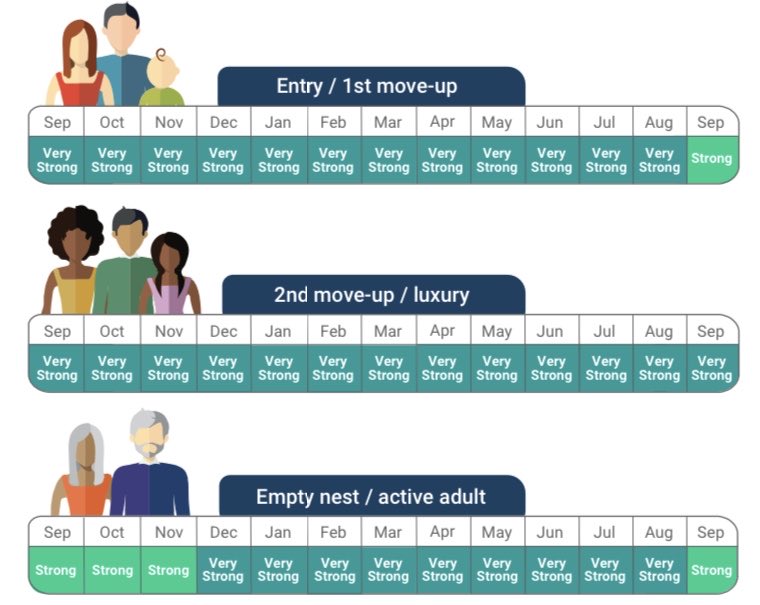 School is back in session and the holidays are right around the corner – it's the time of year that potential home sellers start looking forward to the next selling season, instead of moving in September/October.
Are you thinking of waiting until 2022? Here are my reasons for selling now, instead of later:
1. The Shine Is Off The Frenzy.  Those who are pulling back on their enthusiasm:
JBREC – Two of the three buyer categories are down slightly (above chart).
CoreLogic – they only predicted a gain of +9.1% in San Diego pricing over next 12 months, which is way less than the +23.7% since last July. Don't be surprised if +9% becomes the new +3% of predictions – it's a lot higher than the previous safe bets without being double-digit.
Zillow Offers – backtracking 5% on price commitments made 2-3 weeks ago.
Navy Fed – suspended the issuing of home-equity loans 'temporarily'.
Refi appraisals – heard of several appraisals coming in low as market softness creeps into their minds.
2. Interest rates – They have nowhere to go but up, and it's just a matter of when. Once they start, home buyers will want something in return from sellers.
3. Boomer liquidations – There probably won't be a mass exodus, but all you need is 2-3 on your street.
4. Fewer Fix-Ups – The current inventory is so thin, sellers are getting away with murder now. If there was an index that measured how close sellers got to selling 'as-is', we'd be setting records today.
5. Safe – You know what you can get today, and let's admit – it's a lot higher than it used to be. Cashing out now instead of risking any of the above getting worse in 2022 is the safe bet. How much are you hoping to hold out for next year? Another 2% or 3%?
When is the best time to sell? When everyone else isn't!
Boston Condos for Sale 2021
Loading...
Click Here to view: Google Ford Realty Inc Reviews
_______________________________________________________________________________________
Loading...
I'm often asked by downtown Boston real estate owners when the best time is to sell. And it seems like all bets are off these days amidst the pandemic.
The busiest times in Boston real estate market—when many homeowners tend to list their properties—are traditionally the Spring and Fall. The weather is good, there are plenty of condo buyers out there and there are no major holidays to distract everyone.
But there can be stronger competition at peak times, with more inventory on the market that can swing buyers away from your home. For example, being one of only a handful of nicely presented condos on the market can result in more offers for you.
Though you should take seasonal aspects into concerns, it's equally important to determine the best time to sell specifically for you. And you'll need a solid game plan. Here are the main factors you'll need to sort out:
– Where will I go if I sell my downtown condo?
– Can I buy my next home first, and sell after?
– How long it will take to sell my property?
– How much is my property worth, and how much will I need for my next purchase?
– What will I have to do to get my property ready for sale?
– What are the main selling costs?
As it takes time to develop your game plan, I recommend getting started at least a couple of months prior to your targeted selling timeframe. One of the primary parts of my job is to consult with potential  Boston condo sellers about the aforementioned factors. If you're considering selling in 2021, please contact me at 617.595.3712 or realtyford@yahoo.com. I'd be happy to do an initial consult to help point you in the right direction.
Loading...
Click Here to view: Google Ford Realty Inc Reviews
Loading...