InterContinental Boston high-rise condos
Are you on the hunt for a Boston condominium with a prestigious address? Do you want to know what kind of Boston condo you can buy at the prestigious InterContinental Boston? Look no further! We've got you covered with the comprehensive guide to explore the InterContinental Boston Condos: Prices and Number of Condos. From financial details to design features, we'll help you decide if the InterContinental Boston is right for you.
Let's jump right into it. The InterContinental Boston offers a selection of luxury condos with spectacular views of the Boston Harbor and city skyline. Prices for these condos start at $1.3 million and can reach upward of $10 million for the grand suites. The condos range from one to three bedrooms, with modern finishes and ample living space. There are also several penthouse suites available with larger floor plans, perfect for those looking to upgrade or invest in a luxurious lifestyle.
And while there are close to 500 condos in the InterContinental Boston building, availability each month may vary depending on the market. To help you out, we will provide up-to-date listings of available condos with the associated prices. This way you can explore pricing trends, as well as compare options to find the right fit for your budget and lifestyle.
So, if you're ready to take the plunge and invest or upgrade your lifestyle with a premium condo at an exclusive address, check out our guide to explore the InterContinental Boston Condos: Prices and Number of Condos!
Quick Insight
The prices of InterContinental Boston condos vary, but there are currently more than 300 condos available. Please contact the InterContinental Boston sales team for more information about current availability and pricing.
Introduction to the InterContinental Boston
The InterContinental Boston has quickly become the benchmark for luxurious living in the heart of Boston. Located just steps from the waterfront and all some of the city's best attractions, these condominiums are nothing short of spectacular.
Residents of the InterContinental can enjoy condo units appointed with sweeping floor plans, beautiful views and luxurious amenities. From a full-service health club to an infinity-edge pool, it's hard to find something that isn't offered here. On top of that, owners have access to on-site meetings, personalized concierge services, and 24-hour security.
This development is ideal for those looking for both convenience and luxury living in one package. Of course, the InterContinental comes with its share of drawbacks. Residents must pay homeowners fees that cover such things as water, landscaping and maintenance fees. Additionally, since it is located in such a prime location, parking can be hard to come by at times.
But whatever flaws exist in this expansion are overshadowed by its many benefits. Few real estate developments offer such comprehensive amenities packages in an ideal location like the InterContinental does and that's why so many people are clamoring to experience it firsthand.
Living at the InterContinental Boston offers residents not only convenience but also a luxurious lifestyle fit for any urban dweller. In the next section we will look at prices and discuss how many units are available for sale at the InterContinental Boston Condos.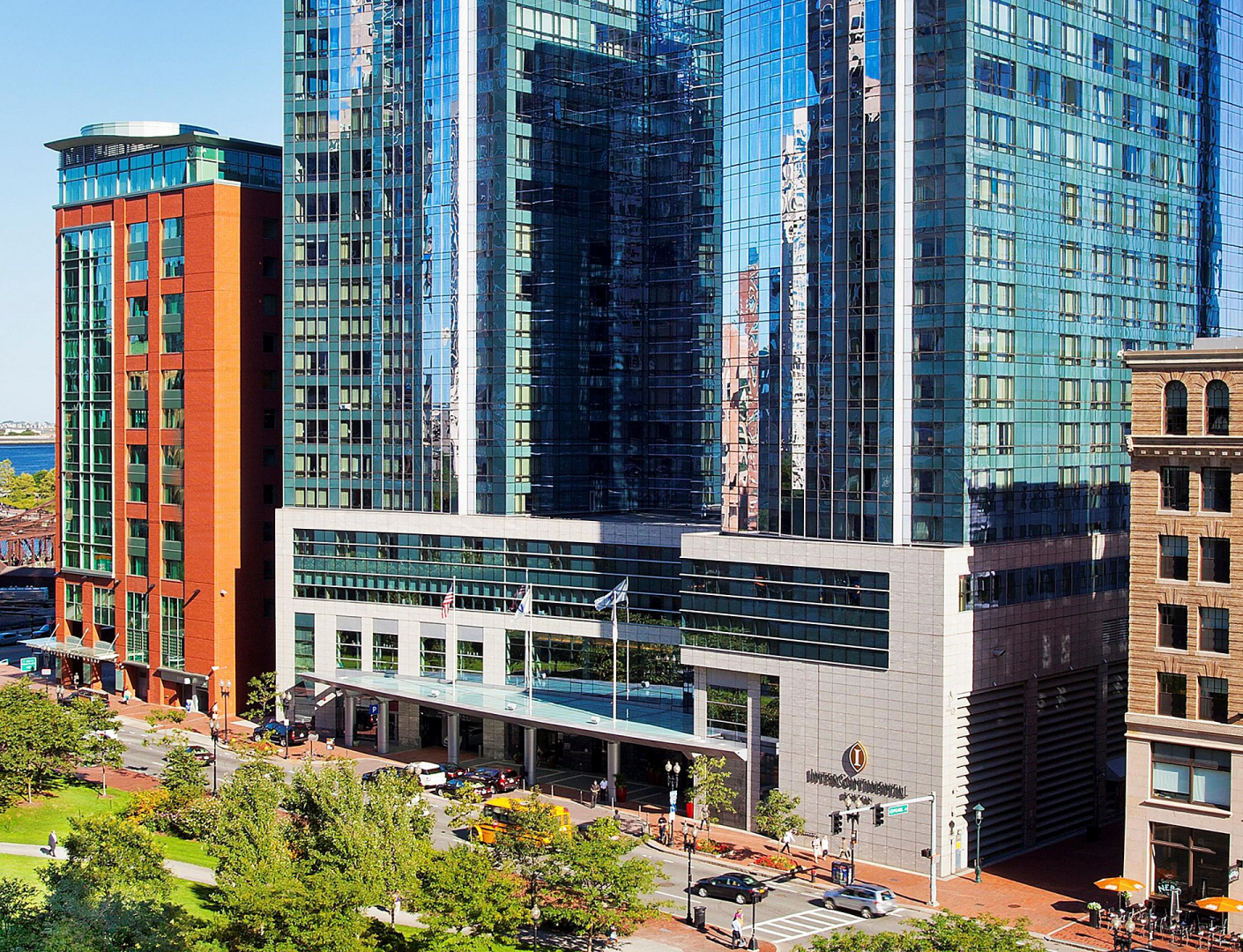 Main Takeaways
The InterContinental Boston Condos offer luxury condominiums in an ideal location near waterfront and attractions. Residents enjoy full-service amenities and concierge services as well as 24-hour security. They may need to pay homeowners' fees and parking can be hard to come by, however the benefits outweigh these drawbacks. Few real estate developments provide such comprehensive amenities packages, making the InterContinental Boston a desirable place to live.
A Luxurious Lifestyle Development in the Heart of Boston
The InterContinental Boston Condos offer luxurious living in the heart of the City. This development offers a truly exceptional environment with properties ranging from studios to penthouses and commercial spaces. Boasting unbeatable views of the city and easy access to downtown and waterfront attractions, the InterContinental Boston makes it a premier choice for those seeking convenience and comfort.
The range and variety of residences available at the InterContinental is highly attractive, especially to those seeking an optimally enjoyable lifestyle. Residents can take advantage of the expansive amenities package, which includes club 18, a fully-outfitted health club; pool-side grille; spa; business center; complimentary transportation and concierge service; 24-hour valet parking; and much more. In addition, most units come with top-of-the-line finishes, chef kitchens, spacious living rooms and stunning cityscape views from floor-to-ceiling windows.
On the other hand, some might argue that prices at the InterContinental Boston are not quite in line with more affordable options around The City That Works. Prices vary widely depending on residence size, but they do tend to be higher than some similarly located developments.
Ultimately, though, the added amenities make all the difference when it comes to choosing The InterContinental Boston. It's an oasis of luxury in a fast-paced atmosphere where peace and quiet can be elusive. With all these features combined, it's no wonder that this development is so popular among buyers looking for something extraordinary in one of America's most exciting cities.
From luxurious lifestyle amenities to superior quality residences, the InterContinental Boston is an impressive highlight of downtown Boston. Next, we'll explore further what types of residences one can find at this award winning development.
According to data from June 2020, the median listing price for a condo at InterContinental Boston was $1,899,950.
The most expensive condo recently on the market at InterContinental Boston listed for $11 million and the cheapest condo listed for $890,000.
Data from Zillow shows that there are currently 383 condos for sale at InterContinental Boston with the average listing price being $2,178,365.
Types of Residences at InterContinental Boston
At the InterContinental Boston, prospective buyers can choose from a variety of residential types. The developer has created three residence collections, each with its own unique features and benefits. The Residences Collection offers one- to four-bedroom units, while the Luxury Collection houses two- to six-bedroom homes featuring stunning ocean views and stunning finishes. Finally, the Signature Collection is the crown jewel of the complex, offering three- to seven-bedroom units with luxurious amenities, such as private terraces and gourmet kitchens.
Each of these residences collections features their own distinctive style and quality construction. The Residences Collection offers traditional styles that are perfect for families, especially those looking for more space and convenience for entertaining. The Luxury Collection has more contemporary finishes and state-of-the-art technology to make life easier, perfect for those accustomed to the finer things in life. Lastly, the Signature collection caters to those who desire luxury living on an entirely different level – with lavish finishes throughout and numerous high-end amenities that are sure to impress even the most discerning purchaser.
Debate:
Advocates of traditional styling might argue that the InterContinental Boston's Residences collection offers enough options to satisfy their needs without veering too far away from what they typically look for when purchasing a home. On the other hand, proponents of modern design may assert that traditional styles are outdated and do not meet today's elevated standards or provide enough eye-catching features within their living space.
No matter which side one may take in this debate, it is clear that there is something for everyone at InterContinental Boston. From luxurious modern features to sleek Contemporary lines and timeless elegance found within the Residences collection – there is sure to be a residence type perfectly suited for any lifestyle.
Now that we have explored the different types of residences available at InterContinental Boston, let's turn our attention to section about the number and size of condos available at this premier development.
Number and Size of Condos Available
The InterContinental Boston Residences offers a unique living opportunity for residents and guests, with 270 condos available for purchase. The majority of these condos range from 500 to 2,500 square feet in size, making it easy for inhabitants to find a unit that meets their space requirements. Not only are there spacious units available, but there is also a selection of smaller units meant to appeal to those seeking a more intimate or affordable home.
Additionally, the InterContinental Boston Residences provides extras to those who wish to purchase one of their larger units. Buyers can opt-in to have private terraces or multiple balconies, allowing them access to an outdoor oasis right in the heart of downtown Boston. Equally as attractive to potential buyers, is the flexibility offered in each condo – these residences allow purchasers the ability to personalize their living space while still following the building's specific design guidelines.
When considering whether to invest in an InterContinental Boston Residence, it's important to note that they offer multiple size and style options, allowing buyers a greater selection of residences than many other luxury properties in the area. This wide variety of choices makes it easier for prospective buyers to find a unit that best meets their needs and budget.
Investing in an InterContinental Boston Residence provides tremendous flexibility for buyers looking for a unique living experience. In the next section, we will explore how this property stands apart from other investments opportunities in the area.
Investing in an InterContinental Boston Residence
When it comes to investing in an InterContinental Boston Residence, prospective buyers may be interested in exploring the various possibilities that the luxurious property has to offer. On one hand, it is worth noting that this iconic property is located in a number of prime locations throughout one of the most affluent cities and neighborhoods in Massachusetts, making it an appealing investment option for many. In addition, this particular building is known for its world-class amenities such as concierge services, private clubs, exclusive restaurants and bars, and more.
On the other hand, prospective buyers should take into account the potential costs associated with purchasing a residence at the InterContinental Boston. These include not only high prices for condominiums but also expensive fees for maintenance and upkeep. Additionally, since the property's value is tied to its prestige and affluence, there is a risk that these features could depreciate over time if they are not actively maintained.
Nevertheless, those considering an investment in an InterContinental Boston Residence will benefit from researching further details such as current pricing and availability given by seasoned brokers and agents. With such information in hand, buyers can make a well-informed decision about their potential purchase. As with any major decision related to finances and investments, conducting ample due diligence is paramount before taking the plunge into ownership at this distinguished property.
It's important to note that although investing in an InterContinental Boston Residence may come with certain risks and drawbacks, sound financial planning can help offset any potential losses or missteps along the way. And now that we have discussed investing in this iconic property, let us move on to examining another important aspect of life at the InterContinental Boston: areas of the property that may potentially appreciate in value over time.
Areas of the Property to Appreciate in Value
When investing in real estate, potential homeowners look for areas of the property where they can expect appreciation over time. The InterContinental Boston offers several features that are likely to see a rise in value in the years to come.
The first feature is the location of the property. Located directly on the water's edge of Fort Point Channel, InterContinental Boston provides direct access to nearby attractions such as Copley Place and South Station. The waterfront location also offers easy access to commuter rail, public transportation, and wellness activities that draw in people from across the Greater Boston area. In addition, residents benefit from close proximity to some of Boston's best restaurants, vibrant nightlife and cultural destinations.
Secondly, many condos at InterContinental Boston feature designer finishes and large balconies perfect for taking in views of both downtown skyline and city harbor. Luxury finishes include high-end stainless steel appliances and stone countertops. The building also offers an expansive fitness center featuring state-of-the-art equipment and shared outdoor terraces with grilling stations and seating areas. These amenities are all likely to see appreciation as potential buyers continue to seek out luxury living in one of the most desirable cities in the U.S..
Finally, it is worth noting that InterContinental Boston is a LEED Gold certified building, making it an environmentally friendly option for those looking for sustainable lifestyle options when choosing a condo to purchase or rent. With conservation efforts continuing to be important for homeowners everywhere, this certification may make this building particularly appealing over time; thus helping drive up its overall value.
These features make InterContinental Boston Condos an attractive option for potential homeowners who want comprehensive luxury living paired with an understanding that their purchase can appreciate in value over time. Moving on, let's take a closer look at the features and amenities of InterContinental Boston that help make it an ideal home base for anyone interested in owning real estate in this dynamic urban environment.
Features and Amenities of InterContinental Boston
When considering the InterContinental Boston, potential buyers can find a plethora of features and amenities that make this luxurious residential building one of the most sought-after places to live in the city. Residents of these condos are treated to excellent views of downtown Boston, as well as interiors featuring high-end finishes and fixtures. Common areas are filled with unique works of art, perfect for hosting gatherings or simply admiring. Some highlights of the building's amenities include two pools, a 24-hour concierge service and valet parking, an on-site spa, and a private screening room.
A debate can be had when it comes to features and amenities that may be deemed necessary by some, but unnecessary by others. For instance, some may argue that having two pools is overkill while others may feel having both an indoor and outdoor pool is a major appeal. Additionally, there is substantial value placed in having a 24 hour concierge as it adds convenience and peace of mind for all residents. Again, one can argue that using services like Uber have made this amenity obsolete. Ultimately however, these features and amenities are a key selling point for many people looking for a luxurious place to live in the heart of the city.
Given the lavish features and amenities available to all residents at InterContinental Boston, one must prepare for what costs to expect when buying a residence. The next section will discuss pricing details so potential buyers can determine their best course of action when investing in this property.
What Costs to Expect When Buying a Residence
When considering buying a residence at InterContinental Boston, potential buyers should be aware of the costs involved beyond basic initial purchase price. The upfront costs associated with purchasing a condo include broker fees, down payment, closing costs, title search fees, and attorneys' fees. Typically, a buyer should plan to pay between five to six percent of the purchase price upfront in additional fees and costs.
That said, it's important to consider additional ongoing costs as well. A condominium comes with common area fees that fiscally support the property managers of the building in addition to any relevant taxes or insurance payments that are required. In some cases—especially for luxury properties such as those found in InterContinental Boston—there may will also be amenities fees or assessments for features such as doorman or security services. Ultimately, what you pay depends on which residence you choose and what amenities are available in that building.
When deciding whether buying a condo at InterContinental Boston is within your budget, it is important to take all these one-time and recurring costs into consideration – not just the asking price. Be sure to do your research and obtain full disclosure documents beforehand so you can make an informed decision before making a purchase agreement.
With an understanding of the costs associated with purchasing a residence at InterContinental Boston under your belt, it's time to focus on the guidelines to consider before purchasing.
Guidelines to Consider Before Purchasing a Residence
When looking to purchase a residence at the InterContinental Boston Condos, there are many guidelines that should be taken into consideration. There are financial considerations such as cost of purchase, taxes, insurance, and other closing costs. Additionally, negotiations concerning desired features may need to be weighed against the overall price of the condo. If desired features can't be met within the current budget constraints without pushing the cost up too high, then it is important for buyers to decide which features to treat as non-negotiables and which ones can be compromised on.
Other than financial concerns, buyers should consider how their lifestyle will fit in with the location. For example, if they plan to spend most of their free time in the city or immediate surroundings, then living close to all sorts of amenities could be considered a priority when selecting a residence. On the other hand, if they plan on staying mostly in the confines of their home, then making sure the whole package is right may not rely too heavily on its proximity to things outside of the complex.
Safety and security are also important factors. Buyers should research crime rates within the area and get to know more details regarding building policies such as security cameras and personnel monitoring common areas or entry/exit points. It is also wise to factor any restrictions imposed by other residents, property managers and buildings bylaws.
Finally, buyers must take into account how much time they are willing to commit for repairs and maintenance once they purchase a residence. Depending on age and condition of a unit, ongoing upkeep could become costly or very involved over time; this should be assessed before deciding whether a particular condo is right for them or not.
In conclusion, potential buyers should conduct thorough research before deciding to purchase a residence at InterContinental Boston Condos so they can weigh their options carefully and determine which one is best suited for their lifestyle needs in regards to safety and cost effectiveness. This means carefully considering both sides of an argument; weighing financial concerns against location amenities and features vs safety protocols. Ultimately, it is up them buyer to weigh these variables accordingly and make an informed decision about which residence best fits their individual criteria for success in terms of both cost effectiveness and overall satisfaction with their new home.
Responses to Frequently Asked Questions with Explanations
What is the average cost per square foot for a condo at the InterContinental Boston?
The average cost per square foot for a condo at the InterContinental Boston is approximately $1,062. This is based on the current listings which range from $570 to $2,350 per square foot. The majority of the condos are in the $950-$1,150 per square foot range – which accounts for the overall average of $1,062.
The InterContinental Boston Condos offer a variety of features such as 24-hour concierge service, luxurious private balconies with panoramic views of the city and a full-service spa and fitness center. These amenities increase their prices relative to other comparable condos in the area.
In addition to these higher costs, the InterContinental Boston Condos are in an excellent location right in the heart of downtown – close to numerous restaurants, bars, shopping centers and entertainment venues. This prime real estate adds to their high prices.
How do the condo prices at InterContinental Boston compare to other downtown Boston condos?
InterContinental Boston condos are certainly amongst the more expensive condos in downtown Boston. The average price for most InterContinental Boston condos is around $1 million, although depending on size and location the inherent value of a condo can be much higher. This places the InterContinental condos in line with other high end luxury condos including The Mandarin Oriental, The Millennium Tower, and Four Seasons.
However, one favorable benefit of purchasing an InterContinental condo compared to some of these other luxury buildings is that they typically come with access to state-of-the-art amenities such as a private rooftop pool and spa, concierge service, on-site fitness facility, parking garage, and more. These features are often seen as part of the greater value equation should you choose to purchase at the InterContinental properties in comparison to other luxury buildings in the area. All in all, buyers looking for a high quality Boston condo experience will find a great option at the InterContinental.
What amenities are included with a condo at the InterContinental Boston?
At the InterContinental Boston, residents will enjoy a range of luxurious amenities that include 24-hour concierge and security, a heated indoor pool and whirlpool spa, on-site fitness center with state-of-the-art equipment, business center with private meeting rooms, access to The Residences Club Room featuring private lounge areas and dining, pet spa and grooming services, valet parking service, and high speed internet. Furthermore, the buildings at InterContinental Boston boast stunning views of the Charles River and city skyline. Residents of these luxury condos can also take advantage of several outdoor terraces designed for outdoor entertaining or relaxing.