Boston Back Bay Stores for Luxury Shopping
Step into Boston's Back Bay, the glittering jewel of the city where high fashion, opulence, and architectural allure harmoniously merge. If your heart speeds up at the sight of breathtaking luxury, then prepare for an elevated pulse as you journey through this guide to Boston Back Bay's crème de la crème shopping destinations. We're about to embark on a stylish expedition showcasing the top-tier boutiques and posh retail vistas that make this district a magnet for luxury shopping enthusiasts worldwide. Ready to redefine extravagance? Let's dive in!
The Back Bay area of Boston is home to a wide range of boutique shops, luxury retailers, and specialty stores. Some of the most popular shopping destinations include Copley Place mall, Newbury Street, and the Prudential Center. Here you can find stores offering everything from high-end fashion and accessories to unique gifts and home décor. Be sure to explore this vibrant neighborhood on your next visit to Boston.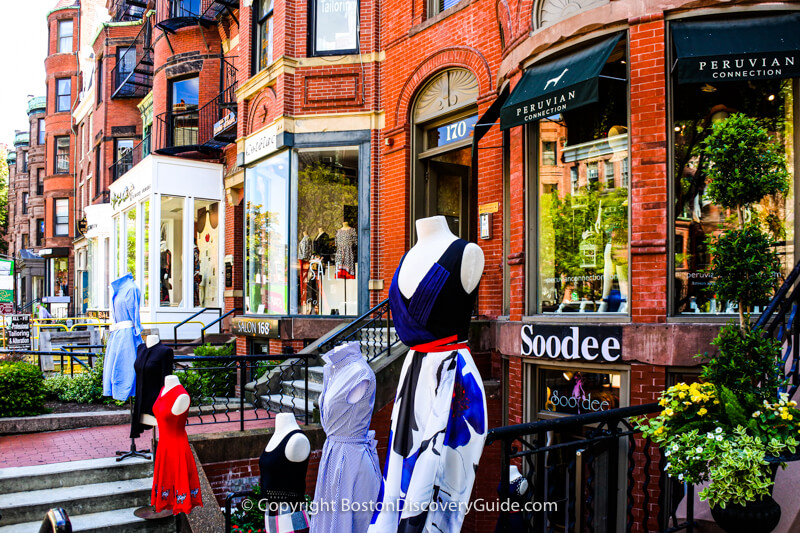 Welcome to Back Bay, the epitome of luxury shopping in Boston. This vibrant neighborhood boasts a plethora of high-end stores that cater to the discerning tastes of fashion enthusiasts and luxury seekers. Nestled amidst stunning brownstones and dotted with renowned international brands, Back Bay offers a unique shopping experience that combines elegance and sophistication.
As you stroll down Newbury Street, one of the most famous shopping destinations in Back Bay, you'll be captivated by the beautiful architecture and charming storefronts. This picturesque street is lined with a blend of well-established luxury boutiques and contemporary fashion houses, showcasing the latest trends in clothing, accessories, and footwear.
Take a step into the iconic Copley Place, an upscale shopping mall that encompasses three levels of extravagance. Here, you can find a range of high-end retailers like Neiman Marcus, Tory Burch, Jimmy Choo, and Louis Vuitton. The sheer variety of designer brands will leave fashion enthusiasts spoiled for choice.
Satisfy your appetite for luxury with visits to other prestigious destinations such as Prudential Center and The Shops at Prudential Center. These elegant complexes house an impressive collection of luxury stores like Saks Fifth Avenue, Gucci, Valentino, and Chanel. Immerse yourself in the world of opulence as you explore each boutique's carefully curated selection.
Beyond just fashion, Back Bay also offers a wealth of options for those seeking exquisite home decor or fine jewelry. As you wander through this stylish enclave, you'll encounter renowned names such as Restoration Hardware and Tiffany & Co., among others.
Now that we've explored Back Bay's luxury shopping scene as a whole let's dive deeper into some top high-end boutiques that are worth discovering and experiencing firsthand.
Click Here > Boston Back Bay Apartments for Rent
Back Bay Condos for Sale

Sorry we are experiencing system issues. Please try again.

Click Here > Boston Back Bay Apartments for Rent
Back Bay is home to an array of high-end boutiques that showcase both local and international designers, providing a truly unique shopping experience. One such boutique is Alan Bilzerian. This avant-garde store offers a carefully curated collection of cutting-edge fashion and accessories that cater to those with an adventurous sense of style. From chic streetwear to bold statement pieces, Alan Bilzerian brings a distinctive flair to Boston's luxury scene.
For those who appreciate timeless clothing crafted with impeccable attention to detail, Riccardi Boston is a must-visit destination. This boutique houses designer labels like Saint Laurent, Thom Browne, and Givenchy, offering exquisite garments that exude elegance and sophistication. With its intimate setting and personalized service, Riccardi Boston elevates the shopping experience to new heights.
Another notable boutique in Back Bay is Gretta Luxe, a renowned destination for glamorous fashion. The store showcases an eclectic mix of luxury brands, ranging from glamorous evening wear to casual-chic attire. Whether you're searching for a showstopping gown or the perfect accessories to complete your look, Gretta Luxe is sure to captivate your fashion senses.
As you explore the streets of Back Bay, be sure to also visit LIT Boutique. Combining contemporary styles with affordability, this boutique offers a range of trendy options for fashion-forward individuals. From stylish dresses and jumpsuits to statement accessories, LIT Boutique provides a unique blend of high-quality clothing at moderate prices.
Just as each boutique has its own unique charm and identity, exploring Back Bay's top high-end boutiques is like embarking on an adventure through a treasure trove of fashion delights.
Back Bay in Boston is known for its elegant and upscale shopping scene, drawing fashion enthusiasts from all over the world. When it comes to renowned international brands, this vibrant neighborhood proudly showcases an array of luxury retailers that cater to diverse tastes and styles. From high-end fashion labels to iconic jewelry houses, Back Bay has something for everyone seeking the epitome of style and sophistication.
One of the most prominent international brands that can be found in Back Bay is Chanel. This French fashion house, known for its timeless elegance and iconic designs, offers a wide range of luxury products including clothing, accessories, and fragrances. A visit to the Chanel boutique in Back Bay allows fashion enthusiasts to explore the latest collections and experience the allure of Parisian chic.
Another esteemed international brand in Back Bay is Louis Vuitton. Known for its exquisite craftsmanship and distinctive monogram pattern, Louis Vuitton offers an assortment of luxurious handbags, luggage, accessories, and ready-to-wear collections. Stepping into the Louis Vuitton store in Back Bay is like entering a world of refined sophistication and impeccable design.
Other notable international brands that have a presence in Back Bay include:
Gucci – The Italian fashion house renowned for its bold designs and statement pieces.

Prada – An Italian luxury brand known for its avant-garde approach to fashion.

Hermès – The French house famous for its meticulously crafted leather goods and iconic silk scarves.
While the renowned international brands bring their global charm to Back Bay, there are also unique finds that make this neighborhood even more special.
Back Bay in Boston boasts a vibrant shopping scene with an array of renowned international luxury brands catering to diverse tastes and styles. Chanel offers timeless elegance and iconic designs, while Louis Vuitton showcases exquisite craftsmanship and distinctive monogram patterns. Other notable international brands include Gucci, Prada, and Hermès. Meanwhile, Back Bay also offers unique finds that make the neighborhood special.
Back Bay is not only home to renowned international brands but also offers a treasure trove of unique finds that set it apart from other luxury shopping destinations. Explore these hidden gems tucked away among the bustling streets of Back Bay, each offering a distinct shopping experience that caters to those seeking something truly special and exclusive.
It's like embarking on a thrilling treasure hunt, where each store holds its own surprises and delights.
One such unique find is Alan Bilzerian, a multi-brand boutique that showcases avant-garde fashion and emerging designers. Here, visitors can discover cutting-edge styles, unconventional silhouettes, and artistic creations that challenge traditional fashion norms. Stepping inside Alan Bilzerian's store feels like entering an art gallery dedicated to fashion, perfect for those with a bold sense of style.
For those who appreciate the charm of vintage fashion and accessories, The Closet offers a curated selection of gently worn designer pieces. This consignment shop in Back Bay provides the opportunity to find one-of-a-kind items from top luxury brands at more affordable prices. It's a hidden gem for fashion enthusiasts who love the thrill of hunting for unique treasures with a touch of history.
While renowned international brands offer the allure of prestige, these unique finds in Back Bay provide an opportunity to express individuality and embrace personal style in an authentic way. They allow shoppers to break free from trends and discover pieces that are truly one-of-a-kind – items that tell stories and reflect their distinctive taste.
As we continue our exploration of Back Bay, let's dive into the exclusive products that await discovery in this fashionable neighborhood.
When it comes to luxury shopping in Boston's Back Bay, there are several exclusive products that simply cannot be missed. From high-end fashion to unique accessories, these products offer a touch of elegance and sophistication that will elevate your style. Here are some of the exclusive finds you should keep an eye out for:
Haute Couture Fashion: Back Bay is home to renowned luxury fashion brands, and their haute couture collections are a definite must-see. From exquisite gowns to tailored suits, these one-of-a-kind pieces are crafted with meticulous attention to detail and showcase the epitome of style and craftsmanship.

Fine Jewelry and Watches: If you're in search of timeless pieces that exude opulence, Back Bay's luxury stores have an impressive selection of fine jewelry and watches. From shimmering diamonds to rare gemstones, these treasures make for stunning investments or unforgettable gifts.

Artisanal Leather Goods: Back Bay is also known for its exquisite leather goods made by skilled artisans. From beautifully crafted handbags to luxurious wallets and belts, these items fuse functionality with elegance and are sure to become cherished wardrobe staples.

Limited Edition Collectibles: Exclusive boutiques in the area often carry limited edition collectible items that capture the essence of luxury and exclusivity. These may include designer collaborations, special releases, or even unique objet d'art that serve as statement pieces for your living space.
As an example, imagine stumbling upon a boutique in Back Bay that offers a limited edition hand-painted silk scarf from a renowned fashion house. This exclusive piece not only adds flair to your outfit but also tells a story – conveying the essence of timeless artistry combined with modern sensibilities.
Keep in mind that each store has its own unique offerings, so exploring different shops will allow you to truly uncover the exclusive products that align with your personal style and preferences.
Now that we've explored the exclusive products awaiting you in Back Bay, let's delve into the shopper insights and experiences that make this area a haven for luxury shopping enthusiasts.
Shopping in Back Bay is not just about acquiring luxury goods; it's an experience that delights all your senses. The ambiance, personalized service, and attention to detail create a shopping journey unlike any other. Here are some shopper insights and experiences you can expect when indulging in luxury shopping in Back Bay:
Impeccable Customer Service: Luxury retailers in Back Bay prioritize providing exceptional customer service. Well-trained staff members go above and beyond to ensure a personalized experience tailored to your needs. From recommending the perfect outfit to offering expert advice on accessories, their goal is to make every customer feel valued.

Exclusive Shopping Events: Back Bay frequently hosts exclusive shopping events where attendees have the opportunity to preview new collections, meet designers, or enjoy special discounts. These events allow you to mingle with like-minded individuals while immersing yourself in the world of luxury fashion and lifestyle.

Beautiful Store Design: The storefronts in Back Bay are often architectural marvels themselves. Elegant designs, captivating window displays, and luxurious interiors create a visually pleasing environment that enhances the overall shopping experience.

Indulgent Amenities: Many luxury stores in Back Bay offer additional amenities such as complimentary refreshments, relaxing seating areas, or even private fitting rooms to ensure your comfort while you explore their offerings.
Visiting luxury stores in Back Bay is akin to being welcomed into an exclusive club where everything is curated to provide an extraordinary experience – from the moment you step foot inside until the purchase is made.
Whether you are looking for opulent fashion pieces or simply want to immerse yourself in a world of elegance, Back Bay offers a truly unparalleled luxury shopping experience that caters to the most discerning tastes.
Are you looking to indulge in some luxury shopping in Boston's Back Bay? Look no further! Back Bay is home to a plethora of high-end boutiques and stores that offer both unique finds and enticing deals. Whether you're searching for designer clothing, accessories, or upscale home decor, this vibrant neighborhood has something for everyone. Let's explore some of the best deals you can find in Back Bay when it comes to luxury shopping.
One gem that stands out in Back Bay is The Tannery. Known for its impressive selection of footwear, particularly sneakers, The Tannery is a go-to destination for sneaker enthusiasts and fashion-forward individuals alike. They often have great deals on limited edition and hard-to-find sneakers, allowing sneakerheads to score their dream kicks at more affordable prices. So if you're on the hunt for a rare pair of sneakers or just want to add a touch of urban flair to your wardrobe, be sure to check out The Tannery.
Another must-visit store in Back Bay is Alex and Ani. While primarily known for their signature bangle bracelets, Alex and Ani also offer a wide range of jewelry pieces at various price points. Keep an eye out for their frequent sales and promotions, as they often have discounts on selected items or special deals when you spend a certain amount. Whether you're looking for a meaningful charm bracelet or elegant earrings, Alex and Ani provides an opportunity to find luxury jewelry without breaking the bank.
If you're in search of high-end home decor at affordable prices, look no further than Hudson Boston. This design-centric boutique offers an array of stylish furniture, decorative accessories, and artwork that can transform any living space into a luxurious oasis. Hudson Boston frequently runs sales where you can find substantial discounts on items such as sofas, tables, lighting fixtures, and more. So if you're in the market for sophisticated home décor that won't cost a fortune, Hudson Boston is definitely worth a visit.
| Store | Special Deals |
| --- | --- |
| The Tannery | Limited edition sneakers at discounted prices |
| Alex and Ani | Sales and promotions on jewelry pieces |
| Hudson Boston | Discounts on high-end home décor |
While these are just a few examples of Back Bay's best deals for luxury shopping, it's important to keep in mind that sales and promotions can vary throughout the year. Keeping an eye on store newsletters, social media pages, and online platforms dedicated to luxury shopping can help you stay informed about upcoming deals and discounts.
The beauty of luxury shopping in Back Bay lies in the diverse range of stores available, each offering its own unique selection of deals. From designer boutiques to high-end home decor shops, this neighborhood truly has something for everyone seeking a taste of luxury without breaking the bank. So go ahead and explore Back Bay's finest stores – you never know what fabulous deals you might find!
Loading...