Loading...
First-time homebuyers now make up 45% of current homebuyers — up 37% year over year — according to new data from Zillow. The numbers represent a rebound from the lows of the pandemic when affordability challenges limited millennial and Gen Z shoppers.
With the pandemic's high prices and tough competition, younger shoppers lost out to older — often all-cash — buyers. A past survey found that 45% of Gen Z and 38% of millennial buyers lost out to all-cash buyers at least once, compared to 30% of all buyers. But now, Zillow finds, repeat buyers are pulling back due to rising mortgage interest rates. The result is a rebalanced market that's working in favor of first-time buyers.
"First-time buyers now appear to be making relative gains as high mortgage interest rates disproportionately encourage current homeowners to stay put," Zillow Population Scientist Manny Garcia said in the report. The slowed flow of homes onto the market seems to confirm this. And though rising mortgage rates affect all buyers, Garcia said, first-time buyers are likely less deterred since rents are also so high.
However, these many first-time buyers still face stiff competition — from one another. Starter homes will be a hot commodity in this shifting market. To help out, Zillow also compiled a list of tips for first-time shoppers,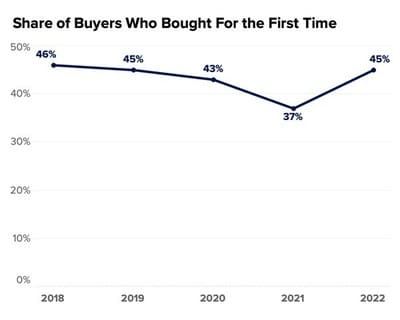 ______________________________________________________________________________________________________________________________________
For many first-time Boston condo buyers, closing on a home is akin to winning the lottery.
While some will luck out, the odds are stacked against the average Millennial first-time homebuyer thanks to their historically sluggish income, especially against 2022's breakneck Boston condo for sale prices.
Millennials, now the largest generation on the face of the earth, are between 26 and 41 years old in 2022. This generation, which came to age around the time of the Great Recession, is no stranger to financial distress and unemployment.
Still, the financial barriers to homeownership imposed on Millennials mount further: underemployment and wage stagnation chew away at this generation's homebuying aspirations, according to a recent survey conducted by Legal & General.
Boston condo for sale agents helping first-time homebuyers break into homeownership are better suited to assist when they understand the compounding factors affecting the Millennials, who are currently in their prime income-earning and homebuying years.
Click Here to view: Google Ford Realty Inc Reviews
_____________________________________________________________________________________________________________________________________
Loading...
First Time Home Buyers -2021
Democratic senators propose 20-year mortgage for low-income, first-time homebuyers
A group of Democratic senators has proposed a 20-year

mortgage

program aimed at helping

low-income

homebuyers build equity in their homes at twice the rate of a conventional 30-year mortgage.
The Low-Income First Time Homebuyers Act (LIFT) establishes a program at the Department of Housing and Urban Development to sponsor low, fixed-rate 20-year mortgages for first-time, first-generation homebuyers earning 120% or less of their area median income, according to a press release.
Through Ginnie Mae, the Treasury Department would subsidize the interest rate and origination fees associated with the LIFT mortgages to bring the monthly payments in line with 30-year FHA-insured loans, effectively allowing participants to build home equity at twice the rate of a conventional mortgage.
Under the mechanics of the program, Treasury would facilitate the origination of the LIFT loans by buying, at a premium, Ginnie Mae Mortgage-Backed Securities collateralized by the loans. The purchase premiums would compensate lenders for making the loans.
According to the release, LIFT, in addition to targeted down-payment assistance, would help policymakers close the racial wealth gap and expand the wealth-building benefits of homeownership in underprivileged communities.
The LIFT Act is co-sponsored by senators Mark Warner and Tim Kaine of Virginia, Chris Van Hollen of Maryland and Raphael Warnock and Jon Ossoff of Georgia.
Loading...
Click Here to view: Google Ford Realty Inc Reviews
Click to View Google Review
_____________________________________________________________________________________________________________________________

Sorry we are experiencing system issues. Please try again.

First Time Home Buyers -2021
In 2021 Boston real estate home buyers do have more options than one would think. Because of the pandemic, many white-collar workers can work from virtually anywhere which opens up more opportunities for first-time homebuyers
Updated 2021:
Is 2021 your year to buy a home a Boston condo for sale? Making the leap from Beacon Hill apartment renter to homeowner is possible even if you don't have the traditional 20% down payment. From below-market interest rates to help from private investors, there is plenty assistance available for all first time Boston real estate buyers. Read on for our updated list for 2021.
First, some Boston real estate definitions:
First-time home buyer: Any individual who has not owned and occupied a primary residence in at least three years.
Cash assistance: A sum of money that you don't have to pay back, that goes toward the down payment on the home. This is sometimes also referred to as a grant.
FHA (Federal Housing Administration) loan: A loan backed by the federal government, administered through Fannie Mae or Freddie Mac. Many homeowners are grateful this year that they financed their homes through one of these institutions; they offered immediate coronavirus relief for mortgage payments.
PMI (Private Mortgage Insurance): An insurance policy you take out to provide security to the mortgage lender if you default on your loan. It's often required for low-interest or low-down payment loans.
Original Boston Real Estate Blog Post
One thing helping homeowners right now is price appreciation, especially in the entry-level market. In the latest Home Price Insights report, CoreLogic reveals how home prices increased by 4% year-over-year and projects prices will rise 5.2% by December 2020. Good news for homeowners not so much for first-time home buyers.
Why is this good news for the homeowners?
When prices appreciate, homeowners gain equity. In addition, those planning to sell this year, especially in the entry-level market, can potentially earn a substantial profit.
Dr. Frank Nothaft, Chief Economist at CoreLogic, says:
"Moderately priced homes are in high demand and short supply, pushing up values…Homes that sold for 25% or more below the local median price experienced a 5.9% price gain in 2019, compared with a 3.7% gain for homes that sold for 25% or more above the median."
As Dr. Nothaft indicates, the lack of inventory continues to drive home price growth. This means there's a high demand for homes in this tier of the market, making it a great time to consider using your equity to move up to a bigger or more premium home.
When you upgrade your home, you may be able to find the amenities or features you've dreamed of – such as a yard to plant or garden in with your family this spring, or more outdoor space for entertaining this summer. Maybe it's the master bath you've always hoped for, or a garage to finally park your car inside.
Whatever you choose, if you're moving out of an entry-level house, you're likely going to be in the driver's seat as a seller.
Bottom Line
If you'd like to own a bigger home, let's get together to discuss your situation. You may be surprised by the current value of your home and the equity you've gained.
With virtually all mortgages today requiring a down payment, how is it that single men and women continue to account for nearly one-third of all home sales?
Original Boston real estate post
According to a recent Coldwell Banker survey, singles first topped 30 percent of the market in 2003 when no-down loans were common. However, the demise of no-down payment ARMs and the subsequent tightening of lending standards that today make 10 – 20 percent the typical down payment for a fixed-rate conventional loan, hasn't dropped singles' market share by even one point.
The new survey of single homeowners by Coldwell Banker reveals what many suspect: parents make it possible. Faced with the problem of coming up with as much as 20 percent of the cost of a starter home as well as closing costs, many first-time single buyers are turning to mom and dad, who in turn are getting some equity out of the deal. The survey found that of the single homeowners who own their home jointly with another party, almost half (49 percent) made the purchase with their parents.
Parents are not the predominant source of help for most singles, however, Among all buyers last year, only 18 percent of single women and 12 percent of single men relied on a gift from a relative or friend. Fifty-four percent of single women and 63 percent of single men relied upon savings, according to the National Association of Realtors.
The CB study also found that two-thirds of singles are buying below their borrowing limits. Sixty-eight percent of single homeowners purchased a home priced below what they could afford.

Sorry we are experiencing system issues. Please try again.