Over 65% of Bostonians are renters. If you've been considering investing in a Seaport condo to rent out, now's a great time to do it.
With so many Boston apartment renters, you might think that it's not necessary to put any work into finding the right fit for your property. This isn't the case.
Landlords have to use plenty of techniques, such as home staging, to find the right tenants. We're here to outline how to stage a apartments so tenants line up to rent it. Read on to learn more. 
So what's the point of staging your Seaport apartment rental property? In a competitive rental market, should you bother going through all of that effort?
There are several benefits of a Beacon Hill apartment staging, even if you're not worried about how long it's going to take to find new tenants.
First, staging a property gives you a good opportunity to take photos, even if you plan on having a blank rental home when you do a rental property viewing. Having a few staged photos makes the listing look more professional and allows tenants to get an idea of how much space the unit has when they can't see it in person. 
A Beacon Hill apartment may look small without furniture in place to give the viewer perspective. 
You can re-use those staged photos every time you need to bring in new tenants, so this is an investment that pays off long-term. 
If you stage your Seaport apartment the right way, you can even attract certain types of tenants (more on that later). While there's no guarantee, this may be an effective method of pre-screening. 
So how do you do it effectively?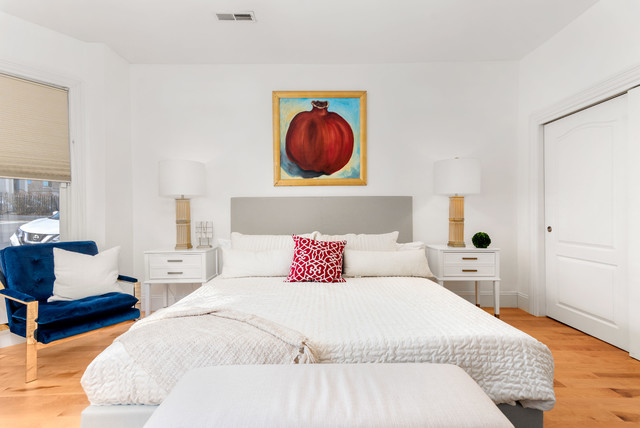 When you're staging a Seaport apartment, consider who's likely going to live there. This will depend on several factors.
First, consider the neighborhood that the rental property is in. If it's a small apartment or easy-to-share home in a college neighborhood, you're likely going to attract students and young adults.
If you're renting out a Beacon Hill studio, your tenants will most likely be young singles or couples with the occasional older adult. 
Consider these renter types as your target audience and consider how you can target them with your staging techniques. 
For example, if you're trying to target young families, stage the home with children in mind. You could stage one bedroom as a nursery or children's room to make it easier for parents to see themselves there. 
For groups of young adults, you'll want to emphasize the privacy of each bedroom, so you may stage them all with beds, desks, and even sitting areas.
Get creative!
This is more important to consider if you're showing or photographing a rental property while tenants are still in place, but it's worth mentioning. Make sure that the rental property is clean and free of clutter.
You can use strategic clutter while you're staging the property, but it has to be intentional. For example, a few toys are placed on the ground in a children's room. 
Too much clutter will make a space look smaller.
There are a few ways that you can go about the color scheme of your rental unit.
Most landlords choose to keep things neutral, but this isn't always the best option. Neutral colors allow tenants to see themselves in the apartment, but because most landlords don't allow painting, the tenants may also feel like the rental home is too boring and go elsewhere.
If you must keep the walls neutral, we recommend adding pops of color while you're staging the furniture. Colorful light fixtures, pillows, and rugs will make a huge difference.
These things will also show potential tenants how they can make their new home pop without having to paint the walls.
Your photos should be honest, but that doesn't mean that you shouldn't stage the home in such a way that it highlights selling points. Remember, you're staging the unit so your tenants can see its fully furnished potential!
Look for things that tenants seek out when they're trying to find new rental homes. 
For example, if there are interesting built-in features (such as old fireplaces or vintage built-in shelving), use them! Place decorations or lights there so tenants won't miss them when they're browsing photos. If there are large windows, don't block them (more on this later). 
You want to highlight the things that make your rental property appealing. 
Speaking of large windows, use them to your advantage. Natural light is a huge selling point for many renters.
Keep windows open when you're taking photos and doing walk-throughs. We recommend placing mirrors in strategic places to bounce the light around and make the rooms look even brighter. 
Use sheer and airy curtains if you need window coverings.