Loading...
Downtown Boston unemployment is low, currently just above 3% – already a full recovery from 2020.
Downtown Boston wage growth is higher than it was in 2020, hovering just above 4%.
The Boston apartment rental market was getting cheaper in 2019-20, but rents are increasing again due to plummeting vacancy rates, lack of new affordable Boston apartment rental housing options in the city. This means the rent vs. buy equation for Boston will skew buy. Those that can buy will be more likely to do so.
Interest rates are likely to rise, but at a glacier pace, and unlikely to top out past 4%.
Inventory problems, the number one reason for the sellers market in Boston since 2014 or so, will continue into 2022. New construction rates for affordable Boston apartment rentals are at near zero, hitting all time lows despite increased zoning laws, and population growth (though much, much slower) continued in 2021 in downtown Boston
Home selling costs are down. Average national real estate commissions dropped to just under 5% in 2021. Closing costs haven't moved much in our area and are minimal (for the seller).
Downtown Boston will not see a significant number of foreclosures in 2022. Simply will not happen due to forbearance rates dropping to under 2%
Click Here to view: Google Ford Realty Inc Reviews
Click to View Google Reviews for 2022
The following stats are Boston Seaport condo sales data is the last 30 days in 2021

If you're looking to buy or sell a Back Bay condo or a Boston Beacon Hill home, chances are you've heard talk about today's rising home prices. And while this increase in home values is great news for sellers, you may be wondering what the future holds. Will Boston condo for sale prices continue to rise with time, or should you expect them to fall?
To answer that question, let's first understand a few terms you may be hearing right now.
It's important to note home prices have increased, or appreciated, for 114 straight months. To find out if that trend may continue, look to the experts. Pulsenomics surveyed over 100 economists, investment strategists, and housing market analysts asking for their five-year projections. In terms of what lies ahead, experts say the market may see some slight deceleration, but not depreciation.
Here's the forecast for the next few years:As the graph above shows, prices are expected to continue to rise, just not at the same pace we've seen over the last year. Over 100 experts agree, there is no expectation for price depreciation. As the arrows indicate, each number is an increase, which means prices will rise each year.
Bill McBride, author of the blog Calculated Risk, also expects deceleration, but not depreciation:
"My sense is the Case-Shiller National annual growth rate of 19.7% is probably close to a peak, and that year-over-year price increases will slow later this year."
Ivy Zelman of Zelman & Associates agrees, saying:
". . . home price appreciation is on the cusp of flipping to a decelerating trend."
A recent article from realtor.com indicates you should expect:
". . . annual price increases will slow to a more normal level, . . ."
What Does This Deceleration Mean for You?
What experts are projecting for the years ahead is more in line with the historical norm for appreciation. According to data from Black Knight, the average annual appreciation from 1995-2020 is 4.1%. As you can see from the chart above, the expert forecasts are closer to that pace, which means you should see appreciation at a level that's aligned with a more normal year.
If you're a buyer, don't expect a sudden or drastic drop in home prices – experts say it won't happen. Instead, think about your homeownership goals and consider purchasing a home before prices rise further.
If you're a Boston condo seller, the continued home price appreciation is good news for the value of your house. Work with an agent to list your house for the right price based on market conditions.
Experts expect price deceleration, not price depreciation over the coming years. Let's connect to talk through what's happening in the housing market today, where things are headed, and what it means for you.
_____________________________________________________________________________________________________________________________________________________________________________________________________________________________________________________________
Loading...
Boston condo prices will increase next year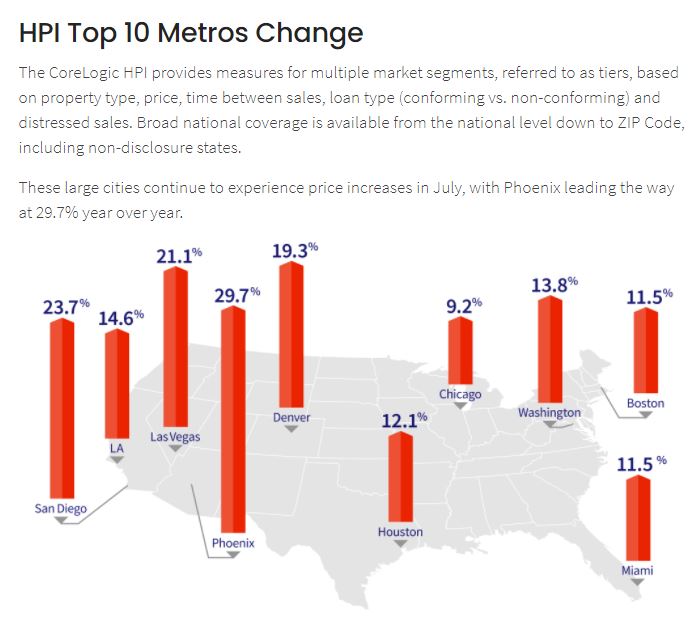 Hat tip to Rob Dawg for sending in the second forecast that is predicting our home prices will continue to rise:
While home price changes on the local level vary, July gains across all of the top 10 metros surpassed their 2020 levels. However, metro areas where affordability constraints are prevalent continue to persist as prices rise. For instance, in July, home prices in Boston increased 11.5% year over year and are forecasted to increase.
Full article here:
https://www.corelogic.com/intelligence/u-s-home-price-insights/
Loading...
Click here to view all Boston Beacon Hill apartments for rent
Click Here to view: Google Ford Realty Inc Reviews
Click to View Google Reviews
Updated: Boston Real Estate 2021
_______________________________________________________________________________________________________________________________________________________________________________________________________
Some believe that the combined effects of the new tax code and rising mortgage rates will have an adverse impact on residential real estate prices in 2018. However, the clear majority of recently surveyed housing experts believe that home values will continue to rise this year.
What is the Home Price Expectation Survey?
Each quarter, Pulsenomics surveys a nationwide panel of economists, real estate experts and investment & market strategists. Those surveyed include experts such as:
Daniel Bachman, Senior Manager, U.S. Economics at Deloitte Services, LP
Kathy Bostjancic, Head of U.S. Macro Investors Service at Oxford Economics
David Downs, Real Estate Finance Professor at VCU
Edward Pinto, Resident Fellow at American Enterprise Institute
Albert Saiz, Director at MIT Center for Real Estate
Where do these experts see home values headed in 2018?
Here is a breakdown of where they see home values twelve months from now:
21.6% believe prices will appreciate by 6% or more

71.6% believe prices will appreciate between 3 and 5.99%

5.7% believe prices will appreciate between 0 and 2.99%

Only 1.1% believe prices will depreciate
Conclusion
Almost ninety-nine percent of the top experts studying residential real estate believe that prices will appreciate this year, and over 93% believe home values will appreciate by at least 3%.
Contact me to set up an appointment to start your Boston condo buying process.
Back to homepage Boston condos
SEARCH BOSTON CONDOS FOR SALE AND RENT
For more information please contact one of our on-call agents at 617-595-3712.
Click here to view all Boston Beacon Hill apartments for rent
Click Here to view: Google Ford Realty Inc Reviews
Click to View Google Reviews
Updated: Boston Real Estate 2021
<iframe src="https://www.google.com/maps/embed?pb=!1m28!1m12!1m3!1d11792.712366547568!2d-71.07029411994735!3d42.36004372267863!2m3!1f0!2f0!3f0!3m2!1i1024!2i768!4f13.1!4m13!3e6!4m5!1s0x89e37098df159413%3A0xed73f683cb89ccb8!2sFord%20Realty%20Inc%2C%20137%20Charles%20St%2C%20Boston%2C%20MA%2002114!3m2!1d42.3601508!2d-71.0706556!4m5!1s0x89e370876a4c7dd3%3A0x6d86360f48bbb653!2sWaterfront%2C%20Boston%2C%20MA!3m2!1d42.3573021!2d-71.0508911!5e0!3m2!1sen!2sus!4v1641428992160!5m2!1sen!2sus" width="600″ height="450″ style="border:0;" allowfullscreen="" loading="lazy"></iframe>