Back Bay condos – Average sales price per sq. ft. $1,305.00 for 2023.
Back Bay condos – Average sales price for Back Bay condo in 2023 – $1,722,274.00
Click Here > Boston Back Bay Apartments for Rent
Back Bay Condos for Sale

Sorry we are experiencing system issues. Please try again.

Click Here > Boston Back Bay Apartments for Rent
Sorry we are experiencing system issues. Please try again.
<iframe width="560″ height="315″ src="https://www.youtube.com/embed/6cHrNuFxbJQ" title="YouTube video player" frameborder="0″ allow="accelerometer; autoplay; clipboard-write; encrypted-media; gyroscope; picture-in-picture" allowfullscreen></iframe>
Luxury Living in Boston's Back Bay: Condos for Sale
Imagine stepping out of your luxurious Boston Back Bay condo onto the charming, tree-lined streets of one of America's most historic neighborhoods. The cobblestone paths, stunning Victorian brownstones, and world-class shopping and dining options beckon you to join the elite ranks of those who call this prestigious neighborhood home. Feast your eyes on the finest condos for sale in Boston's affluent Back Bay, where timeless elegance meets modern sophistications to create the epitome of luxury living. Get ready to elevate your lifestyle to newfound heights!
Back Bay is a highly desirable neighborhood in Boston due to its charming streetscapes, historic architecture, trendy restaurants, and convenient location near many of the city's top attractions and cultural institutions. The area offers a mix of luxury high-rise buildings with stunning views of the city skyline, as well as classic brownstones with traditional architectural details. If you're interested in buying a condo in Boston, Back Bay is certainly worth considering.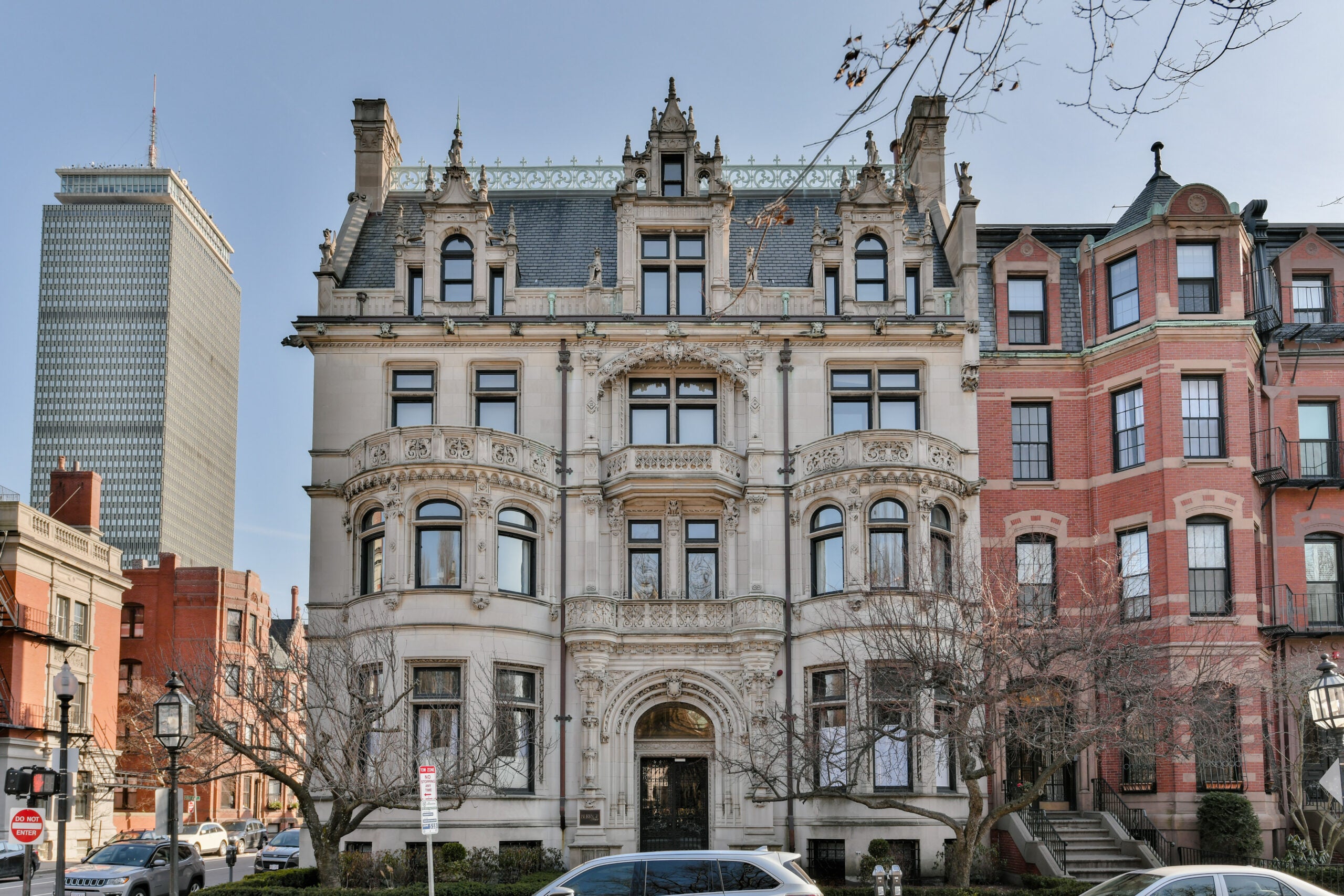 Back Bay, one of the most luxurious neighborhoods in Boston, is renowned for its stunning architecture and vibrant community. Explore this high-end enclave and you'll find some of the most exquisite condos in the city. Boasting incredible amenities and unparalleled style, Back Bay epitomizes luxury living in Boston.
For instance, in a recent tour of the Glorietta Bay building on Commonwealth Avenue, I was struck by the attention to detail in every unit. From custom millwork to state-of-the-art appliances, each condo was designed to accentuate the building's classic aesthetic while providing residents with all the modern conveniences they could desire.
What sets Back Bay's luxury condos apart is their close proximity to some of the city's top cultural institutions and shopping destinations. Residents have easy access to world-class dining on Newbury Street, high-end boutiques on Boylston, and the stunning art collection at the Museum of Fine Arts. Furthermore, this neighborhood attracts residents who appreciate both sophistication and excitement.
You may be thinking that such luxury comes at a premium price tag that is unattainable for most buyers. However, Back Bay offers a wide range of offerings that accommodate a variety of budgets. Whether you are looking for a spacious loft with glass walls or a cozy pied-à-terre with garden views there is something available for every taste.
In fact, shopping for a Back Bay condo is like picking out an exquisite piece of jewelry–there are so many options and styles to choose from! No matter what your tastes or budget may be, you are sure to find a unit that will meet your needs.
Speaking of needs, let's take a closer look at what makes Back Bay such an exceptional neighborhood and why it should be at the top of your list when looking to buy a luxury condo.
Desirable Neighborhood Features
Back Bay is an iconic, upscale neighborhood in Boston with a rich history that dates back centuries. The architecture and design are exceptional, featuring a mix of historic brownstones and new glassy high-rises. With tree-lined streets, sidewalk cafes, and plenty of green spaces, Back Bay offers both beauty and convenience to its residents.
One of the greatest features of Back Bay is access to the Charles River Trail. This path spans along the Boston Esplanade for several miles, allowing runners, walkers, and bikers the chance to enjoy stunning views while getting their daily dose of exercise.
Additionally, Back Bay is a shopper's paradise thanks to its many high-end boutiques and unique shops. From clothing stores to antique shops, there is something for everyone in this area. Dining options are also abundant – from fine dining establishments in posh hotels to cozy bistros tucked away on side streets.
Critics may argue that the cost of living in Back Bay is exorbitant compared to other neighborhoods in Boston. However, with the abundance of amenities available at your fingertips such as parks, art galleries or theaters, many feel that the higher price tag is well worth it.
Moving to Back Bay is like investing in a piece of artwork. Yes, it may come with a high price tag initially but once you own it you'll continuously appreciate its value. The same goes for owning a piece of property in one of Boston's most elegant neighborhoods.
Back Bay is an iconic and upscale neighborhood in Boston that boasts rich history, exceptional architecture, and a mix of green spaces and convenient amenities. While it may come with a higher price tag compared to other Boston neighborhoods, owning property in Back Bay is like investing in a piece of artwork – a valuable asset that offers beauty and convenience for residents. With access to the Charles River Trail, high-end boutiques, unique shops, and diverse dining options, Back Bay truly has something for everyone.
Historic Charm Meets Modern Luxury
Back Bay is a unique and fascinating neighborhood in Boston. Its charm stems from a mixture of historic Victorian brownstone architecture juxtaposed with modern luxury condo buildings. This confluence of old and new creates an interesting dynamic that attracts residents seeking the perfect blend of elegance, style, and convenience.
One prime example of this combination is the luxurious Four Seasons Hotel & Private Residences building. The building is an elegant 61-story tower that exudes sophistication and charm. It provides stunning views of Boston, including the Charles River, Fenway Park, and Beacon Hill. Its interiors are an intriguing mix of classic designs and contemporary elements like Italian marble flooring, granite countertops, and floor-to-ceiling windows.
Another great example of the marriage between historic charm and modern luxury is the Clarendon Back Bay Condominiums. The Clarendon has all the amenities one would expect from a luxury condo building, including concierge services, a fitness center, a resident's lounge, a children's playroom, and an outdoor deck. The building also pays homage to its roots as a grand hotel through its stunning lobby that features marbled walls and high ceilings.
Overall, condos in Back Bay offer unique combinations that make them stand out from other properties in Boston. These condos can combine history with modern design for an exclusive living experience that allows residents to enjoy the best of both worlds.
In fact, many luxury condominiums in Back Bay were originally built as townhouses during the 19th century. These historic buildings have been completely renovated to meet contemporary standards while still maintaining their awe-inspiring façades and intricate details such as hand-carved moldings or stained glass windows dating back over a century.
Some might argue that preserving these historic buildings rather than tearing them down to build something entirely new detracts from the modernity of the neighborhood. However, it is the mix of old and new that truly makes Back Bay special, and preserving history while modernizing buildings is a way to honor the past while moving forward.
Much like a piece of antique furniture that has been restored to its former glory with new upholstery, Back Bay's historic brownstones undergo careful renovation to create chic living spaces known for their sophistication and elegance.
With the unique blend of old-world charm and modern luxuries, it's no wonder that Back Bay has become one of the most desirable neighborhoods in Boston. So, let's delve into some of the top luxury buildings in Back Bay.
In 2023, the average sale price for a Back Bay condo is around $1,385,000, with median prices at approximately $960,000.

Back Bay condos typically range between 1,200 and 1,500 square feet in size.

Luxury properties in Back Bay comprise a significant percentage of available condos for sale, attracting buyers seeking high-end living experiences in desirable Boston neighborhoods.
Top Back Bay Luxury Buildings
One of the most sought-after and iconic buildings in Back Bay is The Residences at The Mandarin Oriental, 776 Boylston Street. The 14-story building offers residents floor-to-ceiling windows with stunning views, high ceilings, chef-friendly kitchens with custom cabinetry, and more. This luxurious development also boasts premium amenities such as a state-of-the-art fitness center, resident lounge, and concierge services.
Another standout is The Clarendon Back Bay condominiums located on Stuart Street. It was designed by architect Robert A.M. Stern with a nod to art deco architecture blended seamlessly with contemporary elements. Its amenities include a spacious terrace/roof deck offering panoramic views of Fenway Park and Boston's skyline.
The Bryant Back Bay condominiums are yet another excellent example of luxury living options available in this Boston neighborhood. Originally built as a church in 1882, this red brick structure was converted into condos in recent years and now stands as an elegant boutique building consisting of only nine residences. The building boasts an impressive stone entrance, Concierge Services staffed onsite daily, personal parking spaces for each condo unit inside secure underground parking garage areas.
If you are looking for something larger than just a single residence, consider the The Carlton House located on Commonwealth Avenue. This exclusive and premium address was built in 1929 and consists of 26 units over its 17 stories. With luxury detailing and stately hardwood floors, this historic structure has been renovated to include every modern amenity one could hope for, including a fitness center, library, and billiards room.
Finally, One Back Bay is an impressive building featuring beautiful and elegant design elements in all of its 160 units. Living spaces include Italian marble bathrooms with rain showerheads, Viking and SubZero appliances in kitchens, vaulted ceilings, and fireplaces. This luxurious development also comes equipped with amenities such as a fitness center, a resident's lounge, concierge services' 24-hour security/concierge staff to ensure residents feel comfortable at all times.
Each luxury building offers something unique that makes living there special. As they stand tall in Back Bay's skyline, they create an elegant atmosphere while simultaneously representing not just the neighborhood but also the city.
Some might argue that living in these buildings is only reserved for the elite class of society due to their high prices; however luxurious condos offer Boston's residents varying price points to choose from based on their budget. Whether it's smaller or larger square footage desired or options starting around $1 million dollars vs multi-million dollar units – Back Bay has something for everyone looking to live the classic Bostonian lifestyle.
Luxury buildings like those found in Back Bay are a Picasso masterpiece – elegant, clean lines combined with stunning finishes leave nothing left to be desired.
Boston's Back Bay offers one of the best options for buyers interested in luxury living in New England. The unique combination of historic charm mixed modern amenities make this area special and draw residents into its embrace. It comes down to individual preferences when deciding which environment is the right match, but there is no denying that Back Bay's historic buildings with modern luxury offerings give the neighborhood its distinct attraction.
Amenities and Architectural Styles
One of the biggest draws of Back Bay's luxury condos is the wide array of amenities offered. From fitness centers to concierge service, these buildings boast a long list of features designed to make residents' lives easier and more luxurious.
Some of the most popular amenities include 24-hour security, valet parking, and in-suite laundry facilities. Many high-end buildings also offer residents access to exclusive lounges, such as rooftop gardens and swimming pools. For those who enjoy hosting guests, some buildings even come with private party rooms complete with catering kitchens.
When it comes to architectural styles, Back Bay offers a unique blend of historic charm and modern luxury. Many buildings in this neighborhood date back to the 19th century and feature intricate ornamental details such as stained glass windows, decorative cornices, and carved stone facades. However, newer constructions also abound; sleek glass towers juxtapose against the more traditional red-brick brownstones that line Newbury Street.
Overall, the architectural landscape in Back Bay is varied and diverse – something that makes living here incredibly special.
For instance, one resident who recently moved into a newly-constructed building in Back Bay noted that the property's design was "unlike anything I've ever seen before." The soaring glass facade captured captivating views of Boston's skyline that offered an abundance of natural light into their living space. However, at once connected to history by featuring classical cornices on the roofline echoing period architecture throughout surrounding streets.
Of course, beyond physical structures themselves lies an additional layer of luxury – services. Much can be said about how well operators run things like a truly top-tier fitness facility or door attendants servicing each individual resident's condo with courtesy without exposing their wealth status.The amenities present at these luxury condominiums are unmatched by any other developments in other neighborhoods across Boston.
While prices for luxury condos in these buildings fall within the six or seven-figure range, the value proposition isn't just tied to their appearance and location. These amenities sustain a level of exclusivity that can be felt from the first time one steps inside. With access to unparalleled facilities and services like high-end wine tasting rooms, private screening rooms, and more.
It's little wonder why so many Bostonians are keen on looking at condos in Back Bay – not only is the architectural history impressive and well-maintained, it promises future opportunities for new state-of-the-art developments.
Guide to Buying a Back Bay Condo
While many people dream of owning property in Back Bay, purchasing a luxury condo can be an overwhelming journey with plenty of complexities to consider. Given how important finding the right place is, it's best to be prepared before you start your search.
One of the most critical considerations is hiring a knowledgeable real estate agent who understands not only the ins and outs of buying properties but also has experience working in luxury markets. As part of your planning process, make sure you research local agencies with proven track records for success; one such agency, Ford Realty Inc., boasts rich experience in the Boston luxury real estate market.
Another consideration is financing. Even if you have substantial financial resources available for purchasing a high-value condo outright, it's typically advisable to take out a mortgage if possible. The advantages are two-fold: not only can taking on a mortgage better protect your assets in case things go wrong (such as needing emergency cash on-hand), but it could also afford tax benefits if structured correctly.
Like chess or other complex games, preparation is key. It pays dividends to plan ahead by researching additional factors like monthly housing expenses, HOA fees and administration costs, closing and title service fees; this helps build context into total cost calculations.
Finally yet importantly by any means, is the physical condition and appearance of the condo. Always visit the potential unit in-person, and don't be satisfied with photographs alone. A detailed inspection and thorough scrutiny of any amenities that interest you helps create a better understanding of fit from a homebuyer perspective.
By following these steps, you can turn what feels like an intimidating process into an enjoyable journey toward finding your dream Back Bay luxury condominium – on terms that are right for you.
Ready to start your search? Reach out to Ford Realty today; they have decades of experience navigating the Back Bay real estate market to help you explore your options without booking an appointment through them first.
Navigating the Real Estate Market
Buying a luxury condo in Back Bay can be an overwhelming process for even the most experienced homebuyer. The real estate market is competitive, and condos sell quickly, making it essential to have a solid understanding of what you want and need before you start looking. Here are some tips to help you navigate the real estate market in Back Bay:
Start with research – Before you start touring condos, do your homework. Research Back Bay's real estate market to get an idea of pricing, architectural styles, building amenities, and location. Determine which condo buildings are the most coveted and which areas fit your needs based on proximity to local attractions and lifestyle.
Hire a local real estate agent – A knowledgeable local real estate agent can help you find properties within your budget while also being able to access off-market listings and connections with other agents who can best represent their buyer clients. Additionally, they can serve as valuable sources of information about neighborhoods, schools, taxes, commuting distances/duration and many more that could benefit buyers.
Understand condo fees – Be sure to ask about monthly condo fees associated with each unit since they can add significantly to your costs. It is crucial to understand what services or amenities are included in the fee and if they are reasonable compared to similar properties in the area. Comparing condo fees at different buildings' lawns could help buyers choose affordable homes that includes amenities.
Make a strong offer – When you find a condo that fits your needs and wants, don't hesitate to make an offer since there may be other interested buyers vying for the same property. While it's always tempting to go below asking price or negotiate a deal with incentives or contingency clauses that prioritize the interests of the buyer, be aware that this tactic won't work as much as it does rarely on luxury properties.
Life in the Back Bay Neighborhood
Living in Back Bay means having access to some of the best that Boston has to offer. From top-rated restaurants and shops to cultural attractions, Back Bay is a bustling neighborhood with plenty of amenities for residents.
Walkability – One of the best things about living in Back Bay is its walkability. With tree-lined sidewalks and brownstone buildings, this neighborhood is a delight to explore on foot. The streets are lined with specialty boutiques, art galleries, and gourmet markets that await residents ready for adventure.
Dining and shopping – Back Bay's dining scene is second to none. From new foodie favorites like Cava Mezze to legendary establishments such as Atlantic Fish Company, there's something here to delight every taste and preference. Some of the most sought-after fashion brands have a flagship store located along Newbury Street; Beacon Hill has an array of merchants from independent bookstores to antique shops; Stroll through Prudential Center and Copley Place for more well-known national brands while offering exquisite dining options.
Community events – The Back Bay Association hosts numerous annual events that help residents feel part of the community., including countless seasonal outdoor concerts, art festivals, charity walks/runs,& more. While it creates a real sense of connection among neighbors, some events may make traffic around your area unbearable.
Historical landmarks – Living in Back Bay means living in history-rich surroundings such as Mandarin Oriental Hotel (former city jail), The Fairmont Copley Plaza (once-upon-a-time homes originally built by wealthy families), and Trinity Church which was constructed nearly a century ago boasts Romanesque Revival architectural style. These historical landmarks serve as gateways into former eras of grandeur that evoke a truly unique charm like no other cities have.
Local Attractions and Lifestyle
Living in a Back Bay luxury condo means indulging in the best of Boston's attractions and lifestyle. As one of the city's most iconic neighborhoods, Back Bay offers residents access to some of the most sought-after destinations in the city. Whether you're looking to immerse yourself in art and culture or enjoy delicious cuisine, there's something for everyone in this vibrant neighborhood.
One of the top attractions in Back Bay is Newbury Street—a shopper's paradise known for its high-end boutiques and locally-owned shops. This street runs parallel to the Charles River and features eight blocks lined with shops that offer everything from designer clothing and jewelry to home decor. For food lovers, there are many gourmet restaurants dotted along this charming street. If you love browsing unique items, don't miss out on a visit to Copley Place—it's a stunning, multi-story mall in Back Bay that also offers a selection of luxury boutiques.
If you're interested in arts & architecture, you'll never run out of options in Back Bay. The Museum of Fine Arts Boston is home to an extensive collection of artistic treasures from around the world including works by the likes of Monet, Van Gogh, El-Greco, Matisse and Vermeer. Take a stroll down Boylston Street to explore some of the most beautiful pieces of architecture in Boston. Some landmark buildings include Trinity Church, the John Hancock Tower, and Hynes Convention Center.
If you're an outdoor enthusiast who loves exploring nature, don't worry—there are plenty of options here too! Visit Boston Public Garden—the first public botanical garden in America—to experience its serene beauty. You can rent a swan boat ride around the lake or simply relax by its shores. However, keep in mind that as with any urban destination noise pollution can be an issue for some.
Living in Back Bay is like living in a city with the best of both worlds. If you love nature but can't give up urban life, then this neighborhood is perfect for you! You get to enjoy the buzz of the city center and have access to countless restaurants, shopping destinations, and nightlife hotspots while still being surrounded by green spaces.
Back Bay is not only well known for its attractions and cultural offerings but also because of its residents who add to the charm of the neighborhood. Whether you're commuting to work or heading out for dinner, you'll meet friendly people all around. There are numerous events hosted in this neighborhood throughout the year that bring together residents and visitors from all over Boston. The famous Boston Marathon cuts through Boylston Street every year and attracts runners from all over the world.
In conclusion, living in Back Bay means never running out of options for attractions and activities. The neighborhood offers endless possibilities to explore—whether you're into art & architecture, shopping, or outdoor adventures. Being surrounded by luxury buildings with beautiful architectural designs accentuates your living experience here making it truly unforgettable!
_____________________________________________________________________________________________________________________________________
Affluent Back Bay is a shopping and dining destination. Along Newbury Street, well-heeled locals frequent designer boutiques, fashion chains, art galleries and patio cafes set in elegant brick townhouses. Expansive Copley Square is flanked by 1800s landmarks Trinity Church and the Boston Public Library. Mansions dot the neighborhood's tree-lined streets, many on Paris-inspired Commonwealth Avenue. ― Google
Back Bay Condo Sales Data for 2023 – Spring 2023 – FAQ
What was the average sales price per sq. ft. in the 2nd Q of 2022?
The average Back Bay condo sales price per sq. ft. was $1,416.00 up from $1,295.00 2nd Q of 2021
What was the average sales price of a Boston Back Bay condo  in the 2nd Q of 2022?
The average sales price of a Boston Back Bay condo in the 2nd Q 2022 was $1,988,794 up 2.90%.
What is the average list price to sale price ratio in 2022?
The ratio in the 2nd of 2022 of list to sale price was 98.36%
What was the average days-on-market for a Boston Back Bay condo for sale?
The average days on market (DOM) for 2nd Q 2022 was 47 days, down from 90 last Q
____________________________________________________________________________________________________________________
What was the average sq. ft. price of a Boston Back Bay condo in the 1st Q 2022?
The average Back Bay sales price per sq. ft. in the 1st  of 2022 was $1,431.00
What was the average sales price for Boston Back Bay condo in the 1st Q of 2022?
The average Boston Back Bay condo sales price was $2,521,271.00
How many Boston Back Bay condos sold in the 1st Q 2022?
74 Boston Back Bay condos sold in the 1at Q of 2022.
How many Boston Back Bay condos are for sale in 2022?
Presently there are 70 listings for sale. The number of Back Bay condos for sale varies from 70 – 90 listings in 2022.
What is the average living area for a Boston Back Bay condo in 2022?
The average living area for a Boston Back Bay condo in 2022 is 1,700 sq. ft.
What is the average list price for a Boston Back Bay condo in 2022?
The average listing price for a Boston Back Bay condo in 2022 is $1.849.00
What is the average sales price for a Boston Back Bay condo in 2022?
The average sales price for a Boston Back Bay condo in 2022 is $1,800,000
What is the average sale price per sq. ft. for a Boston Back Bay condo in 2022?
The average sales price per sq. ft. for a Boston Back Bay condo in 2022 is $1,234.00
How long does it take to sell a Boston Back Bay condo in 2022?
On average in 2022 it takes 35 days to place a Boston Back bay condo under contract.
_________________________________________________________________________________________________________________
[
Back Bay condos for sale 2022 – Have you seen these sales numbers?
Back Bay condos for sale May 2021 – 1st Q Sales May Shock You. Check out the latest 2021 Back Bay condo sales numbers
The following is the last 12 months of quarterly Back Bay condo sales:
Overall Back Bay condo sales are down 17.9%
For more information please call John Ford at 617-595-3712.
Click Here: Back to Boston Real Estate Home Search
Ford Realty – Boston Real Estate Google Reviews 2020, 2021, 2022 and 2023.
Boston condos for sale for 2023
Back Bay Condo Rental FAQ
The least expensive rental in 2021 is $1,600 for a studio apartment
The most expensive rental in 2021 is $25,000 located in the high rise condo at 1 Dalton
In the 2nd half of 2021, we have over 200 Back Bay Boston rentals available
How long does it take a rent a Boston Back Bay condo?
In the 2nd half of 2021, it took approximately 33 days to rent out a Boston Back Bay rental
Over 500 condos/apartments were rented out.
Updated: Boston real estate blog Spring 2022
View Back Bay condos for sale in all price ranges from studios to single-family home townhouses in a prime location in Boston MA. All units have large floor plans and living space some located in the luxury high-end of Newbury St and Marlborough St. These Back Bay buildings range from 1-6 units.
Search Back Bay condos availability in real-time. These Back Bay residences are close to shopping and dining areas.
Search Back Bay units with full-service concierge and parking other accommodations include detail updated kitchen and baths.
Ford Realty Inc. 137 Charles Street, Boston MA 02114
Realtyford@yahoo.com  Tel: 617-720-5454
Copyright © 2022. All Rights Reserved Ford Realty