Their survey indicated that more people are planning to sell, so that's good – though our coastal region is dominated by baby boomers, so we might not be as lucky as others: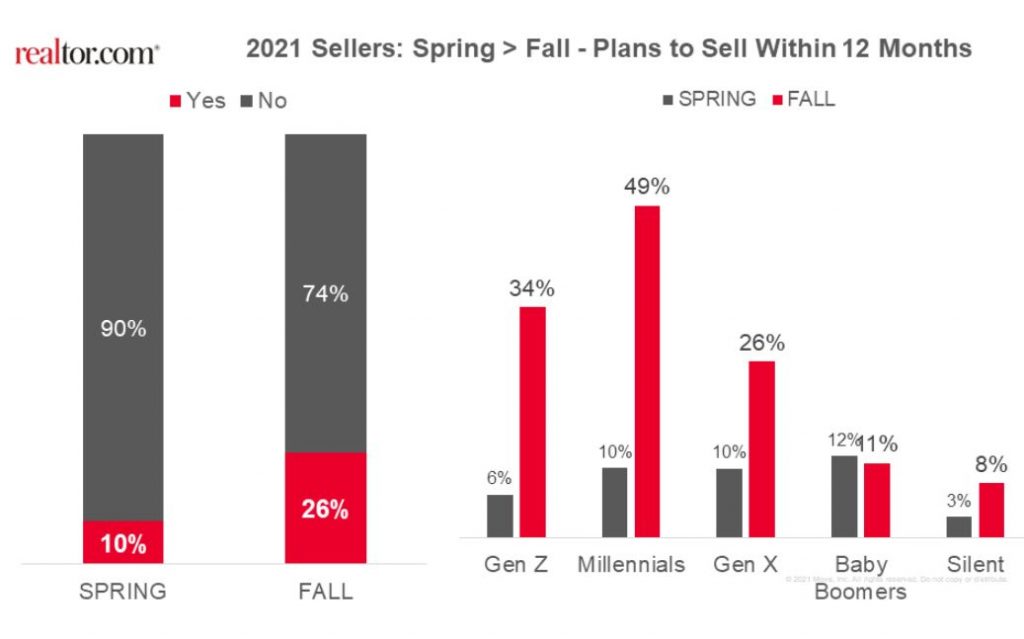 Loading...
As the economy recovers from COVID and the housing market gains traction, homeownership is top of mind for Americans, according to the latest survey from Coldwell Banker Real Estate LLC.
Conducted online by The Harris Poll, the survey of over 2,000 adults revealed what's on home buyers' and sellers' minds as 2021 comes to a close.
Buying a Boston condo versus expensive wedding
When tasked with choosing marriage or a mortgage, 82% of unmarried Americans said they would rather invest in a home than pay for an expensive wedding. The majority (85%) of respondents were female.
The survey revealed that over three-quarters of respondents (77%) would rather invest in a home than spend money on an expensive vacation. In addition, college graduates are more likely to prioritize homeownership (41%) over paying off student debt (17%).
Who else has real estate on their mind going into 2022?
• Younger Americans: Respondents ages 18-44 are more likely to say owning a home is an important financial goal for them (45%) compared to those 55 and older (30%).
• Renters: 47% of renters say owning a home is an important financial goal for them.
• Hispanics: 42% of Americans surveyed who self-identified as Hispanic say owning a home is an important financial goal.
"The 2021 housing market has been marked by low inventory and competition as Americans continue to keep homeownership top of mind," said M. Ryan Gorman, president and CEO of Coldwell Banker Real Estate LLC. "Our latest survey suggests that, with generations of all ages and backgrounds prioritizing homeownership over other financial goals, this sellers' market may continue into 2022. Our network of approximately 100,000 agents is ready to help home sellers take the next step."
Click to View Google Review
Updated: Boston Real Estate 2021
_______________________________________________________________________________________________________________________________
Loading...
Boston Real Estate Survey Says………
Boston real estate suburb buyers are up against limited inventories of homes for sale and struggling to triumph in a competitive market. But they're hopeful for a turnaround over the next few months.
Will it be easier to find Boston real estate for sale?
Thirty-three percent of prospective buyers recently surveyed are hopeful that it will be easier to find a home over the coming months—an improvement from 25% who said so a year ago, according to the latest Housing Trends Report, produced by the National Association of Home Builders. Still, the majority–61%—of buyers expect home searches to become more difficult or stay the same in the future.
But why are some buyers more hopeful? More new and existing homes were sold during the first quarter of 2021 compared to a year earlier.
Millennial buyers may be the most upbeat
Millennial buyers may be the most upbeat about more prospects opening up in the coming months: 26% in the first quarter of 2020 believed more inventory was coming, compared to 42% in the first quarter of 2021. Other age segments weren't as hopeful that the market would usher in more housing inventory.
Buyers in the Northeast also were the most optimistic compared to other regions of the country.
Some economists are more optimistic about more housing inventory coming to the market soon, too. New-home construction is ramping up and more homes likely will help relieve some of the pressure in the near future. Read more: Markets Seeing High Homebuilding Rates
However, demand remains high and that has fueled bidding wars across the country as buyers frantically search for a home to buy. Home shoppers are finding limited choices. Home buyers this spring have 52% fewer homes to choose from than last year, according to realtor.com®'s April Monthly Housing Trends Report.
Loading...
Click to View Google Review
Updated: Boston Real Estate 2021