Loading...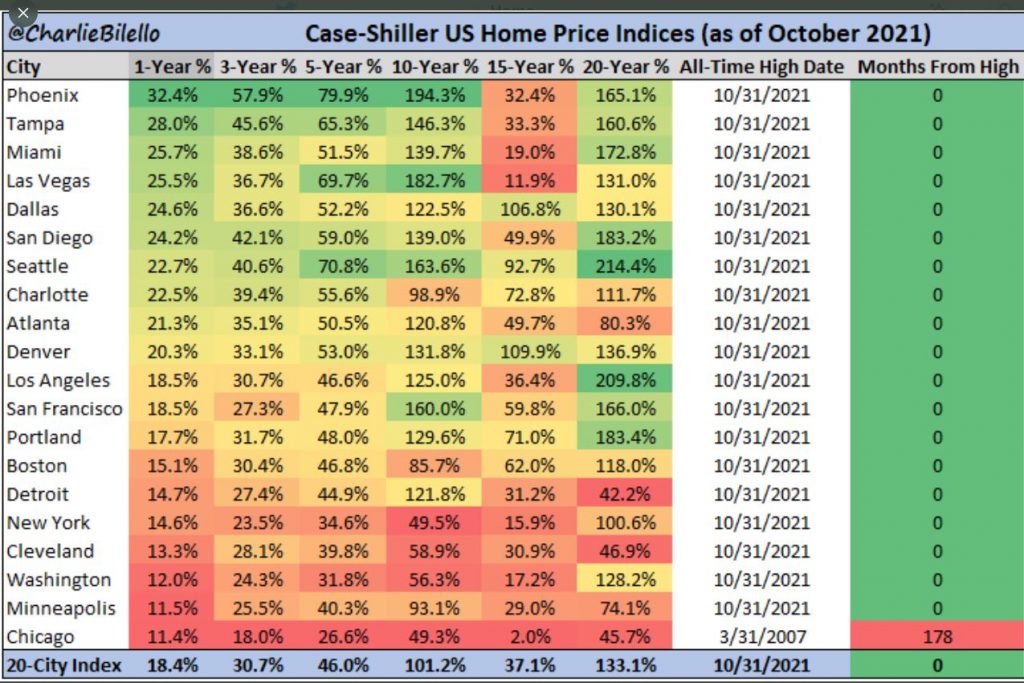 I saw this on a real estate twitter account. Based on the real estate chart it seems like the market is wildly out of control, but taking a deeper look into the above chart it looks like we're just one city in the pack.
Does this give Boston condos buyers any comfort to know that the price explosion is happening everywhere?
Contact me to set up an appointment to start your Boston condo-buying process.
Back to homepage Boston condos
SEARCH BOSTON CONDOS FOR SALE AND RENT
For more information please contact one of our on-call agents at 617-595-3712.
Updated: Boston Real Estate Blog Winter 2022
In today's Beacon Hill housing market, it can be a big challenge for buyers to find homes to purchase, as the number of houses for sale is far below the current demand. Now, however, we're seeing sellers slowly starting to come back into the market, a bright spark for potential buyers. Javier Vivas, Director of Economic Research at realtor.com, explains:
"Seller confidence has been improving gradually after reaching its bottom in mid-April, and now it appears to have reached an important recovery milestone…After five long months, sellers are back in the housing market; while encouraging, the improvement to new listings is only the first step in the long road to solving low inventory issues keeping many buyers at bay."
Even with the number of homes coming into the market, the available inventory is well below where it needs to be to satisfy buyer interest. The National Association of Realtors (NAR) reports:
"Total housing inventory at the end of June totaled 1.57 million units, up 1.3% from May, but still down 18.2% from one year ago (1.92 million). Unsold inventory sits at a 4.0-month supply at the current sales pace, down from both 4.8 months in May and from the 4.3-month figure recorded in June 2019."
Boston condos for sale today are selling faster than they're coming to market. That's why we only have inventory for 4 months at the current sales pace when in reality we need inventory for 6 months to keep up. But, as mentioned above, sellers are starting to return to the game. Realtor.com explains:
"The 'housing supply' component – which tracks growth of new listings – reached 101.7, up 4.9 points over the prior week, finally reaching the January growth baseline. The big milestone in new listings growth comes as seller sentiment continues to build momentum…After constant gradual improvements since mid-April, seller confidence appears to be reaching an important milestone. The temporary boost in new listings comes as the summer season replaces the typical spring homebuying season. More homes are entering the market than typical for this time of the year."
A good time to enter the Beacon Hil condo for sale market when the competition in your area is low, meaning there are fewer sellers than interested buyers. You don't want to wait for all of the other homeowners to list their houses before you do, providing more options for buyers to choose from. With sellers starting to get back into the market after five months of waiting, if you want to sell your house for the best possible price, now is a great time to do so.
It can be challenging to find a home in today's low-inventory environment. If more sellers are starting to put their houses up for sale, there will be more homes for you to choose from, providing a better opportunity to find the home of your dreams while taking advantage of the affordability that comes with historically low mortgage rates.
Boston Real Estate and the Bottom Line
While we still have a long way to go to catch up with the current demand, inventory is slowly starting to return to the market. If you're thinking of moving this year, let's connect today so you're ready to make your move when the home of your dreams comes up for sale.
It's a seller's market in Beacon Hill at the moment. Inventory remains flat, there are numerous Beacon Hill buyers for every condo or townhouse that goes on the market, and mortgage interest rates are still low. And oh, yeah—rents remain very high.
If you own a Boston townhouse or a condo, thinking of selling, I recommend consulting with a Beacon Hill broker, who has an office in Beacon Hill. Maybe you have an investment property or are an owner-occupier who doesn't know where to go next. It helps to have a chat for an hour with a Beacon Hill Realtor to discuss your details:
1. How much is my condo worth?
2. Can I sell and then have some time to stay in my home after the buyers are the owners, to figure out where I'm going next?
3. How long will the process take?
4. What pitfalls might I encounter?
5. What would I need to do to prep my property for sale?
6. What am I looking at in terms of net proceeds?
As many of you know, I have been helping Beacon Hill homeowners sell their properties for more than twenty years not just in Beacon Hill, but in many neighborhoods across Boston. Client reviews don't lie: I have the experience, knowledge, marketing platform, and strategies in place to get you the most money possible with the least stress involved. It's all about knowing what to expect, anticipating pitfalls, and navigating to the finish.
Please contact me if you're ready to have that conversation. I would be happy to stop by and put your future in motion. I can be reached at 617-595-3712.