Loading...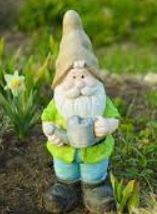 Did you know that a garden gnome is a sign that the homeowner is a swingers?
They do say no one knows what goes on behind closed doors – but is your neighbor giving out secret clues that they're a swinger?
Yesterday we told how sales of garden pampas grass have plummeted because it's believed to be a secret signal that swingers live in the home it belongs to. But it turns out that the exotic plant isn't the only giveaway that the house's residents are into liberal sexual practices.
They also cite white landscaping rocks and pink or purple decorations in the front garden as a signal of swinger activity. Bizarrely, the website identifies pineapples as another swinger signal – in the form of a door knocker. They may look sweet and innocent, but it turns out garden gnomes are a likely indicator that the resident is into swinging too.
Read full article here: