Loading...
Massachusetts has been named one of the most financially stable states in America, according to a new report. 
Uplift Legal Funding scored all 50 states on six factors related to residents' personal finances, including consumption of annual income as a percentage alongside the percentage of income saved, household debt-to-income ratios, annual personal bankruptcy rates and the number of savings and debt-related Google searches per state.
Massachusetts took the No. 3 spot, receiving a score of 63.6 out of 100 with the fourth-lowest personal bankruptcy rate at 50 per 100,000 residents and the third lowest household debt-to-income ratio of 1.24. It was also the fifth state likely to make debt-related Google searches at 312.2 searchers per 100,000 residents, according to the report. 
New York was the most financially stable state in America with a score of 69.7, followed by Connecticut at No. 2 with a score of 64.1.
"In the current economic climate, it is to be expected that U.S. citizens are turning to search engines like Google to better discover ways to alleviate debt and save money faster," said a spokesperson for Uplift Legal Funding. "With consumer debt levels rising in line with the cost-of-living and inflation, the research aims to highlight the importance of living within means and creating personal finance plans."
Despite breaking the top three, the Bay State ranked low for multiple factors including household debt-to-income ratio.
Here's how Massachusetts ranked on all six factors that determined the list: 
Consumption as a percentage of income: 53.1%

Percentage of income saved: 16.9%

Household debt-to-income ratio: 1.24

Personal bankruptcy rate: 50

Savings searched per 100,000: 290.7

Debt searched per 100,000: 314.2
Wyoming, South Dakota and Rhode Island ranked fourth, fifth and sixth, respectively. They were followed by Washington at No. 7, New Jersey at No. 8, Oklahoma at No. 9 and California at No. 10.
Source: Boston Real Estate Blog 2023
_________________________________________________________________________________________________________________________________________
In the last few years, I've had some of my clients tell me there going to sell their Boston condo and move south, move out of here to avoid our cold winters.
Florida has been one of the main destination points for those moving away from here.
I wonder now, how many people who were planning to leave downtown Boston are second-guessing their plans now.
Here are some of my thoughts you should consider before you sell your Boston condo and move your family south.
Do you really want to leave Boston, and move to Florida, after seeing this hurricane?
Would you move to Texas after the whole state was frozen over last winter?
Would you move to Phoenix, where the temperature was over 100 degrees pretty much all summer?
Yikes!  I know our winters in Boston can be brutal, but sometimes the alternatives, well…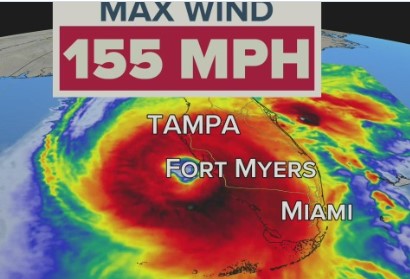 If you have your heart set on moving to Florida, please keep me in mind if you're planning on placing your Boston condo up for sale.
If you move to Tampa, tell Tom Brady New England Patriot fans miss him, a lot.