Loading...
As there's more and more talk about the Boston condo for sale market cooling off from the peak frenzy it saw during the pandemic, you may be questioning what that means for your plans to sell your Boston Beacon Hill condo. If you're thinking of making a move, you should know the market is still anything but normal.
Even though the supply of homes for sale has been growing this year, there's still a shortage of homes on the market. And that means conditions continue to favor sellers today. That's because the level of inventory of homes for sale can help determine if buyers or sellers are in the driver's seat. Think of it like this:
A buyers' market is when there are more homes for sale than buyers looking to buy. When that happens, buyers have the negotiation power because sellers are more willing to compromise so they can sell their house.

In a sellers' market, it's just the opposite. There are too few homes available for the number of buyers in the market and that gives the seller all the leverage. In that situation, buyers will do what they can to compete for the limited number of homes for sale.

A neutral market is when supply is balanced and there are enough homes to meet buyer demand at the current sales pace.
And for the past two years, we've been in a red-hot sellers' market because inventory has been near record lows. The blue section of this graph highlights just how far below a neutral market inventory still is today.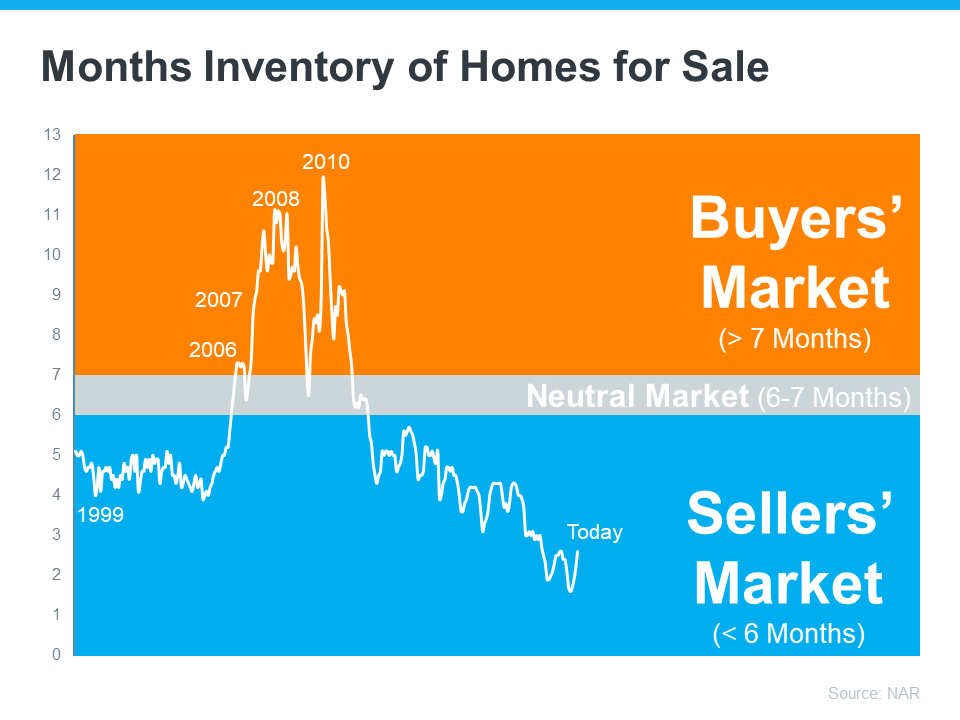 Ed Pinto, Director of the American Enterprise Institute's Housing Center, gives a perfect summary of what's happening in today's market, saying:
"Overall, the best summary is that we'll move from a gangbuster sellers' market to a modest sellers' market."
Conditions are still in your favor even though the market is cooling. If you work with an agent to price your house at market value, you'll find success when you sell your house today. While buyer demand is softening due to higher mortgage rates, homes that are priced right are still selling fast. That means your window of opportunity to list your house hasn't closed.
Today's Boston condo for sale market slightly still favors sellers, but I don't see it lasting much longer.  If you're ready to sell your Boston condo, let's connect so you can start making your moves.
______________________________________________________________________________________________________________________
Are you thinking about selling your Boston Beacon Hill condo or perhaps your Boston Back condo right now or in 2022, but you're not sure you'll have the time to do so as the holidays draw near? If so, consider this: even as the holiday season approaches, there are plenty o Boston condo buyers out there, and they really want your Boston condominium. Here's why selling this winter is a win for you.
Today's real estate buyers are still dealing with a limited number of homes for sale. Thanks to continued low inventory, those buyers are competing with one another for their dream home. And when that happens, if your home is one of the few on the market, it will rise to the top of the pool – and it will be worth it.
According to the latest data from the National Association of Realtors (NAR), the average seller received 3.7 offers on their house in September. For a view into what's happening at the state level, take a look at the map below:Nationwide, the average seller today is getting nearly four offers. That number is significant because it means you'll likely have multiple offers to pick from if you sell your house this season. To put things into perspective, no matter where your state falls, remember that you really only need one good offer to close the deal.
Any offer you receive will likely be from a highly motivated buyer who's doing everything they can to beat the competition. The stakes for buyers are high. They've been looking for a house and they want to lock in their dream home before prices and mortgage rates rise further next year. Chances are, they'll get creative with the terms of their offer, which could include waiving contingencies and offering over the asking price – both of which are great news for you.
If you're on the fence about when to sell, remember your house is a hot commodity this season. As other sellers take a break for the holidays with plans to re-list their homes in the new year, you can put your house in front of motivated buyers by making your move today. That means your house will be the center of attention, and likely the center of a bidding war too.
Selling your Boston condo now gives you even more opportunity to win big as buyers compete for your house in today's market.
________________________________________________________________________________________________________________________________________
Loading...
The 2020 housing market was a year of extremes. Within the span of just a few months, we saw Boston high rise condos go from hit decade highs and decade lows. Going into 2021, economists and industry players project home prices will  be rising by 5.7% in 2021 and that the seller's market will continue for the foreseeable future.
A Boston condo for sales seller's market is when there are more people buying condominiums than downtown condos for sale. If you're buying in a sellers market, you'll encounter higher prices and increased competition.
As a downtown Boston Real Estate Broker – I see things differently
At this point in time I don't see how anyone can predict which way the downtown Boston real estate market is heading. The reason I say this, there are so many unknown factors that can determine the future on the Boston condo for sale market.
What factors will Impact the Boston real estate market in 2021?
Here are a few factors that you would need to know to predict the Boston condo market in 2021:
When will the masses have access to the Covid-19 vaccine?

When will workers be going to work in commercial buildings again?

Will working from home be the new normal in 2021 and beyond?

Will Baby Boomers still want to move to the city as they did pre-pandemic?

How long will it take for boutique stores and restaurants to re-group?
I can't imagine any economist or an honest downtown Boston real estate broker can give you affirmative answers to the above questions..
Loading...