Loading...
Economist Update on Mortgage Forbearance
When the pandemic hit in 2020, many experts thought the Boston condo market would crash. They feared job loss and economic uncertainty would lead to a wave of foreclosures similar to when the housing bubble burst over a decade ago. Thankfully, the forbearance program changed that. It provided much-needed relief for homeowners so a foreclosure crisis wouldn't happen again. Here's why forbearance worked.
Forbearance enabled nearly five million homeowners to get back on their feet in a time when having the security and protection of a home was more important than ever. Those in need were able to work with their banks and lenders to stay in their homes rather than go into foreclosure. Marina Walsh, Vice President of Industry Analysis at the Mortgage Bankers Association (MBA), notes:
"Most borrowers exiting forbearance are moving into either a loan modification, payment deferral, or a combination of the two workout options."
As the graph below shows, with modification, deferral, and workout options in place, four out of every five homeowners in forbearance are either paid in full or are exiting with a plan. They're able to stay in their homes.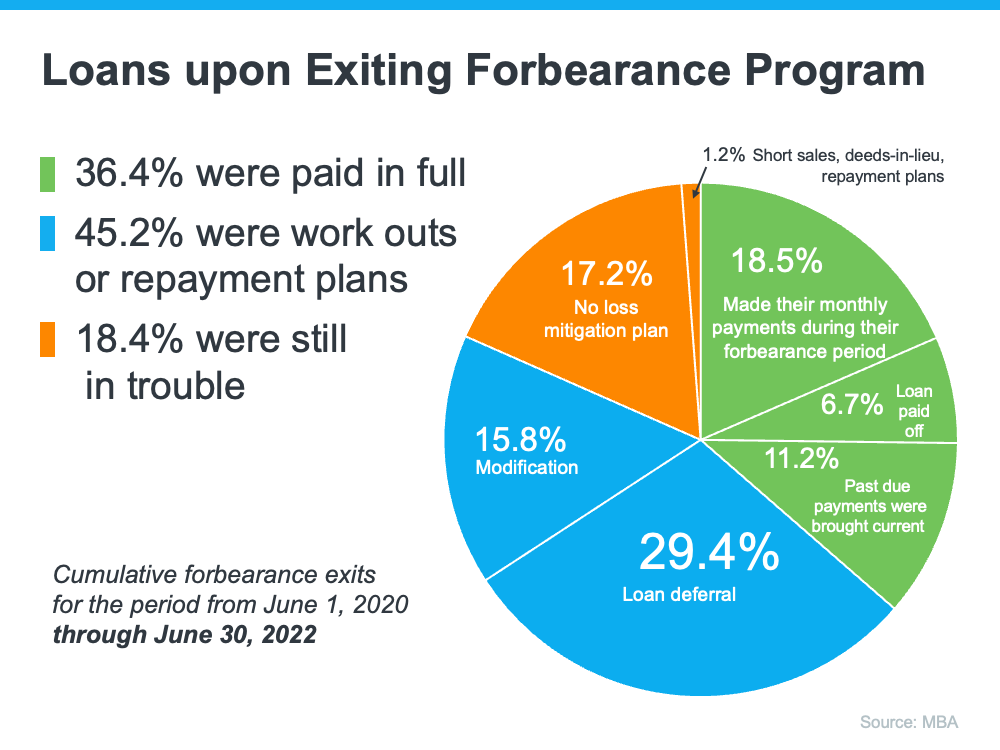 Since so many people can stay in their homes and work out alternative options, there won't be a wave of foreclosures coming to the market. And while rising slightly since the foreclosure moratorium was lifted this year, foreclosures today are still nowhere near the levels seen in the housing crisis.
Forbearance wasn't the only game changer, either. Lending standards have improved significantly since the housing bubble burst, and that's one more thing keeping foreclosure filings low. Today's borrowers are much more qualified to pay their home loans.
And while the majority of homeowners are exiting the forbearance program with a plan, for those who still need to make a change due to financial hardship or other challenges, today's record-level of equity is giving them the opportunity to sell their houses and avoid foreclosure altogether. Homeowners have options they just didn't have in the housing crisis when so many people owed more on their mortgages than their homes were worth. Thanks to their equity and the current undersupply of homes on the market, homeowners can sell their houses, make a move, and not have to go through the foreclosure process that led to the housing market crash in 2008.
Thomas LaSalvia, Chief Economist with Moody's Analytics, states:
"There's some excess savings out there, over 2 trillion worth. . . . There are people that have ownership of those homes right now, that even in a downturn, they'd still likely be able to pay that mortgage and won't have to hand over keys. And there won't be a lot of those distressed sales that happened in the 2008 crisis."
The forbearance program was a game changer for homeowners in need. It's one of the big reasons why we won't see a wave of foreclosures coming to the market.
________________________________________________________________________________________________________________________________________
The hot topic of the last year-plus has been mortgage forbearance, and as plans start to expire, many are expecting a spike in foreclosures. So, Matthew Gardner, Chief Economist, took a closer look at the data for the latest "Monday with Matthew" episode.
Bottom line, things are improving. 
Loading...
________________________________________________________________________________________________________________________
Economist Update on Mortgage Forbearance
As the Boston real estate market recovers from the early days of the pandemic, the share of loans in forbearance dropped for the seventh consecutive week, signifying a 40-basis-point decrease in the last two weeks, according to the Mortgage Bankers Association's (MBA).
The MBA's latest Forbearance and Call Volume Survey showed that the total loans in forbearance are down 16 basis points from 4.66% to 4.50% as of April 11.
MBA estimates 2.3 million homeowners are in forbearance
MBA estimates 2.3 million homeowners are in forbearance plans, and the rates dropped for all investor categories. The share of Ginnie Mae loans in forbearance decreased 17 basis points from 6.33% to 6.16% relative to the previous week, while the share of Fannie Mae and Freddie Mac loans in forbearance decreased eight basis points from 2.52% to 2.44%. The share of other loans, such as PLS and portfolio loans, decreased 31 basis points from 8.65% to 8.34%.
The survey also reported that 13.1% of total loans in forbearance are in the initial forbearance plan stage, while 82.1% are in a forbearance extension. The remaining 4.8% are forbearance re-entries.
The cumulative forbearance exits from June 1, 2020 to April 11 showed that 26.7% resulted in loan deferral or partial claim. Almost 26% of borrowers continued to make their monthly payments during their forbearance period, while almost 15% of borrowers did not make all of their monthly payments and exited forbearance without a loss mitigation plan in place.
Another 14.5% resulted in reinstatements, in which past-due amounts are paid back while exiting forbearance. The remaining exits resulted in loan modifications or trial loan modifications, loans paid off through either a refinance or by selling the home, repayment plans, short sales, deed-in-lieus or other reasons.
"Economic data on home construction and consumer spending in March show a strong housing market and a quickened pace of economic activity," Mike Fratantoni, MBA's senior vice president and chief economist, said in a press release.
With the homeowner assistance and stimulus payments that many households are receiving, it is anticipated that the forbearance numbers will continue to decline in the months ahead as more individuals regain employment. He recommended that homeowners reach out to their servicers if they are experiencing hardship and need to extend their forbearance.
Loading...
________________________________________________________________________________________________________________________
In this week's episode, Chief Economist Matthew Gardner revisits mortgage forbearance, bringing you the latest in light of some recent headlines.
Loading...