Loading...
In the most competitive  Boston real estate market in history, agents are pulling out all the stops to help their clients win bidding wars. Local agents shared some of the tactics they use to help their clients win the house of their dreams. 
From large down payments to pre-inspections, skipping contingencies, and everything in between, here are some tips for Back Bay condo buyers.
 Inspecting the home before making an offer can give the buyer an advantage by allowing them to move quickly. Make an appointment to inspect the home before making the offer, so you can put in the offer waiving the contingency.
Taking steps to meet the seller's unique needs. Before making an offer, Taranto often checks with the listing agent to see if there's anything, in particular, the sellers want, such as a flexible closing date. 
Relationship building goes a long way and can be a difference-maker. Working well with other agents can make the difference between winning or losing an offer, even if you don't have the highest or strongest bid. 
If you have a good relationship with the listing agent from past transactions, that could definitely work in your favor. They want to make sure they have a nice smooth transaction for their seller and will most likely want to work with you again over other agents that may not have been so easy to work with.
 While risky, skipping contingencies, even home inspections, could be necessary to close a deal in a competitive environment
Although you are taking an enormous risk, the Back Bay condo seller does not want to have to deal with putting the home back on the market if the buyer backs out after home inspection or wants to renegotiate after inspection.
Waiving cash back at closing and having the buyer sell their current home ahead of their next purchase can also can help.
Connecting someone with a great bank with a good reputation is important to win a Back Bay condo bidding war. The listing agent will see that and be comfortable knowing it's someone who gets the job done.
Allowing the seller to live in the property after closing is another tactic, that can assist the Back Bay condo seller.
In the current market it does not allow for much back and forth, so going in with your best offer is often the way to go. 
Keeping a tight time frame, from going right to purchase and sale to doing a home inspection within a few days can be a big help, it's important because if someone wants a 30-day close, they have to be able to do things quickly, move quickly because appraisers are really backed up
 A large down payment shows the Back Bay condo seller you're a serious buyer and a better candidate for getting their loan approved, while a small down payment could indicate the buyer is more of a risk for getting the loan approved
 A quick note from the buyer to the seller explaining why the client loves the home can also help, hand-delivering the offer can make the difference in multiple-offer listings. 
It's important that Back Bay condo buyers understand the current market environment. "As a buyer's agent, I don't think it's in the buyer's best interest to waive home inspections and appraisal language, but as a seller's agent, I can tell you those are the offers that are winning in this market, there is a lot of risk for Back Bay condo buyers in today's market.
With a limited number of Back Bay homes for sale today and so many Back Bay condo buyers looking to make a purchase before mortgage rates rise further, bidding wars are common. According to the latest report from the National Association of Realtors (NAR), nationwide, homes are getting an average of 4.8 offers per sale. Here's a look at how that breaks down state-by-state (see map below):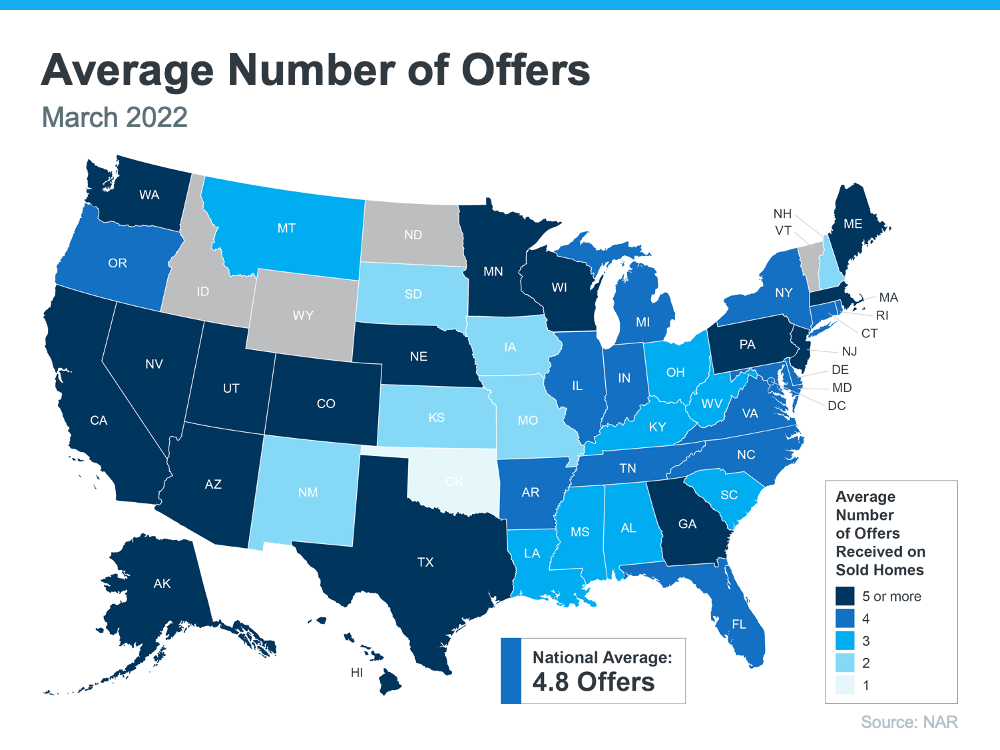 The same report from NAR shows the average buyer made two offers before getting their third offer accepted. In this type of competitive housing market, it's important to know what levers you can pull to help you beat the competition. While a real estate professional is your ultimate guide to presenting a strong offer, here are a few things you could consider.
When you think of sweetening the deal for sellers, the first thought you likely have is around the price of the home. In today's housing market, it's true more homes are selling for over asking price because there are more buyers than there are homes for sale. You just want to make sure your offer is still within your budget and realistic for the market value in your area – that's where a local real estate professional can help you through the process. Bankrate says:
"Simply put, being willing to pay more money than other buyers is one of the best ways to get your offer accepted. You may not have to increase it by a lot — it'll depend on the area and other factors — so look to your real estate agent for guidance."
You could also consider putting down a larger deposit up front. An earnest money deposit is a check you write to go along with your offer. If your offer is accepted, this deposit is credited toward your home purchase. NerdWallet explains how it works:
"A typical earnest money deposit is 1% to 2% of the home's purchase price, but the amount varies by location. A higher earnest money deposit may catch a seller's attention in a hot housing market."
That's because it shows the Boston Back Bay condo seller you're seriously interested in their house and have already set aside money that you're ready to put toward the purchase. Talk to a professional to see if this is something you can do in your area. 
Another option is increasing how much of a down payment you're going to make. The benefit of a higher down payment is you won't have to finance as much. This helps the seller feel like there's less risk of the deal or the financing falling through. And if other buyers put less down, it could be what helps your offer stand out from the crowd.
Realtor.com points out that while increasing these financial portions of the deal can help, they're not your only options:
". . . Price is not the only factor sellers weigh when they look at offers. The buyer's terms and contingencies are also taken into account, as well as pre-approval letters, appraisal requirements, and the closing time the buyer is asking for."
When it's time to make an offer, partner with a trusted professional. They have insight into what sellers are looking for in your local market and can give you expert advice on what levers you may or may not want to pull when it's time to write an offer.
From a non-financial perspective, this can include things like flexible move-in dates or minimal contingencies (conditions you set that the seller must meet for the purchase to be finalized). For example, you could make an offer that's not contingent on the sale of your current home. Just remember, there are certain contingencies you don't want to forego, like your home inspection. Ultimately, the options you have can vary state-to-state, so it's best to lean on an expert real estate professional for guidance.
In today's hot housing market, you need a partner who can serve as your guide, especially when it comes to making a strong offer. Let's connect so you have a trusted resource and coach on how to make the strongest offer possible for your specific situation.
Loading...
Back Bay condos for sale June 2021 – 1st Q Sales Will Shock You
Back Bay condos for sale May 2021 – 1st Q Sales May Shock You. Check out the latest 2021 Back Bay condo sales numbers
Back Bay Sales Stats 1st Q 2021
These Back Bay condo average sales prices may shock you. 
Back Bay condos avg. sales price 1st Q 2021 – $1,993,063
Back Bay condos avg. sales price 4th Q 2020 – $2,336,645
Back Bay condos avg. sales price 3rd Q 2020 – $2,376,957
Back Bay condos avg. sales price 2nd Q 2020 – $1,802,254
Back Bay condos avg. sales price 1st Q 2020 – $3,360,285
Loading...
Click to View Google Reviews