The following is the most recent sales data release for September 2021
Boston Condo Sales
Up in September by 35.2% versus September 2020
Median Boston condo sales price
$725,000 Up 11.3% versus September 2020
Boston Condo Inventory
1,573 Boston condos for sale. Down 26.2% versus September 2020
Boston Condo Days-on-Market
95 days to put a Boston condo under the agreement. UP 13.7% versus September 2020
Boston Condo Median Sales Price Per. Sq. Ft.
$794.00 per sq fr. Up 17.9% versus September 2020
Loading...
____________________________________________________________________________________________________________________________
Loading...
Existing home sales data
The rate of home price growth climbed to a new extreme in August, according to CoreLogic.
Annual appreciation surged by 18.1% in August, setting a new record since tracking began in 1976. It more than tripled the year-ago rate of 5.9% and shattered the "downshifted" 0.2% growth forecast from August 2020. It also marks the sixth straight month in which the Home Price Index made double-digit year-over-year gains, besting July's 17.5% and June's 16.6%.
_____________________________________________________________________________________________________________________________
Loading...
Existing home sales data
August home sales fell for the first time in 12 months as median sales prices of both single-family homes and condominiums declined or stayed flat last month, according to the Greater Boston Association of Realtors August Housing Market Report. 
The drop in home sales comes one month after July's report saw both home and condo sales on the rise as home values continued to be at or near record highs. 
According to the report, the slower sales pace is not uncommon in August, and property values last month did grow 8% from last year while inventory is still tight after months of unprecedented demand. 
In August, single-family homes sales fell 2.4% year over year with the selling of 1,552 homes compared to the 1,590 homes sold in August of 2020. Home sales volume also decreased 8.4% from July. Last month was the 10th most active August on record for home sales, according to the report. 
Condominium sales grew from last August, up 13.4%, with 1,299 condos selling last month compared to 1,146 a year prior, while sales activity slowed from July dropping 10.2%. August was the fifth-highest August on record for condo sales. 
"It feels like we've been in a non-stop sprint for much of the past year, but the market is now getting a chance to catch its breath," GBAR President Dino Confalone said in a press release. "There's been a bit of softening in demand over the past 8-10 weeks as some buyers have opted to take a break from the market due to affordability issues or to pursue summertime activities. Others have grown frustrated by the lack of inventory and chosen to renew leases or stay in their current home, and collectively that's taken some of the air out of the market."
Despite the softening of sales, prices continued to rise in August, just not as dramatically as they had in recent months, according to the report. The median selling price of a single-family home increased 8.4% from a year earlier rising to $780,000 from $719,500, the smallest price gain in the past six months. In the condo market, the median selling price rose 7.8% from a year earlier to $639,000 from $592,500, the smallest price increase in four months. 
As has been the case throughout the year, supply and demand imbalances will continue to lead to more appreciation of home values, according to Confalone, who says it remains a seller's market as "most properties are still selling at or above the asking price when priced right." 
Boston home sales, prices on the rise as the market pace slows
Home and condo sales were on the rise again last month, marking July as the 11th month in a row of improved sales. Despite the increase, the pace of growth was the slowest in four months, according to a recent report from the Greater Boston Association of Realtors, which also found the median selling price-appreciation rate easing as home values continue at or near record highs.
Single-family home sales grew 6.7% over last year, with the sale of 1,678 homes, compared to 1,572 homes sold in July of 2020, making it the sixth-most active July on record for Greater Boston home sales. 
On a month-over-month basis, however, sales volume was down 10% from the 1,865 homes sold in June. 
Condominium sales set a new record for July, up 25% to 1,423 from 1,138 condos sold a year before. Similar to the monthly decline in single-family home sales in July, condo sales fell 12% from 1,617 condos sold in June
Loading...
_______________________________________________________________________________________________________________________________________________________________________________________________________________________________
GBAR President Dino Confalone said that after months of unprecedented demand, the association is seeing a more "relaxed pace to the market" this summer. 
"Since Memorial Day, activity hasn't been quite as strong as it was this spring, with some buyers pulling back to reassess the market and others opting to focus on vacation travel, family events and other summer activities," he said in a release. "There's also been a steady stream of new listings coming onto the market since June 1, and that's giving buyers more options and time to look for a home.". 
Demand may be softening, but according to the report, sales prices continued to climb, just not as aggressively. 
The median price of a single-family home rose for the 21st month in a row in July, posting a 12.1% gain from last year's $700,000., The increase was the smallest price gain in six months. In the condo market, the median selling price increased 8.2% from a year earlier rising to $640,000 from $591,250, the smallest price increase for condos in four months. Median selling prices in July declined 10% from June's record high of $812,000 for a single-family home, but condo median prices remained unchanged. 
Multiple offers are also down, as well as the number of bidding wars, according to the report, relieving some of the pressure on prices. 
Confalone says it remains a seller's market, but it's starting to show more price adjustments, and inventory is sitting on the market longer. 
Supply and demand issues continued, with active single-family home listings down 28% year over year and condo listings falling 19.8%. Month over month, single-family home listings improved 2% while condo listings saw a 5.6% decline.
Loading...
Existing homes sales rise only 1.4%. lower than expected of 2.2%
Loading...
________________________________________________________________________________________________________________________
Existing home sales data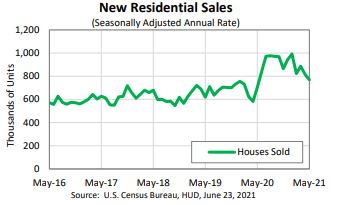 New-home sales slid 5.9% on a seasonally adjusted, monthly basis to 769,000 in May, while the median sales price rose to $374,400 from $365,300 in April, the U.S. Census Bureau and the Department of Housing and Urban Development reported. 
Annually, new-home sales were up 9.2%.
The seasonally adjusted estimate of new houses for sale at the end of May was 330,000, representing a supply of 5.1 months at the current sales rate. 
By region, the number of new homes sold in the Northeast soared by 33.3% to 52,000 on an adjusted basis, while they were flat in the Midwest at 95,000, up by 6.7% in the West at 190,000 and down by 14.5% in the South to 432,000.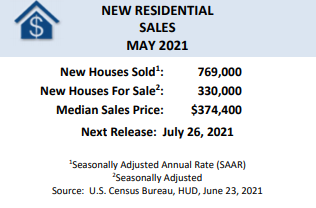 "Right now, we view the shortage of housing inventory as the primary limiting factor for home sales as we start looking forward into the second half of the year," Keller Williams chief economist Ruben Gonzalez said in an email. "These restrictive conditions in the existing home market should continue to drive new construction, as well as strong demand driven by the continued economic recovery and sustained low interest rates." 
Loading...
________________________________________________________________________________________________________________________
From AP:
America's housing market has grown so overheated as demand outpaces supply that prices keep hitting record highs — and roughly half of all U.S. houses are now selling above their list price.
Two years ago, before the pandemic struck, just a quarter of homes were selling above the sellers' asking price, according to data from the real estate brokerage Redfin.
On Tuesday, new data further illuminated the red-hot nature of the housing market: Prices rose in March at the fastest pace in more than seven years. The S&P CoreLogic Case-Shiller 20-city home price index jumped 13.3% that month compared with a year earlier — the biggest such gain since December 2013. That price surge followed a 12% year-over-year jump in February.
Several factors are driving the seemingly relentless rise in home prices. The pandemic has encouraged more people to seek out the additional space provided by a single-family home. Yet at the same time, COVID-19 discouraged many homeowners from selling and opening up their homes to would-be buyers, thereby shrinking the number of homes for sale.
And mortgage rates remain at historically low levels, with the average rate on a 30-year fixed mortgage around 3%. A year ago, the average was nearly 3.25%.
Investors, including individuals buying second houses and wealthy Wall Street firms, are also buying more homes, intensifying the competition. Investors bought 17% of homes in April, up from 10% a year earlier, according to the National Association of Realtors. The large millennial generation is also increasingly turning toward home-buying.
Daryl Fairweather, chief economist at Redfin, said that demand had been outstripping supply even before the pandemic as developers struggled to build enough new homes. Builders now say that shortages of workers and lumber are limiting their ability to build.
New home construction fell in April after reaching a 15-year high a month earlier.
"All told, there is little, if any, indication that home prices will slow their appreciation anytime soon," said Matthew Speakman, an economist at real estate website Zillow.
The number of homes for sale fell 21% in April compared with a year earlier, to just 1.16 million, near a record low in figures that date to 1982, according to the National Association of Realtors. The plummeting supply has pushed buyers into a near-frenzy. Properties were on the market for just 17 days in April, and 88% of homes sold were on the market for less than a month, the NAR said.
The ensuing bidding wars raised the price of the typical, or median, house to $341,600 last month, the NAR said, a record high.
Glenn Kelman, CEO of Redfin, said Tuesday on Twitter that one desperate home buyer in Bethesda, Maryland, offered — perhaps partly tongue-in-cheek — to name her first-born child after the seller. (She still lost out to another buyer.)
Kelman also noted that there are now more real estate agents than there are homes listed for sale. According to the Labor Department, 1.7 million Americans were working in real estate in April.
Some of the year-over-year price gain likely reflects the slower sales and reduced demand a year ago at the onset of the pandemic. All 20 cities in the Case-Shiller index reported faster price increases in March than in February.
The largest increase was in Phoenix for the 22nd straight month; prices there rose 20% compared with a year ago. San Diego experienced the next-largest gain, at 19.1%, followed by Seattle, with 18.3%.
Fairweather, the Redfin economist, said the housing market may cool off in the coming months. With vaccinations spreading and COVID-19 waning, more sellers may be willing to list their homes.
Fairweather suggested that many Americans are likely to start spending more money on services, such as vacations, dining out and other entertainment, and focus less on new homes.
Indeed, the number of people signing contracts to buy homes dropped in May, and fewer people are applying for mortgages. Sales of newly-built homes dropped nearly 6% in April, likely because of spiraling prices.
"At a certain point," Fairweather said, "buyers just back off, and you get more stable price growth. I think this is the peak, but it's going to be hot for a long time. It's more like a plateau."
Record-low mortgage rates are likely to remain in place for the rest of the year and will be driving housing demand as state economies steadily reopen, but more listings and increased home construction will be needed to tame price growth.
Loading...
Click here back to Boston Real Estate Home Search
Ford Realty – Boston Real Estate Google Reviews 2020 & 2021
Click Here: Seaport Luxury high rise condos
Click here: Beacon Hill Apartment rentals