Loading...
Boston real estate for sale or age in place?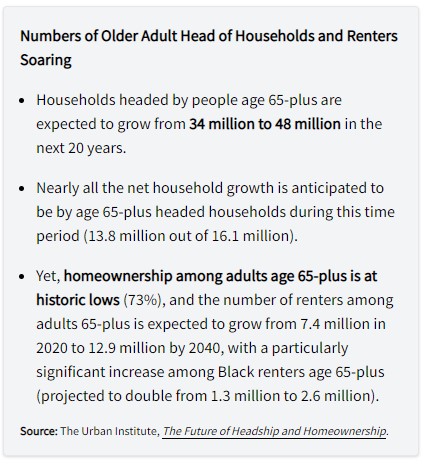 Around the coast, the housing stock is finite – there isn't any more room to build new houses. Whether they knew it or not at the time, everyone has bought their 'forever' home and aging-in-place has become the natural trend. The higher prices and rates have locked out the majority of possible home buyers, but there still aren't enough homes to sell – evidenced by the relatively low inventory.
A month ago, there were 466 houses for sale between Carlsbad and La Jolla, and today we're down to 422 active listings – in an era where other areas are reporting a surge in inventory. There is a real push to build granny flats to create more housing, but that isn't going to help the resale market. In fact, the building of ADUs will actually make the real estate market WORSE by keeping more seniors aging in place and limiting the resale inventory.
Higher rates and prices will only continue the shift of homeownership being for the elite – only.
From the AARP:
The COVID-19 pandemic has altered how people think about their lives and homes – which has collided with exponential growth in the number of older heads of households and renters. These trends highlight the urgent need to rapidly increase and improve the age-friendly and affordable community and housing options.
AARP's 2021 Home and Community Preferences survey found that over three-quarters (77%) of adults age 50 and older want to remain in their homes as they age. This desire is consistent across the lifespan with 63% of adults overall saying the same. The number of older adults wanting to remain in their homes as they age has remained relatively consistent for more than a decade and was not impacted by the pandemic.
Increasing the number of multigenerational households, providing more options like accessory dwelling units (ADUs) or "in-law units", and encouraging renovations that support aging-in-place are all critical to support this desire.
In this blog post, I'll outline the most common remodeling projects for those individuals who prefer to age in place rather than purchasing a downtown high-rise condo with all the bells and whistles that meet their needs as they get older.
When it comes to the most sought-after aging-in-place projects, bathrooms dominate the top spot.
In a recent NAHB survey, more than eight out of 10 reported installing grab bars (89%), higher toilets (85%) and curbless showers (82%) made the list as the most common aging-in-place projects.
Another item that made the list; widening doorways was the next most-common project on the list, came in at a distance 59%, followed by added lighting.
NAHB senior economist Paul Emrath provides more details in this Eye on Housing blog post.