Loading...
We're still in a Boston condo sellers' market. And if you're looking to buy a home, that means you're likely facing some unique challenges, like difficulty finding a home and volatile mortgage rates. But keep in mind, there are some benefits to being a buyer in today's market that give you good reason to stick with your search. Here are a few of them.
Owning a Boston condominium grows your net worth – and since building that wealth takes time, it makes sense to start as soon as you can. If you wait to buy a condo and keep renting a Beacon Hill apartment, you'll miss out on those monthly housing payments going toward your home equity. Freddie Mac puts it this way:
"Homeownership not only builds a sense of pride and accomplishment, but it's also an important step toward achieving long-term financial stability."
The key there is long-term because the financial benefits homeownership provides, like home value appreciation and equity, grow over time. Those benefits are worth the short-term challenges today's sellers' market presents.
Mortgage rates have been hovering around 6.5% over the last several months. However, as Sam Khater, Chief Economist at Freddie Mac, notes, they've been coming down some recently:
"Economic uncertainty continues to bring mortgage rates down. Over the last several weeks, declining rates have brought borrowers back to the market . . ."
Lower mortgage rates improve your purchasing power when you buy, and that can help make homeownership more affordable. Hannah Jones, Economic Data Analyst at realtor.com, explains:
"As we move into the spring buying season, mortgage rates have ticked lower, a welcomed sign of progress towards affordability."
The recent drop in mortgage rates is good news if you couldn't afford to buy a home when they peaked.
According to the Home Price Expectation Survey, which polls over 100 real estate experts, home values will go up steadily over the next few years after a slight decline this year (see graph below):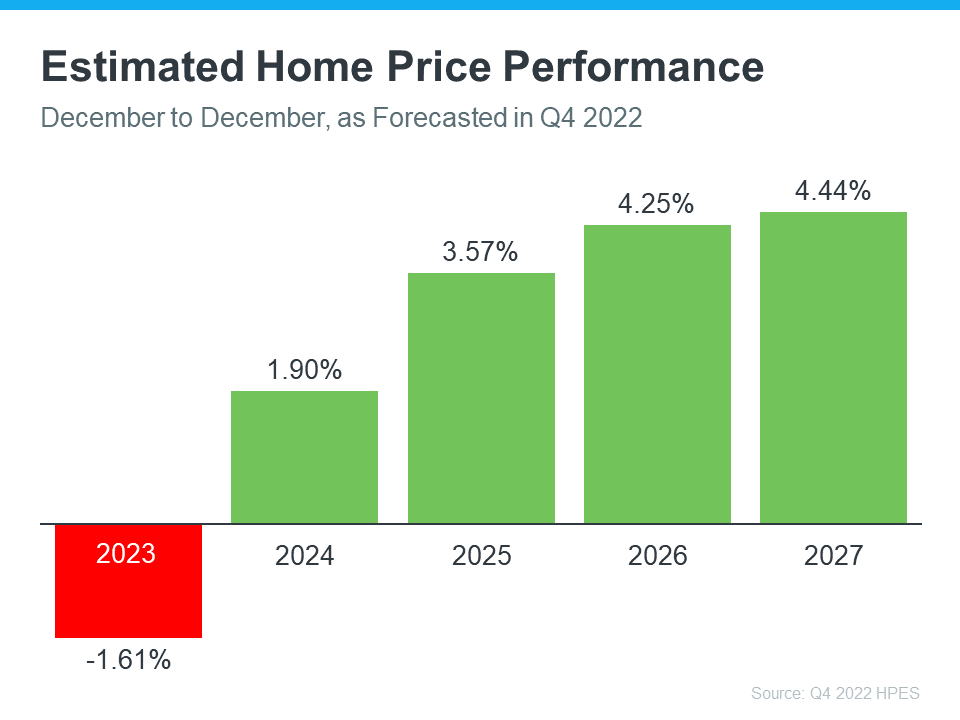 Rising home prices in the coming years means two things for you as a buyer:
Waiting to buy a home could mean it'll become more expensive to do so.
Buying now means the value of your home, and your net worth, will likely grow over time.
If you've been trying to buy a home, hang in there. Mortgage rates have ticked down some recently, home prices are forecast to increase in the coming years, and the long-term benefits of homeownership outweigh many of the short-term challenges.
______________________________________________________________________________________________________________________________________
The Boston media talks about the demand-side of the Boston condos for sale, but our market is being impacted by the lack of supply too.
Could there be demand that isn't being satisfied because there aren't more affordable Boston condos for sale listed by good agents at attractive prices?
It's not just Boston condo inventory, higher rates have added to the frustration of finding the right house, at the right price.
The inventory is probably going to dry up further and more sellers become convinced that now isn't a good time to sell. With a tight selection of quality homes for sale, those who are willing to sell now aren't going to be deterred from trying to obtain the highest price possible
My point is that we are not seeing an increasing flow of new listings being priced lower and lower in an attempt to get out now. It's actually quite the opposite.
____________________________________________________________________________________________________________________________________
The Boston condo market is hot, the Boston condo for sale market is cooling down. You've heard it all, so what is really going on?
The Boston condo for sale market surged during the pandemic boosted by record-low interest rates. But those low mortgage rates are gone at least for now.
In the past Boston real estate agents who once reported lines of buyers outside open houses and bidding wars, like the low interest rates, lines and bidding wars are in the rearview mirror.
The market is beginning to shift as interest rates are at the 6% range and the thought of a recession is entering the mindset of both buyers and sellers alike.
Here are the major factors behind the topsy-turvy housing market.
What will slow down the Boston condo for sale market most is the Federal Reserve insistent in rising mortgage rates. The average rate on the 30-year fixed mortgage, which is by far the most popular product today, accounting for more than 90% of all mortgage applications, started this year right around 3%, is now at the 6% range.
That means a person buying a $400,000 home would have a monthly payment about $700 higher now than it would have been in January. That's even if you could find a Boston condo for sale at $400,000.
The other drivers of the slowdown are high Boston home prices and the low supply of condos affordable for the middle class.
Prices are now 43% higher than they were at the start of the coronavirus pandemic, according to the S&P Case-Shiller national home price index.
Active inventory is still 43% lower than it was in 2019. New listings were also down 6% at the end of the month, meaning potential sellers are now concerned as they see more properties sitting on the market longer. If you've been watching the Boston condo for sale market at all, you've notice days-on-market is increasing on a daily basis.
Inventory is taking a hit nationally because homebuilders are slowing production due to fewer potential buyers touring their model units.
The good news is the Boston condo buyers have not disappeared entirely, despite the still-pricey for-sale market and the equally expensive Boston apartment rental market.
Yes, Boston condo buyers are finding silver linings in the form of cooling competition as the market cools down. In addition, those Boston home buyers with good credit are finding several mortgage options to select from.
Many housing economist are concerned we might be heading in that direction especially as we head into 2023.
We might be looking at declining home prices nationally, says Yale's Robert Shiller
Home prices are finally starting to cool off. They declined 0.77% from June to July, the first monthly fall in nearly three years, according to Black Knight, a mortgage technology and data provider.
The recent drop in home prices is the second-worst July performance dating back to 1991, behind the 0.9% decline in July 2010, during the Great Recession.
Even through Boston bidding wars are basically over, there's still very little give by Boston condo sellers on pricing, that drop in prices will do very little to improve the affordability crisis brought on by rising mortgage rates.
It currently takes 35.51% of median income to make the monthly principal and interest payment on the median home with a 30-year mortgage. That's up from 20% before interest rates began to rise.
Fewer people searched for "homes for sale" on Google during the week ending Sept. 3 – down 25% from a year earlier, according to the Google Trend report.
First and foremost, both Boston condo buyers and sellers – there is no need to panic. In my 20 years of selling Boston condos for sale I've gone through the "ebbs and flow" of the industry, and its never as dramatic as it first appears.
This is what I think is going to happen, I don't see much change for the rest of 2022. I see a power struggle with both buyers and sellers both holding out waiting for the other to blink.
Boston condo sellers who are in no need to sell will pull their condo off the market once we approach the winter months and then perhaps re-listed or select the option to rent their condo out.
Those Boston condo sellers who need to sell, will have no choice but to lower their asking price, but even if they lower the asking price most have built enough equity in their property they will still walk away as a winner.
Finally, I don't see any dramatic drop in Boston condo prices, unless some outside forces impact the global economy.
Ford Realty Office Locations