Loading...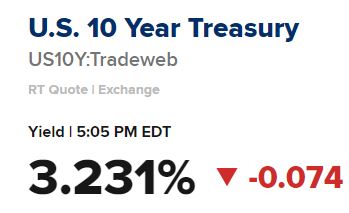 Mortgage Advisors
Over the last few decades, the 30-yr fixed mortgage rate has run at 1.75% over the 10-yr yield – which if true today, it would put us at 5.0%, instead of 6.0%. Here's what the MND thinks about the bond yields:
As for Treasuries, yields are now high enough as to be pricing in virtually all of the expected Fed rate hikes over the next year. Once that happens, the only way for them to go much higher is for the data to deteriorate further. Bottom line: if we can avoid upside inflation surprises like last Friday's, we may have just seen the highest rates of the year.
If the bond yields settle down (the 10-year was 3.48% on Monday), and bring in more MBS buyers, then maybe the mortgage companies can give up the extra 1% spread they are sitting on today. Our chances of survival will be much more likely with 5% mortgage rates, then 6%!
Read full article here:MND Article
Interesting tid-bit. Use this next time you're at a cocktail party and someone (a blowhard) starts rambling on about mortgage loan rates.
Mortgage Matters — Daily mortgage advice from Holden Lewis.
IN THE E-MAIL: Daniel from (I believe) Seattle writes: "I appreciate your effort to keep prospective home buyers apprised of what is occurring in the market. However, the 30-year fixed mortgage rate is not related to the 10-year Treasury. The correct index is the FNMA 30-year 5.5 percent mortgage bond. The two indexes may trade in similar fashions, but daily trading is centered on the yield for the later."
I get this criticism occasionally. It is true that Treasury yields don't directly affect mortgage rates. But Treasury yields and mortgage rates tend to move in the same direction and at roughly the same speeds. Also, when you watch the crawl on a cable news channel, or listen to Marketplace on the radio, you can easily find out what's going on with Treasury yields. Not so with yields on Fannie Mae mortgage bonds or required net yields.
What are Treasury Yields?