Real Estate National News
Loading...
Real Estate National News
Before you decide to sell your condo, it's important to know what you can expect in the current housing market. One positive trend right now is homebuyers are adapting to today's mortgage rates and getting used to them as the new normal.
To better understand what's been happening with mortgage rates lately, the graph below shows the trend for the 30-year fixed mortgage rate from Freddie Mac since last October. As you can see, rates have been between 6% and 7% pretty consistently for the past nine months: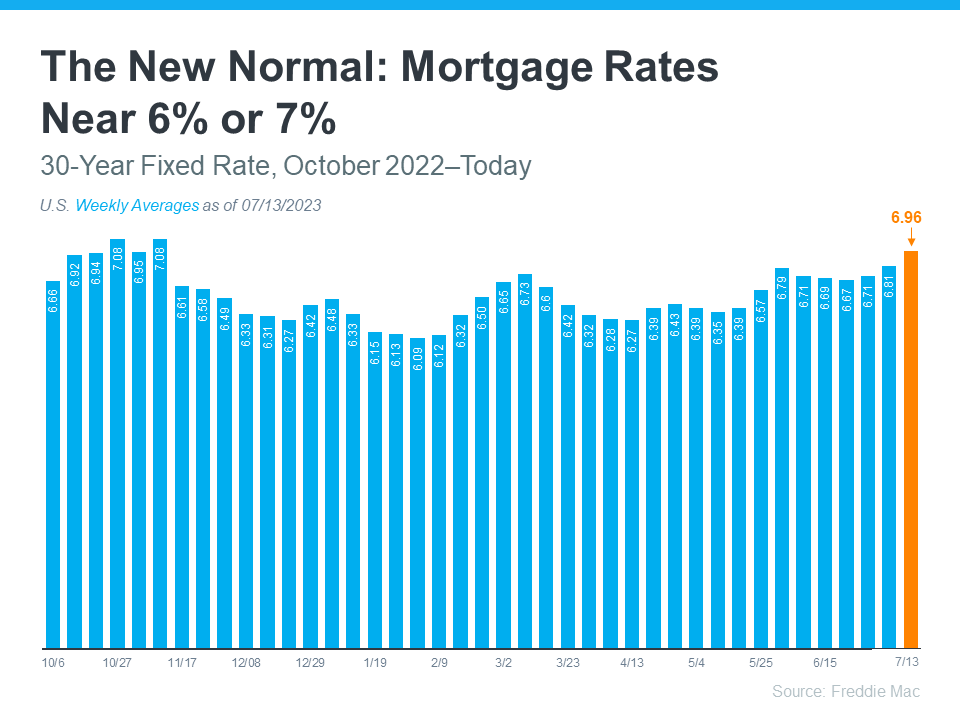 According to Lawrence Yun, Chief Economist at the National Association of Realtors (NAR), mortgage rates play a significant role in buyer demand and, by extension, home sales. Yun highlights the positive impact of stable rates:
"Mortgage rates heavily influence the direction of home sales. Relatively steady rates have led to several consecutive months of consistent home sales."
As a seller, hearing that home sales are consistent right now is good news. It means buyers are out there and actively purchasing homes. Here's a bit more context on how mortgage rates have impacted demand recently.
When mortgage rates surged dramatically last year, escalating from roughly 3% to 7%, many potential buyers felt a bit of sticker shock and decided to hold off on their plans to purchase a home. However, as time has passed, that initial shock has worn off. Buyers have grown more accustomed to current mortgage rates and have accepted that the record-low rates of the last few years are behind us. As Doug Duncan, SVP and Chief Economist at Fannie Mae, says:
". . . consumers are adapting to the idea that higher mortgage rates will likely stick around for the foreseeable future."
In fact, a recent survey by Freddie Mac reveals 18% of respondents say they're likely to buy a home in the next six months. That means nearly one out of every five people surveyed plan to buy in the near future. And that goes to show buyers are planning to be active in the months ahead.
Of course, mortgage rates aren't the sole factor affecting buyer demand. No matter where mortgage rates stand, people will always have reasons to move, whether it's for job relocation, changing households, or any other personal motivation. As a seller, you can feel confident there is a market for your house today. And that demand is pretty strong as buyers settle into where rates are right now. 
Bottom Line
The way buyers perceive today's mortgage rates is shifting – they're getting used to the new normal. Steady rates are contributing to strong buyer demand and consistent home sales. Let's connect so we can get your house on the market and in front of those buyers.
Updated: Boston Real Estate Blog 2023
______________________________________________________________________________________________________________________________________________________________
The growth in 2020 carried well into 2021. A recent market forecast observed that in June 2021, 52.8 percent more Chicagoland homes sold than the previous June, and the median home price increased 20.4 percent. The months' supply of inventory for June in Chicagoland had dropped to 1.7 months, indicating that the market remained extremely competitive. This report forecasted double-digit year-over-year growth for median home prices in July, August, and September.
However, an August 2 report from Midwest Real Estate Data (MRED) shows that the market may have stabilized some over the summer. The number of listings under contract per week has been far more comparable with 2020's totals in recent weeks, hovering between 4,000 and 4,500 homes per week with only slight increases over 2020. After peaking at nearly $400,000 in June, the average sold price hovered just above $350,000 throughout July. The change in median home price was not as drastic in July but also remained below June peaks of over $300,000 in some weeks.
What could the future hold? It's worth noting that the MRED data shows the 2021 weekly totals of real estate showings to be closely echoing 2019, or otherwise "normal," seasonal trends, more so than the inflated totals of summer 2020. Does this translate to declining buyer interest that could lead to lowered prices? Perhaps, but MRED data also shows that the number of new listings on the market declined each week in July between four and nine percent from the previous year. In a market still relatively low on inventory, this could be a key factor in median home prices staying high.
As families return from long-awaited vacations and kids head back to school, it's hard to know for sure what will happen from here. However, there is one factor assuredly in your favor. Interest rates are still low, meaning that with the right agent at your side, now could still be an excellent time to make your move. 
What's the latest on the Chicagoland residential real estate market? After many months of heightened activity dating back to the end of the first wave of shutdowns in spring 2020, some observers have expected the frenzied market to plateau and decline. The numbers show that while month-to-month growth has come back down to earth, that decline may not be in place just yet.
Reflecting on 2020, there's no denying that the lifting of shutdowns triggered a staggering amount of activity. According to Illinois REALTORS, the Chicagoland year-end median home price in 2020 was $268,000, an increase of 8.1 percent from $248,000 in 2019. The average months' supply of inventory for 2020 was 1.8, a decline of 45.5 percent from 2019. The 2020 number of homes sold of 120,256 was an increase of 8.8 percent, and the highest total since 2012.
Loading...
________________________________________________________________________________________________________________________________________________________________________________________________________________________________________
Click here to view all Boston Beacon Hill apartments for rent
Click Here to view: Google Ford Realty Inc Reviews
Click to View Google Reviews
Updated: Boston Real Estate 2023
From ABC News: Senate Dems Not Sure They Can Get Enough Votes to Reconfirm Bernanke.
… ABC News has learned that the Senate Democratic leadership isn't sure there are enough votes to re-confirm Ben Bernanke for another term as chairman of the Federal Reserve.

Bernanke's term expires on Jan. 31.
[Sen. Bernie Sanders, I-Vt.], Sen. Jim Bunning, R-Ky., Sen. Jim DeMint, R-S.C., and Sen. David Vitter, R-La., have all put holds on Bernanke's nomination, requiring 60 votes to proceed to a vote.
From the WSJ: Fed's Bernanke Faces Tighter Vote in Senate
Ben Bernanke's confirmation for a second term as Federal Reserve chairman will go down to the wire and could be a closer vote than seemed likely just a few weeks ago.
…
Mr. Bernanke met with Senate Majority Leader Harry Reid Thursday as Democratic and Republican leaders surveyed senators to tally votes on the nomination. Mr. Bernanke needs 60 supporters to win approval for another four-year term.
What are your thoughs? Should Ben Bernanke, who some credit for saving our economy, be confirmed for a second term?
File Under: "Politics is the art of looking for trouble, finding it whether it exists or not, diagnosing it incorrectly, and applying the wrong remedy."
Loading...