Loading...
National and local housing-market predictions for 2022
I'd like to share something I read from the Mortgage Bankers Association:
"There are so many strange things going on right now," said Edward Seiler, the associate vice president for housing economics at the Mortgage Bankers Association.
It has been 40 years since rates have risen like this alongside similar home price growth and high inflation. This time around, the United States also has a severe housing shortage. And then there's a new and uncertain dynamic — the sudden rise of working from home, which has the potential to change what home buyers want and where they live.
"Nobody really knows what's going to happen over the next year," Mr. Seiler said. That makes it hard to predict when rates might start to act as a brake on rising prices.
Wait a second – Nobody?
I have to take a swing at that one!
There are many variables that could slow the increases in home prices, and higher rates are just the latest excuse. Prognosticators said that last year's velocity was the reason the home prices would cool in 2022 – no one could imagine that they could go up as fast as they did in 2021 – yet NSDCC the median sales price has INCREASED 21% BETWEEN DECEMBER AND MARCH!
But will rising rates be the final blow, and home prices start to decelerate?
Let's try to predict the path of mortgage rates in 2022. How much worse could it get?
Mortgage rates are loosely tied to the 10-year T-bill, which has risen 0.824% this year: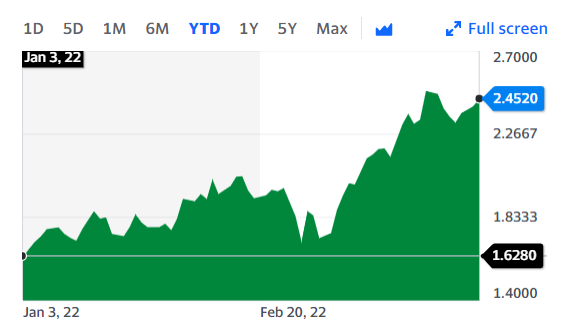 The Fed is expected to raise their benchmark rate 1.5% this year (6 x 0.25%), so the 10-year yield has another 0.676% to go to reflect the anticipated 1.5% increase in 2022.
Mortgage rates have mirrored the 10-year, plus 1.75%, for decades.
Today's 30-year fixed mortgage rate is 4.84% so let's add the additional 0.676% = 5.516%. Because mortgage lenders are like gas stations – quick to overshoot rates on the way up, and sluggish on the way down.
Bottom line we will probably see 6% mortgage rates this summer as lenders continue to get out in front.
_____________________________________________________________________________________________________________________________________
National and local housing-market predictions for 2022
Loading...
As we move into 2022, both buyers and sellers are wondering, what's next? Will there be more homes available to buy? Will prices keep climbing? How high will mortgage rates go? For the answer to those questions and more, we turn to the experts. Here's a look at what they say we can expect in 2022.
Odeta Kushi, Deputy Chief Economist, First American:
"Consensus forecasts put rates at about 3.7% by the end of next year. So, that's still historically low, but certainly higher than they are today."
Danielle Hale, Chief Economist, realtor.com:
"Affordability will increasingly be a challenge as interest rates and prices rise, but remote work may expand search areas and enable younger buyers to find their first homes sooner than they might have otherwise. And with more than 45 million millennials within the prime first-time buying ages of 26-35 heading into 2022, we expect the market to remain competitive."
Lawrence Yun, Chief Economist, National Association of Realtors (NAR):
"With more housing inventory to hit the market, the intense multiple offers will start to ease. Home prices will continue to rise but at a slower pace."
George Ratiu, Manager of Economic Research, realtor.com:
"We also expect a growing number of homeowners to bring properties to market, taking some pressure off high prices and offering buyers more options."
Mark Fleming, Chief Economist, First American:
"Strong demographic demand will continue to act as the wind in the housing market's sails."
Hope is on the horizon for 2022. You should see your options grow as more homes are listed and some of the peak intensity of buyer competition starts to ease. Just remember, rising rates and prices are a great motivator for you to find the home of your dreams sooner rather than later so you can buy while today's affordability is still in your favor.
Make no mistake – this sellers' market will remain in 2022 as home prices are projected to continue climbing, just at a more moderate pace. Selling your house while buyer demand is so high will truly put you in the driver's seat. But don't wait too long. With more listings projected to become available, your ideal window of opportunity to stand out from the crowd won't last forever. Work with an agent who knows your local market and current inventory conditions to ensure you have the support you need to make an educated and informed decision about selling in the coming year.
If you're thinking of buying or selling, 2022 may be your year. Let's connect to discuss your goals and the unique opportunities you have in today's housing market.
Click Here to view: Google Ford Realty Inc Reviews
Loading...
Here are five housing-market predictions for the nation: Mortgage rates will top 5 percent, mortgages will be easier to secure, inventory will stabilize, home affordability will decline, fewer people will own homes.
OK, we're not in the position to argue with the first two items, but we have some nuanced quibbles with the last three items, so here are our general Big Think predictions for the Massachusetts/Boston housing markets in 2014:
Massachusetts inventory will not stabilize: Sure, more sellers may finally get off the fence and decide to sell this spring. And there is some more housing being built. The current incredibly lopsided seller's market can't last forever.
But there's simply not enough housing being built in Massachusetts to even come close to truly stabilizing inventory and prices. It's why prices have been relentlessly rising for the past two decades now in the state. Does anyone really think that dynamic is suddenly going to go away next spring?
There will be pockets of price declines in Massachusetts: All of the above is not to say we won't see some price relief in some selective areas. Rental price competition in the Seaport area actually broke out earlier this year, due to the flood of new units hitting the market there. We could see this in other city neighborhoods in 2014 or 2015.
For instance, take a look at the "under construction" projects listed by the DowntownBoston.org. That's a lot of new housing units for a relatively small area. Sooner or later, those new units will make a price difference, though probably in late 2014 and 2015 (or later), depending on when they're finished.
But, again, it's not enough – and the new supply of housing is not geographically spread out enough. Boston alone can't be the one building 80 percent of the new housing stock in the state. Something fundamental has to change elsewhere.
Marty Walsh isn't stupid enough to stop high-end housing construction: Marty Walsh is a smart man and knows the construction industry. So the new mayor, who takes office next month, won't (and shouldn't) interfere with the current high-end housing-construction in the downtown. Those projects are providing badly needed construction jobs and they're helping relieve the overall housing crisis, to an extent, in the region. The trick is to get more housing built elsewhere in the city.
Marty Walsh won't get much housing built outside the downtown area – at least in 2014: As Paul McMorrow has noted: Boston's housing solution lies outside the downtown. He focuses on Allston to make his point that the city needs to build more in non-downtown neighborhoods like Allston, Roxbury, Dorchester, Hyde Park, West Roxbury, South Boston, Roslindale, Brighton, Mattapan etc.
It won't be easy because of some neighborhood opposition. And so it will take time. But if Walsh focuses on new housing in these neighborhoods – while not disrupting the ongoing boom in the downtown – he could end up seeing results by the end of his first term.
Some cities will pick up housing construction: Some smaller cities, such as Somerville, Melrose, Medford, Revere and others, get it: Build housing near T and commuter-rail stations and people will come. Maybe not at the feverish pace now seen in Boston. But there are encouraging signs of more "transit orientated" housing activity going on in the state.
The suburbs aren't going to change – at least not in 2014: The suburbs are simply not going to change. They don't want more housing, or, more specifically, family housing. A few condo projects here and there, well, OK. But not family housing that can lead to more students in their school systems. And state lawmakers, who ultimately represent those suburban voters, are not going to go against their constituents' wishes.
It would take a miracle to change their minds.
But, hey, this is the season of miracles, so maybe … Ah, never mind. It ain't going to happen.
And that's our big-think post of the month, if not the year.
Pet Friendly Boston condo for sale.
Pet friendly luxury condo for sale at the Ritz Carlton with price reduction.
Back Bay luxury pet friendly condominium with a recent price reduction.
Boston South End Condos pet friendly fro sale under $1,000,000.
Boston South End price reduction for pet friendly property.
Downtown Boston Financial District luxury condo with a price reduction dogs and cats welcome.
Boston Waterfront pet friendly properties with reduced asking price.
To learn more about the Boston pet friendly real estate market please feel free to call our office at 617-720-5454. You can also stop by our Beacon Hill office at 137 Charles Street, Boston MA.
Source: MLS
Three bedroom Charlestown condo for sale.
Boston condo for sale in Charlestown.
One bedroom Boston condo for sale in Charlestown Massachusetts.
Boston condominiums for sale in the Back Bay area.
New Boston condos for sale in Back Bay.
Luxury Boston condos for sale in Back Bay.
The best Back Bay condos for sale.
View luxury Back Bay condominiums and homes for sale.
View new Beacon Hill condos and townhouses for sale in all price ranges.
Today's newest Boston condos for sale in one of the finest areas of Boston.
Boston South End condos and homes for sale, new to the market.
Source: MLS
View Back Bay condos for sale:
Newest Back Bay real estate listing for sale.
Back Bay luxury condominium for sale.
Use the quick search box to view new Back Bay condos for sale.
For more information on how to be a Boston condo owner please contact John Ford at 617-720-5454. You can also email at realtyford@yahoo.com
Back to Boston condos for sale homepage
Contact me to find to set up an appointment to start your Boston condo buying process.
SEARCH FOR CONDOS FOR SALE AND RENTALS
For more information please contact one of our on-call agents at 617-595-3712.
Updated: January 2018