Loading...
Selling your parents' home: the best way to do it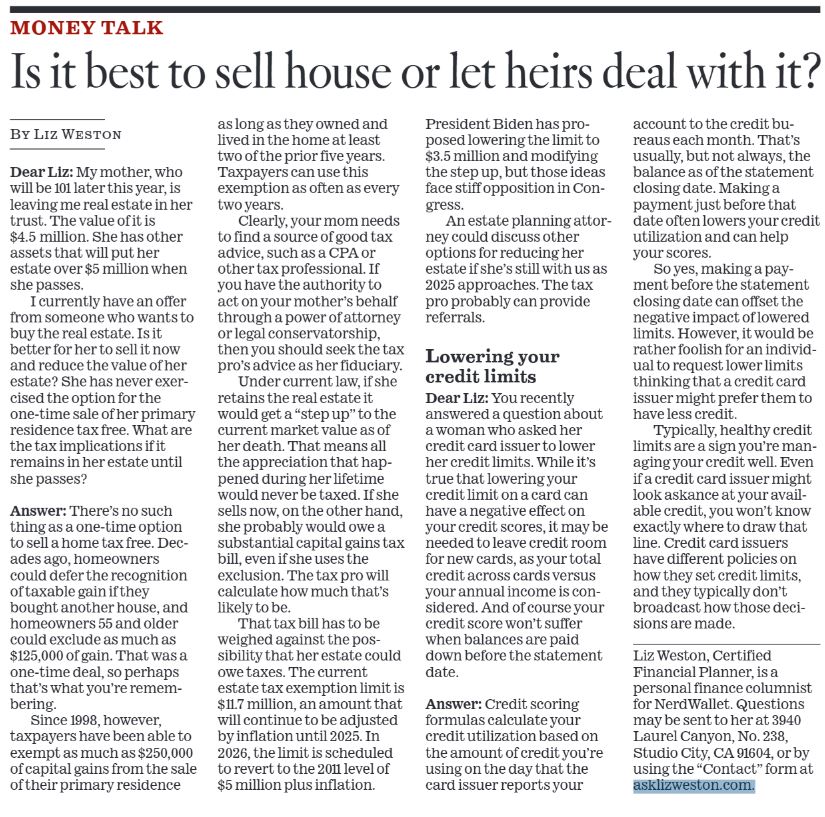 Selling your parents' home: the best way to do it
If you wanted proof that the tight-inventory era will persist – and possibly get worse – over the next few years…..well, here you go.  As prices have risen sharply, so has home equity – which means the long-time owners can be looking at a six-figure tax hit, even after the 2-out-of-5-year tax exemption.
While you can make the case that the capital-gains tax gets paid with the same-and-seemingly free money created by the recent home-price appreciation, Americans have a real aversion to paying taxes. Especially in six-figure amounts!
The long-timers who might consider selling their home are smart to calculate the potential capital-gains tax first.  For most, it will probably be the last straw!
Loading...
____________________________________________________________________________________________________________________________________________________________________________________________________
The worst time to discuss your parents' financial planning is either after they become infirm, or during Thanksgiving dinner, as you may have just found out.
It's an important issue, to be sure. No, not just because you want an inheritance (as your sisters suggested), but because you care about your parents and want to make sure they are taken care of.
How can your parents be assured of keeping their home, until they die? How can their heirs be assured of receiving the biggest inheritance they deserve, or put another way, how can their heirs be assured of paying as little inheritance tax as possible?
I suggest you and/or your parents talk with a tax adviser. Now, versus later.
Here's one bit of information:

Question: What is the best way to hold title to my residence to avoid probate …? –Steve L.
Answer: . Usually, in a revocable living trust. While you are alive you can buy, sell, refinance, and manage your living-trust assets because you are the trustor, trustee, and beneficiary.
If you become incapacitated, your successor trustee takes over and manages your assets.
After you die, your living-trust assets are distributed without probate costs or delays, according to your living-trust instructions.
It can be financially disadvantageous to go on the property's title, now, before your parent passes away. If you do, my understanding is that the value of the property is then "stepped-up", meaning when you actually sell, only the difference between the stepped-up amount (your new cost basis) and the sale amount is yours, tax-free, instead of the whole amount.
See a tax adviser.
Complete story: Living trust streamlines real estate inheritance – By Robert J Bruss, Inman News, by way of The Boston Globe
Loading...