Loading...
That's what we said: Boston condo average prices up, interest rates down
Mortgage rates dropped this week from the previous week, following the trend of the 10-year Treasury yield. Although these mortgage rates won't likely last long at the 2% range, mortgage rates will remain historically low for the rest of the year. NAR forecasts mortgage rates to average 3.2% in 2021.
In the last several months, consumers saved like never before. Data shows that people typically saved around 9% of their income before the pandemic, while people saved 28% of their income in March. With personal income at record highs at $24.2 trillion, this means that consumers have already accumulated a large amount of cash.
In the meantime, hiring is picking up with 1 million jobs likely added in April. The U.S. Bureau of Labor Statistics will release the employment conditions for April tomorrow. Nevertheless, hiring is already higher than pre-pandemic levels in some areas. For instance, in Idaho, there are 38,500 more jobs than pre-pandemic. This translates to a 5% increase of payroll jobs compared to pre-pandemic. Similarly, hiring is 4% higher than pre-pandemic in Utah by 65,350 jobs. As people enter back into workplace, more Americans are expected to set their sights on homeownership, further boosting homebuying activity.
Additionally, remember that a home is among the biggest purchases a person will ever make — and with 87% of homebuyers financing their purchases, this also means that nearly everybody who wants to buy a home will also need a mortgage. Thus, expect homebuyers with weaker financial positions to face additional hurdles. For instance, Black Americans are 2.5 times more likely to be rejected for a mortgage than White Americans. While most of these applications were denied due to higher debt-to-income ratio and lower credit scores, it may be even more difficult for homebuyers from minority groups to get a loan in a such competitive market.
The decline of home mortgage interest rates is continuing to fuel real estate demand in December, pushing the median home-sale price up 13% nationwide to $334,300, according to a new report from online broker Redfin.
Nationwide, new listings were up 14%, closed home sales jumped 16% and pending sales were up 35%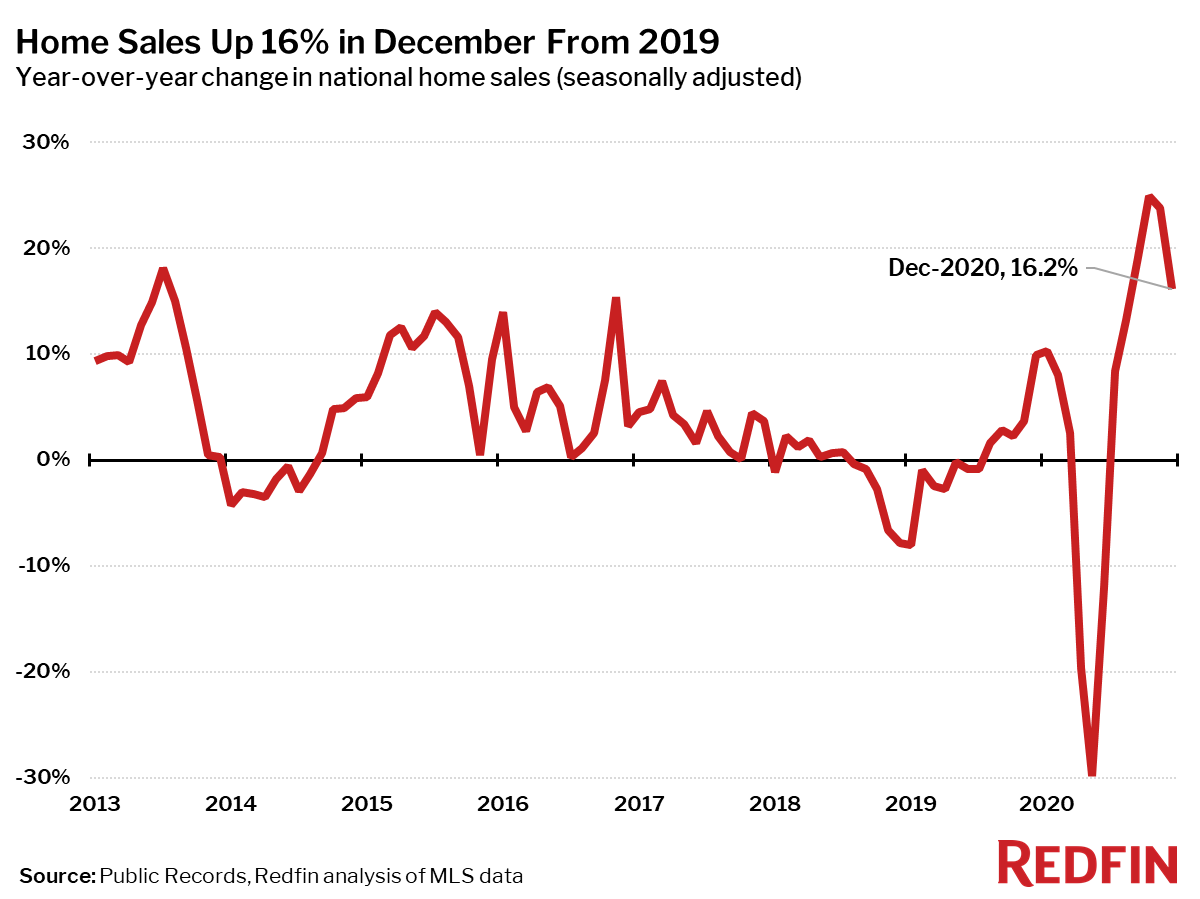 "The December housing market felt more like spring than winter," Redfin chief economist Daryl Fairweather said in a press release. "Right now homebuying demand is seemingly endless, and although new listings are up from a year ago, it's not nearly enough to keep up with demand. This inventory shortage is especially dire in places that have become hot migration destinations during the pandemic, like Salt Lake City."
Boston Real Estate Market
The median sales price in Boston saw a year-over-year increase of 10% in December to $550,000. That's a 0.2% decline from the previous month. A total of 5,114 homes were sold in December, up 11.9% from the previous month and 17.5% from the previous year.
A total of 2,221 homes were newly listed in December, a 37.9% decline from the previous month but up 44.5% from December 2019. Roughly 9,158 homes were up for sale in the final month of 2020, down 26.9% from the previous month and 7.7% from the previous year.
Loading...