Loading...
One of the biggest challenges in the Boston condo for sale market right now is how few homes there are for sale compared to the number of people who want to buy them. To help emphasize just how limited housing inventory still is, let's take a look at the latest information on active listings, or homes for sale in a given month, as it compares to more normal levels.
According to a recent report from Realtor.com: 
 "On average, active inventory in June was 50.6% below pre-pandemic 2017–2019 levels."
The graph below helps illustrate this point. It uses historical data to provide a more concrete look at how much the numbers are still lagging behind the level of inventory typical of a more normal market (see graph below):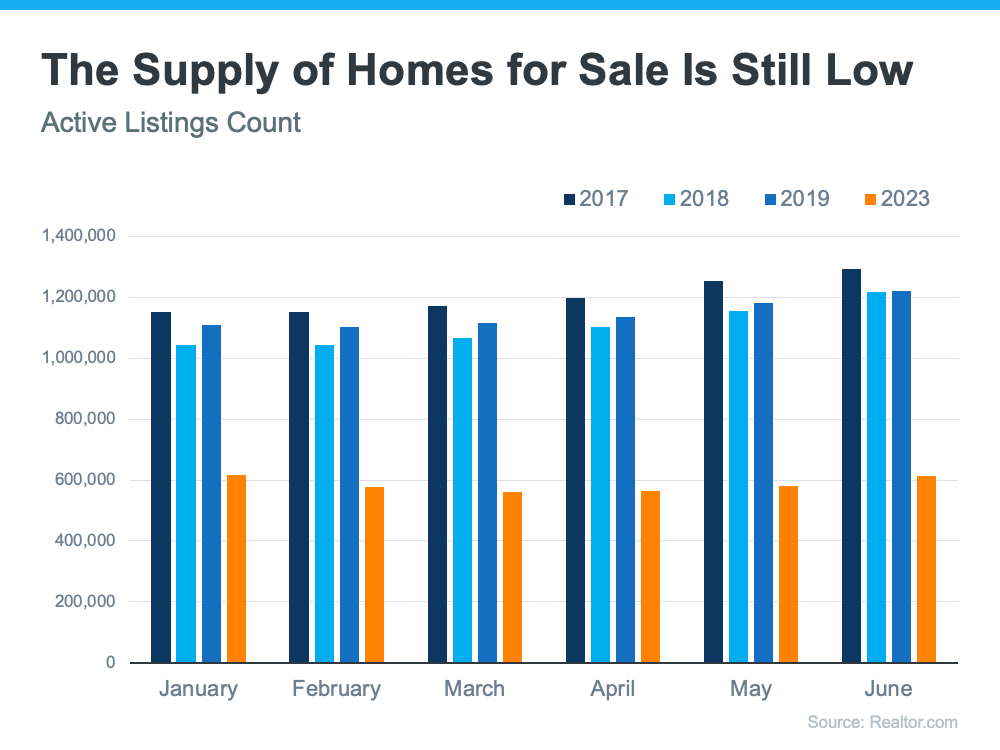 It's worth noting that 2020-2022 are not included in this graph. That's because they were truly abnormal years for the housing market. To make the comparison fair, those have been omitted so they don't distort the data.
When you compare the orange bars for 2023 with the last normal years for the housing market (2017-2019), you can see the count of active listings is still far below the norm.
What Does This Mean for You? 
If you're thinking about selling your house, that low inventory is why this is a great time to do so. Buyers have fewer choices now than they did in more normal years, and that's continuing to impact some key statistics in the housing market. For example, sellers will be happy to see the following data from the latest Confidence Index from the National Association of Realtors (NAR):
The percent of homes that sold in less than a month ticked up slightly to 74%. 

The median days on market went down to 18 days, showing homes are still selling fast when priced right. 

The average number of offers on recently sold homes went up to 3.3 offers.
Boston Condos and the Bottom Line
When supply is so low, your house is going to be in the spotlight. That's why sellers are seeing their homes sell a little faster and get more offers right now. If you've thought about selling, now's the time to make a move. Let's connect to get the process started.
____________________________________________________________________________________________________________________________________________________________
The pace of new home listings is gaining steam, a welcome development in the face of high demand from Boston condo buyers, Redfin reported.
A new Redfin report found the number of newly listed homes for sale during the four weeks ended Feb. 20 fell just 2% from last year, the smallest decline since mid-November. 
The report found those listings were met with "hearty demand" as pending home sales rose 1% during the first increase since-mid January. Home sale prices, asking prices, mortgage payments and share of homes selling within days of being listed also set new record highs.  
Despite all the highs, the total number of homes for sale hit a new all-time low. 
Redfin deputy chief economist Taylor Marr said there's good news for homebuyers in that each week more homes are being listed. 
"There is growing evidence that January's dramatic drop in new listings was only a temporary blip driven by heavy winter storms and the spike in Covid cases, so homebuyers may have some hope for better selection in the coming spring season," Marr said in a press release. 
In the four weeks ended Feb. 20, active listings fell 25% year over year to an all-time low of 452,000 and were down 49% from the same period in 2020. The median asking price rose 15% from 2021 to another high of $385,327 and was up 27% from 2020. Meanwhile, the median sale price increased 15% year over year to $358,750, another record high. 
Forty-five percent of homes went under contract with an accepted offer within one week of being listed, up from 39% last year, setting another record. Additionally, 43% of homes sold above list price, up from 32% last year.
The report noted a 10% week-over-week decrease in mortgage applications during the week ended Feb. 18, and 30-year mortgage rates fell to 3.89% for the week ended Feb. 24.
Loading...
2021: Demand for housing inventory and future of the American home
Loading...
+++++++++++++++++++++++++++++++++++++++++++++++++++++++++++
Loading...
In today's housing market, it seems harder than ever to find a home to buy. Before the health crisis hit us a year ago, there was already a shortage of homes for sale, especially affordable homes in downtown Boston. When many homeowners delayed their plans to sell at the same time that more buyers aimed to take advantage of record-low mortgage rates and purchase a home, housing inventory dropped even further. Experts consider this to be the biggest challenge facing an otherwise hot market while buyers continue to compete for homes. As Danielle Hale, Chief Economist at realtor.com, explains:
"With buyers active in the market and seller participation lagging, homes are selling quickly and the total number available for sale at any point in time continues to drop lower. In January as a whole, the number of for sale homes dropped below 600,000."
Every month, realtor.com releases new data showing the year-over-year change in inventory of existing homes for sale. As you can see in the map below, nationwide, inventory is 42.6% lower than it was at this time last year:
Not exactly. While there are fewer existing homes being listed right now, many homes are simply selling faster than they're being counted as current inventory. The Massachusetts real estate market is that competitive! It's like when everyone was trying to find toilet paper to buy last spring and it was flying off the shelves faster than it could be stocked in the stores. That's what's happening in the housing market: homes are being listed for sale, but not at a rate that can keep up with heavy demand from competitive buyers.
In the same realtor.com report, Hale explains:
"Time on the market was 10 days faster than last year meaning that buyers still have to make decisions quickly in order to be successful. Today's buyers have many tools to help them do that, including the ability to be notified as soon as homes meeting their search criteria hit the market. By tailoring search and notifications to the homes that are a solid match, buyers can act quickly and compete successfully in this faster-paced housing market."
The health crisis has been a major reason why potential sellers have held off this long, but as vaccines become more widely available,  Boston homeowners will start making their moves. Ali Wolf, Chief Economist at Zonda, confirms:
"Some people will feel comfortable listing their home during the first half of 2021. Others will want to wait until the vaccines are widely distributed."
With more Boston condo owners are getting ready to sell later this year, putting your condominium on the market sooner rather than later is the best way to make sure your listing shines brighter than the rest.
When you're ready to sell your Boston downtown real estate, whether it's a Beacon Hill, Back Bay, or a high-rise condo you'll likely want it to sell as quickly as possible, for the best price, and with little to no hassle. If you're looking for these selling conditions, you'll find them in today's market. When demand is high and inventory is low, sellers have the ability to create optimal terms and timelines for the sale, making now an exceptional time to move.
Today's Boston real estate market is a big win for sellers, but these conditions won't last forever. If you're in a position to sell your house now, you may not want to wait for your neighbors to do the same. Let's connect to discuss how to sell your house safely so you're able to benefit from today's high demand and low inventory.
 Boston condo market is starting with condominium values are up.
However, there is one problem that may have a huge impact on the Boston condo market and that's the lack of housing inventory. While buyer demand looks like it will remain strong throughout the winter, supply is not keeping up.
"Total housing inventory at the end of November dropped 7.2 percent to 1.67 million existing homes available for sale, and is now 9.7 percent lower than a year ago (1.85 million) and has fallen year-over-year for 30 consecutive months. Unsold inventory is at a 3.4-month supply at the current sales pace, which is down from 4.0 months a year ago."
"The increases in single-family permits and starts show that builders are planning and starting new construction projects, that's a good thing because it will help to relieve the shortage of homes on the market."
"Inventory is tighter than it appears. It's much lower for entry-level buyers."
If you are thinking of selling your Boston condo, now may be the time. Demand for your Boston condos will be strong at a time when there is very little competition. That could lead to a quick sale for a really good price.
For more information please call John Ford at 617-720-5454
Loading...