Loading...
American Dream – Still Alive
Everyone's interpretation of the American Dream is unique and personal. But, for many people, it's tied to a sense of success, freedom, and prosperity. These are all things that owning a home can help provide.
A recent survey from Bankrate asked respondents which achievements they feel most embody the American Dream. The responses prove owning a home is still important to so many Americans today (see graph below):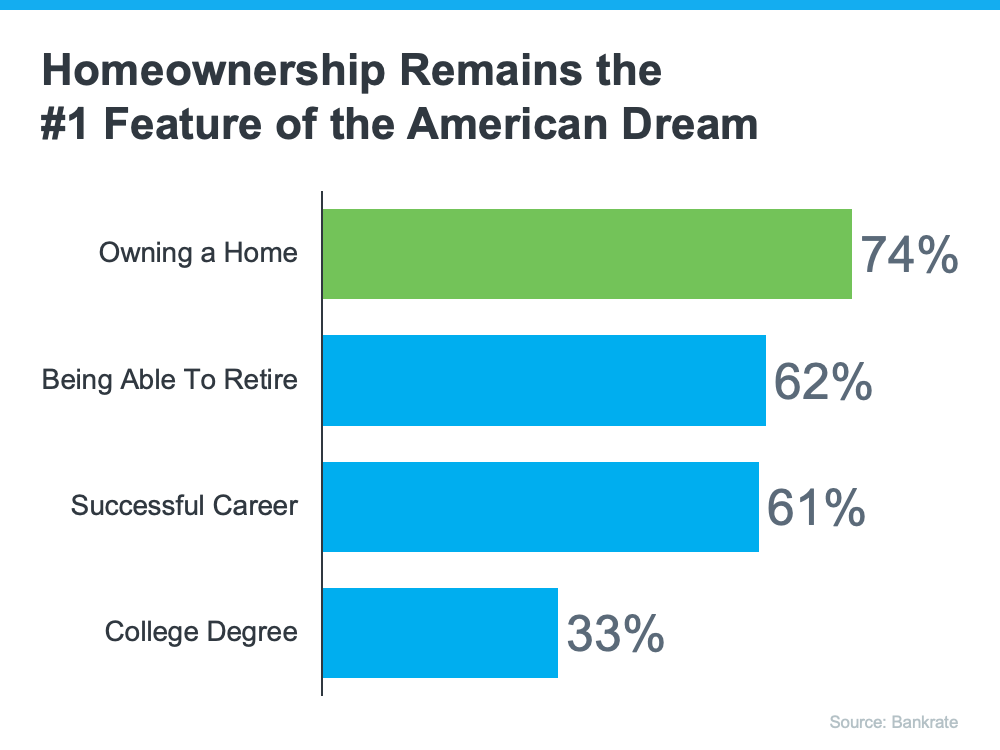 As the graph shows, homeownership ranks above other significant milestones, including retirement, having a successful career, and earning a college degree.
A recent report from MYND helps shed light on why so many people value homeownership. It finds:
". . . nearly two-thirds of Americans (65%) see homeownership as a means of building intergenerational wealth."
That's because, when you own a home, your equity (and net worth) grows over time as you pay down your home loan and as home prices appreciate. This can be a key factor in building intergenerational wealth and long-term financial stability.
To further drive home the difference homeownership can make in your life, a report from Fannie Mae says:
"Most consumers (87%) believe owning a home is important to 'live the good life.' . . . Notably, significantly more see 'having less stress' as a benefit achieved by owning than renting."
Especially today, this could be because, when you own a home with a fixed-rate mortgage, you stabilize what's likely your largest monthly expense (your housing cost), and that helps combat the impact of rising costs from inflation.
What Does This Mean for You?
While it may feel challenging to buy a home today with higher mortgage rates and home prices, if the time is right for you, know that when you buy a home, incredible benefits are waiting for you at the end of your journey.
Buying a Boston condominium is a significant and powerful choice, embodying the foundation of the American Dream. If you plan to make your homeownership dream a reality this year, let's connect to start the process.
_____________________________________________________________________________________________________________________________________________________
Buying a Boston condo for sale has long been considered the American Dream here in downtown Boston, and it's one every Bostonian should feel confident and powerful pursuing. But owning a home is also a deeply personal dream. Our home provides us with safety and security, and it's a place where we can grow and flourish.
Yesterday, we remember the legacy of Dr. Martin Luther King, Jr. Many of us will remember his passion and determination for the causes he championed, including his famous "I Have a Dream" speech in 1963. As we reflect on his message, it may inspire your own dream of a Boston Back Bay condo or a Beacon Hill home. And if so, know you're not alone. With a trusted real estate broker at your side, you can begin your journey toward homeownership by answering the questions below.
The process of buying a Boston Seaport condo for sale is not one to enter into lightly. You need to decide on key things like how long you plan on living in an area, how much space you need, what kind of commute works for you, and how much you can spend.
Then, when you decide you're ready to buy, you'll need to apply for a mortgage. Your lender will look at several factors to determine how much you're able to borrow, including your credit history. Lenders want to understand how well you've managed to pay your student loans, credit cards, car loans, and other past debts.
According to Freddie Mac:
"To get a rough estimate of what you can afford, most lenders suggest that you should spend no more than 28% of your monthly gross (pre-tax) income on your mortgage payment, including principal, interest, taxes and insurance."
Speaking of how much you can afford, you'll want to know what to save for a down payment. While the idea of saving for a down payment on a Boston condo for sale can be daunting, there are many different options and resources that can help.
According to Business Insider, automatic savings can bring you one step closer to achieving your target down payment:
"If you receive your paycheck as a direct deposit, you may want to arrange for your company to send a percentage of each check directly into a savings account for the down payment. . . . The automatic-savings strategy makes it so you don't have to constantly remember to save money."

Business Insider
Before you know it, you'll have enough for a down payment if you're disciplined and thoughtful about your process. And the best part is, you may need to save less for your down payment than you think. Your agent and lender can help you understand your options.
Another way to increase your savings is by sticking to a planned budget. If you've never budgeted before, there are tools available. For example, MoneyFit.org provides a budgeting worksheet you can use to create your own plan and five rules to follow when you're saving. They recommend you:
Identify Goals
Record Expenses
Record Earnings
Compare and Calculate
Fix Weak Spots
If you're already budgeting, consider finding ways to tighten your spending a bit more to accelerate your journey to owning a Boston condominium. After all, putting even a little extra into your savings each month can truly add up over time.
As you set out to realize your dream of homeownership this year, know that it's achievable with careful planning. Most importantly, let's connect today so you don't have to walk alone on this journey
Loading...
______________________________________________________________________________________________________________________________
The American dream of homeownership is alive and well with both home owners and potential home owners undeterred by the current housing slowdown.
According to the latest American Dream Survey by Trulia.com, more than 75 percent of Americans surveyed consider owning a home a key part of achieving their personal American Dream.
Creating more jobs and increasing job security is the most important thing President Barack Obama can do to stabilize the housing market, says 53 percent of those surveyed.
Other notable findings:
7 percent believe it is important for Obama to keep interest rates low.
5 percent think it is important to offer other economic incentives to homeownership.
21 percent say it is wise to reduce foreclosures.
6 percent believe that there is nothing Obama can do to stabilize the housing market.
Overall, 29 percent of those surveyed believe the housing market will improve in the next year
Of the Republicans surveyed, only 10 percent see improvement in the next year, while 47 percent of Democrats believe in that timetable.
Harris Interactive surveyed more than 1,400 home owners and about 600 renters for the survey.
Source: Trulia.com (03/05/2009)