Loading...
There is, however, another financial advantage to owning Boston downtown real estate that's often forgotten in the analysis – the wealth built through equity when you own a home.
Odeta Kushi, Deputy Chief Economist for First American, discusses this point in a recent blog post. She explains:
"Once you include the equity benefit of price appreciation, owning made more financial sense than renting in 48 out of the 50 top markets, with the only exceptions being San Francisco and San Jose, Calif."
ATTOM Data Solutions, the curator of one of the nation's premier property databases, just analyzed the typical home-price gain owners nationwide enjoyed when they sold their homes. Here's a breakdown of their findings:
The typical gain in the sale of the home (equity) has increased significantly over the last five years.
CoreLogic, another property data curator, also weighed in on the subject. According to their latest Homeowner Equity Insights Report, the average homeowner gained $17,000 in equity in just the last year alone.
Here are the seven major home price appreciation forecasts for 2021: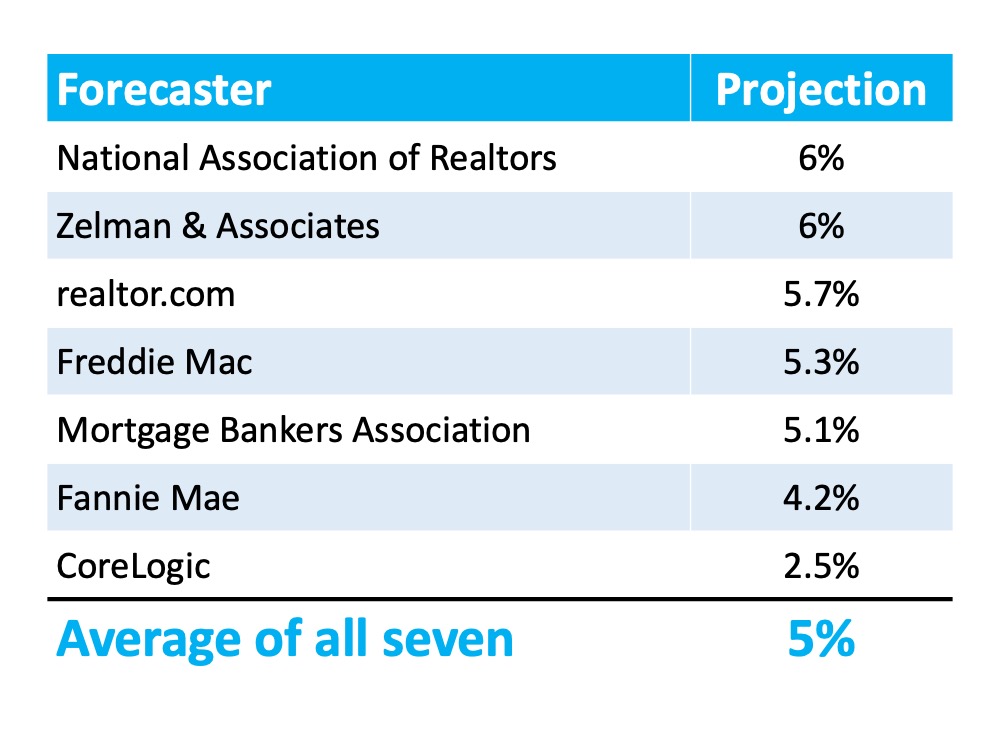 The National Association of Realtors (NAR) just reported that today, the median-priced home in the country sells for $309,800. If homes appreciate by 5% this year (the average of the forecasts), the homeowner will increase their wealth by $15,490 in 2021 through increased equity.
As you make your plans for the coming year, be sure to consider the equity benefits of home price appreciation as you weigh the financial advantages of buying over renting. When you do, you may find this is the perfect time to jump into homeownership.
Everyone should realize that unless you are living somewhere rent-free, you are paying a mortgage – either yours or your landlord's. Buying your own home provides you with a form of 'forced savings'that allows you to use your monthly housing costs to increase your family's wealth.
Every month that you pay your mortgage, you are paying off a portion of the debt that you took on to purchase your home. Therefore, you own a little bit more of your home every month in the form of home equity. As your home's value increases you also gain home equity.
Every quarter, Pulsenomics surveys a nationwide panel of over 100 economists, real estate experts, and investment and market strategists and asks them to project how residential home prices will appreciate over the next five years for their Home Price Expectation Survey (HPES).
The latest data from their Q4 2018 Survey revealed that home prices are expected to round out the year 5.8% higher than they were in January. For the next 5 years, home values will appreciate by an average of nearly 3% a year.
For example, let's assume a young couple purchases and closes on a $250,000 home in January. Simply through their home appreciating in value, those homeowners can build their home equity by nearly $40,000 over the next five years.
In many cases, home equity is a large portion of a family's overall net worth.
If your plan for 2019 includes entering the housing market to purchase a home, whether it's your first or your fifth, let's get together to make your plan a reality!
Loading...