Loading...
Boston condos for sale are making a comeback
t's no secret that one of the top stories in today's real estate market is low housing supply and high buyer demand. If you're a first-time buyer looking for a starter home or are someone who's interested in downsizing, it may be worth considering a condominium (condo) as a worthwhile option.
In fact, trends indicate condos are gaining popularity among buyers. In the latest Existing Homes Sales Report from the National Association of Realtors (NAR), the data shows condo sales rising throughout the first half of this year (see graph below):
There are a few reasons more and more people are opting to buy condos – the benefits of condo life can be quite compelling. Let's explore the main perks to find out if a condo is a good fit for you.
According to the NAR report, the median sales price of a condo is roughly $59,000 less than the median price of a single-family detached home (see graph below). This makes condos a great option for first-time homebuyers, those with limited down payment savings, or those looking to save money by downsizing.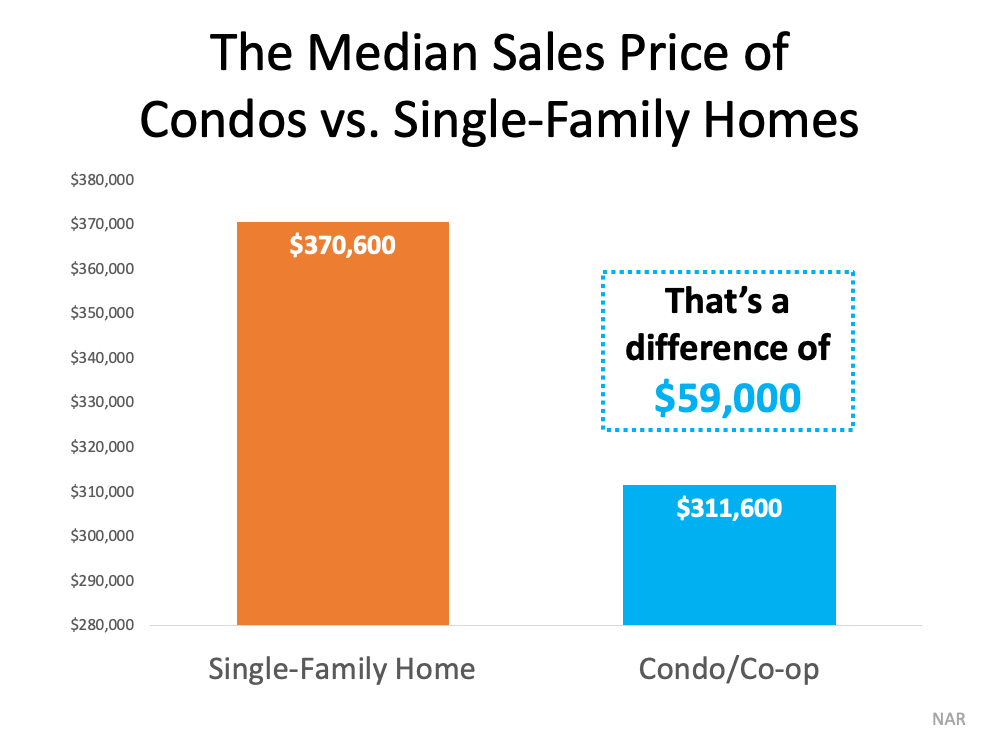 A recent article from BankRate adds low maintenance as another perk of a condo lifestyle. Generally, exterior maintenance for condos is handled by a Homeowner's Association (HOA). This can include things like landscaping and upholding a certain standard of cleanliness and condition for walkways, siding, and roofs. If you're looking for a lower-maintenance option or see the appeal in being hands-off with upkeep, condos may be a good choice for you. With exterior maintenance off your plate, you'll have more time for yourself and your hobbies.
You can use that free time to enjoy some of the value-adding features your condo community may have, which could include dog parks, pools, a rentable clubhouse and grilling area for events, and more. If being able to host or attend community social outings is important to you, condos may give you more opportunities to enjoy the company of your neighbors. As a bonus, some condos even have gyms and on-site security teams.
Ultimately, the choice is yours. Condos are great options that often come with various features and benefits that may be important for your lifestyle. Fannie Mae sums up the appeal nicely:
"Condominiums, or condos, can be great alternatives to detached homes. City dwellers, singles, couples, seniors, and many others may find condos that suit their needs and budgets. Others may simply prefer low-maintenance living. Buyers who feel 'priced out' of homes may discover condos offer an affordable homeownership alternative."
If you're looking for a home, it may be time to consider a condo as an option. Let's connect to explore if one would be a good fit for your homeownership needs.
Loading...
___________________________________________________________________________________________________________________________________________________________________________________________________
The following is from Boston 25 News
BOSTON — The pandemic flipped the real estate market upside down. All of a sudden, the suburbs were hot and interest in city living cooled down.
But now condos are making a comeback.
According to the Greater Boston Association of Realtors, the number of condos sold in April was up 60.3% year to year. The 1,220 units that went under agreement set a record.
The median price of $622,100 was up 2.8%.
[ As housing prices continue to soar, is this now a bubble? ]
"The statistics are mind-boggling and I've been doing this for 25 years," said Gene Hashkes, a realtor/broker at William Raveis in Newton.
Hashkes thinks the market is heading back to normalization.
"With more people vaccinated, with us returning to work, back to life, you're seeing a resurgence in the condo market."
First-time home buyers have been competing for a limited inventory of single-family homes in the suburbs, often finding themselves further and further from the city and getting less home for their money.
"This is an excellent opportunity to buy a condominium," said Hashkes. "So, where you've seen home prices appreciate over the last 12 months, condos have just been going up since the beginning of the year."
Hashkes added that people are looking for great locations.
People in Kenmore Square told Boston 25 News they believe people are feeling more comfortable being in the city.
"With everyone getting vaccinated now, I really feel like there shouldn't a problem anymore," said one woman.
A man added, "I hope people are ready to come back. I think Boston is beautiful."
Daryl Fairweather, PH. D, chief economist at Redfin, thinks a lot of people will be willing to return to the city.
"Boston is going to benefit a lot from the pandemic ending in terms of people wanting to get back into the downtown or wanting to be near the colleges again."
Fairweather thinks interest will continue to be strong for single-family homes in the suburbs, particularly as many people expect to work from home at least some of the time in the future.
But for others, buying instead of renting is in itself a strong draw.
"There's also this wave of millennial homebuyers who before the pandemic felt maybe they weren't ready to commit to owning a home, but now a lot of them do feel like they're ready and they see the value in homeownership," explained Fairweather.
Hashkes says as more of those buyers do the math, they might like what they find when it comes to condos today.
"A lot of millennial first-time homebuyers are starting to realize the rates are not going to stay at these record low levels forever. They're only going to go up, so the longer you wait, it's just going to continue to get more expensive."
The Greater Boston Association of Realtors actually reported that the total number of condos sold in April exceeded the sales of single-family homes. While some of that has to do with the renewed interest in condos, it also speaks to the limited supply of single-family homes for sale.
Loading...
Source: Boston 25 News