Loading...
Boston condos for sale: Moving checklist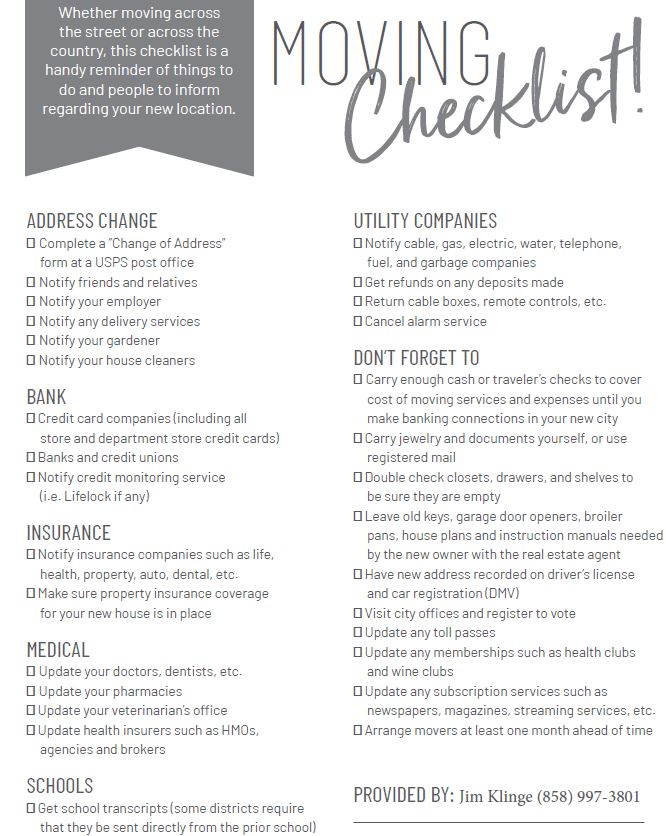 Whatever it is you're doing, a checklist will always come in handy. Moving into a new Boston Beacon Hill condo, for example, can become a whole lot easier and less stressful if you come up with a checklist that will enumerate all the tasks you have to do and things you have to remember before, during, and after the move.
Every checklist that you draw up when you're about to move into a new home should include the following items:
A BUDGET
With all the costs that come with relocation to a Beacon Hill condo, it's easy to lose track of your spending if you don't have a set budget. Never forego coming up with a budget for the move and writing it down on your checklist, since it's the only way you'd know how much to spend for packing materials, the moving company, and other costs that are sure to come along.
A TARGET RELOCATION DATE
Your checklist should also contain a target move date because everything about the move will have to revolve around it. Also, the best time to relocate would be during the off-peak season which is usually between October and April.
NAMES OF SCHOOLS CLOSE TO YOUR NEW HOME
The names and contact details of schools in your neighborhood should make it to your checklist. That way, you can make some inquiries that will help you decide which one would be best for your kids.
YOUR NEW HOME'S DIMENSIONS
Are you sure that massive couch of yours will fit into your new Boston condo? If you aren't, then you can always go to your soon-to-be home, take some measurements, and write them down on your checklist. With those measurements in hand, you should be able to see whether your things will fit in your new home or not.
THE RIGHT MOVING SUPPLIES
One of the most important items you must have on your checklist is a list of all the packing materials that are right for things that you are bringing to your new Boston condo. Bubble wrap for fragile things, mattress bags for mattresses, and sturdy boxes for your books and other heavy stuff would sound just about right.
ESSENTIALS
All your essentials must be in a separate bag which you will carry by hand throughout the entire move to avoid having to take apart a huge box because you put your toothbrushes, medications, change of clothes, and baby stuff deep inside it.
A REMINDER TO REGISTER YOUR VEHICLE
You have to register your car if your new home is located in another state. You will have to get a new driver's license too. Check out the DMV website of your new city and do some research on the rules and the deadlines it has set for vehicle registration matters.
NEW ADDRESS NOTIFICATIONS
To make sure your letters, credit card bills, and subscriptions still reach you, you have to notify those concerned of your new address.
THE NAMES OF MOVERS
Hiring the first moving company you come across with online or otherwise is not a good idea. You have to vet those companies first to make sure you'll get the best service at the best price. Your checklist must have the names and contact information of at least three moving companies, all of which should be licensed and insured. Give them a call and ask for quotes that you can use for comparison so you can reach the best possible decision.
Moving is probably one of the most stressful things a person has to deal with in his or her lifetime. With a checklist like the one above, however, relocating should be a bit more of a
Back Bay Boston condos for sale
Beacon Hill Boston condos for sale
Charlestown Boston condos for sale
Navy Yard Charlestown Boston condos
Dorchester Boston condos for sale
Fenway Boston condos for sale
Jamaica Plain Boston condos for sale
Leather District Boston condos for sale
Midtown/Downtown Boston condos for sale
Seaport District Boston condos for sale
South Boston condos for sale
Boston South End condos for sale
Boston Waterfront condos for sale
Boston North End condos for sale
Boston West End condos for sale
East Boston condos for sale