Loading...
Boston condos for sale: Where are interest rates heading 2022?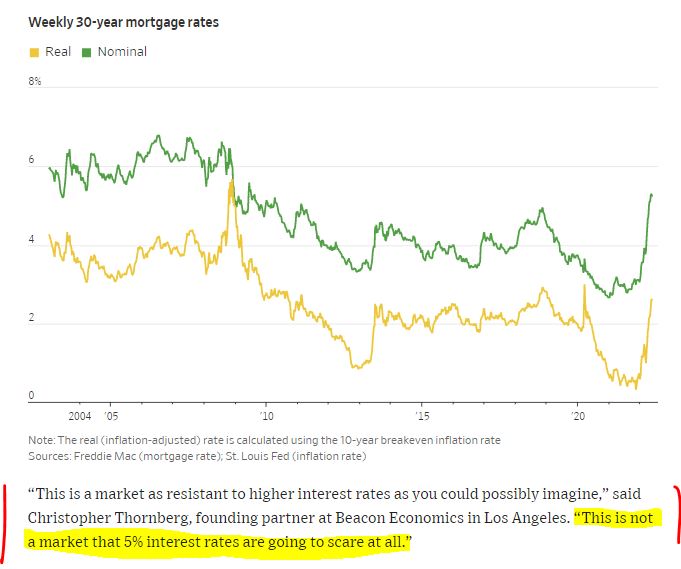 Good summary of today's market conditions by Nick:Link to Free WSJ Article
Boston condos for sale: Where are interest rates heading 2022?
Mortgage applications fall over Thanksgiving week as rates rise
Mortgage applications fell 7.2% on a week-over-week, seasonally adjusted basis in the week ended Nov. 26, while the average 30-year fixed-mortgage rate rose for the third week in a row to 3.31%, its highest level since April, the Mortgage Bankers Association said, citing its Market Composite Index.
The average contract interest rate for a 15-year fixed-rate mortgage climbed to 2.63% from 2.59%, while the average contract interest rate for 30-year fixed-rate mortgages with jumbo loan balances of more than $548,250 decreased to 3.27% from 3.28%. The average contract interest rate for 30-year fixed-rate mortgages backed by the Federal Housing Administration increased to 3.42% from 3.27%.
On an unadjusted basis, the market composite index, which measures mortgage-loan application volume, rose 4%. The refinance index, meanwhile, slid 15% from the previous week and was down 41% from the same week a year ago. The refinance share of mortgage activity decreased to 59.4% of total applications from 63.1% the previous week.
"Despite higher mortgage rates, purchase applications had a strong week, mostly driven by a 6% increase in conventional loan applications," MBA associate vice president of economic and industry forecasting Joel Kan said in a press release. "Conventional loans tend to be larger than government loans, and this was evident in the average loan amount, which increased to $414,700 — the highest since February 2021. As home-price appreciation continues at a double-digit pace, buyers of newer, pricier homes continue to dominate purchase activity, while the share of first-time buyer activity remains depressed."
The adjustable-rate mortgage share of activity rose to 3.6% of total applications. The FHA share of total applications increased to to 8.9% from 8.6% in the preceding week, while the VA share of applications declined to 10% from 10.3%. The USDA share of applications rose to 0.5% from 0.4% the previous week.
The seasonally adjusted purchase index rose 5% from the previous week, while the unadjusted purchase index fell 30% on a weekly basis and 8% on an annual basis.
_____________________________________________________________
Loading...
Mortgage rates are one of several factors that impact how much you can afford if you're buying a Boston condominium. When rates are low, they help you get more house for your money. Within the last year, mortgage rates have hit the lowest point ever recorded, and they've hovered in the historic-low territory. But even over the past few weeks, rates have started to rise. This past week, the average 30-year fixed rate was 3.14%.
What does this mean if you're thinking about making a move? Waiting until next year will cost you more in the long run. Here's a look at what several experts project for mortgage rates going into 2022.
"The average 30-year fixed-rate mortgage (FRM) is expected to be 3.0 percent in 2021 and 3.5 percent in 2022."
Doug Duncan, Senior VP & Chief Economist, Fannie Mae:
"Right now, we forecast mortgage rates to average 3.3 percent in 2022, which, though slightly higher than 2020 and 2021, by historical standards remains extremely low and supportive of mortgage demand and affordability."
"Consensus forecasts predict that mortgage rates will hit 3.2 percent by the end of the year, and 3.7 percent by the end of 2022."
If rates rise even a half-point percentage over the next year, it will impact what you pay each month over the life of your loan – and that can really add up. So, the reality is, as prices and mortgage rates rise, it will cost more to purchase a home.
As you can see from the quotes above, industry experts project rates will rise in the months ahead. Here's a table that compares other expert views and gives an average of those projections: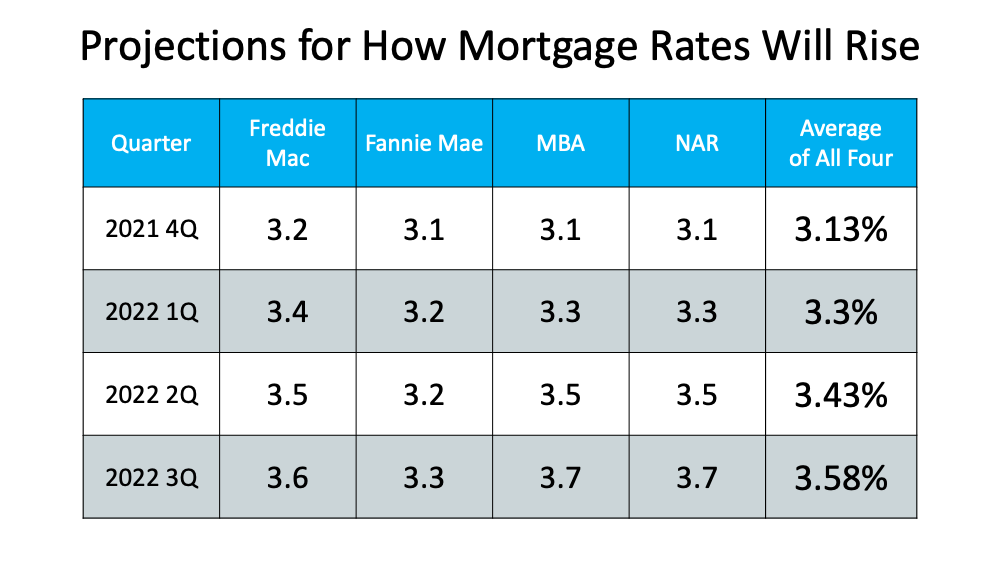 Whether you're thinking about buying your first home, moving up to your dream home, or downsizing because your needs have changed, purchasing before mortgage rates rise even higher will help you take advantage of today's homebuying affordability. That could be just the game-changer you need to achieve your homeownership goals.
If you're thinking of buying or selling over the next year, it may be wise to make your move sooner rather than later – before mortgage rates climb higher.
Loading...
Click Here to view: Google Ford Realty Inc Reviews
_________________________________________________________
Loading...
The interest rate you pay on your Boston Beacon Hill condo mortgage has a direct impact on your monthly payment. The higher the rate, the greater the payment will be. That is why it is important to know where rates are headed when deciding to start your home search.
How Will This Impact Your Mortgage Payment?
Depending on the amount of the loan that you secure, a half of a percent (.5%) increase in interest rate can increase your monthly mortgage payment significantly. But don't let the prediction that rates will increase stop you from purchasing your dream home this year!
Record low rates in October pushed tons of homeowners to refinance and new buyers to apply. Applications with Better.com were up 15 percent in October over September.
Uncertainty about the election likely drove rates down too," explained Capital Markets Analyst Brendan Philips. "Though with rates back to tracking news about the economic recovery – which is directly tied to winning the battle against the pandemic – record low rates may be behind us," Philips adds. Better.com explains the various factors that impact and move rates.
Boston Real Estate and the Bottom Line
Be thankful that you can still get a better interest rate than your older brother or sister did ten years ago, a lower rate than your parents did twenty years ago, and a better rate than your grandparents did forty years ago. But it won't last for long, expect interest rates to rise in 2021.
Back Bay Boston condos for sale
Beacon Hill Boston condos for sale
Charlestown Boston condos for sale
Navy Yard Charlestown Boston condos
Dorchester Boston condos for sale
Fenway Boston condos for sale
Jamaica Plain Boston condos for sale
Leather District Boston condos for sale
Midtown/Downtown Boston condos for sale
Seaport District Boston condos for sale
South Boston condos for sale
South End Boston condos for sale
Waterfront condos for sale
North End condos for sale
West End condos for sale
East Boston condos for sale
Back Bay Boston condos
Beacon Hill Boston condos
Charlestown Boston condos
Navy Yard Charlestown Boston condos
Dorchester Boston condos
Fenway Boston condos
Jamaica Plain Boston condos
Leather District Boston condos
Midtown Boston condos
Seaport District Boston condos
South Boston new condos
South End new condos
Waterfront new condos
North End new condos
West End new condos
East Boston condos
Loading...