Boston housing market 2023
Loading...
Boston's housing market remains competitive, despite slower sales Boston's housing market remained competitive last month, despite a slower pace of transactions, according to the Greater Boston Association of REALTORS (GBAR) May housing report. 
May single-family home and condominium sales fell to a three-year low as supply continued to be unable to keep up with demand. Sales did, however, rise from April as new inventory hit the market and increased median sale prices by 3%, another record high, GBAR's report found. 
In May, single-family home sales fell 24.4% year over year, with 919 homes sold, compared to 1,215 homes sold in May 2022. However, sales had a month-over-month increase of 35.5% from April, making it the most active single-family home sale market since September. Despite that increase, last month was the slowest May on record for home sales. 
Condominium sales performed similarly last month, with a 23.6% decline from a year earlier, with 908 condos sold compared to 1,108 in May 2022, marking the month's lowest sales since 2020. 
Alison Socha, GBAR president and an agent with Leading Edge Real Estate in Melrose, said although sales volume remains light by historic standards, they've seen a steady increase in buyer interest and urgency as spring has gone on. 
"In March we saw the first substantial influx of new inventory since last fall, and that fact, along with slightly more favorable mortgage rates, attracted many buyers back into the market," Socha said. "Unfortunately, we haven't had nearly enough listings to meet the increased demand, so the market has been unable to keep pace with the sales activity of recent years."
Home values on the rise
Selling prices increased both annually and on a monthly basis in May. 
The median selling price of a single-family home reached a new all-time high in May, rising 2.9% to $900,000 to surpass June 2022's record high of $899,950. 
The median selling price for condominiums also set a new monthly record last month, rising 3.7% from $700,000 a year earlier to $726,002. 
"The small amount of price softening that occurred over the previous three quarters has dissipated now that this year's spring market has heated up," Socha said. "Buyers have had more than half a year to adjust to 6% mortgage rates, and though some have had to delay or postpone their home searches, many others are moving forward even as prices have reached new peaks, which illustrates the strength of the local housing market and favorable buyer demographics."
It's the lack of available listings that's keeping prices high. 
There was only a one-and-a-half to two-month supply of homes for sale at the end of May, which mirrors inventory from a year ago but is still not enough to satisfy current demand.
Active listings of single-family homes in May improved 4.6% from 1,335 last year to 1,397. Condo listings, however, declined, falling 1% from 1,899 last May to 1,881 last month. 
Socha says sellers will continue to benefit from that limited inventory environment.
"With listings at a premium, we're seeing multiple offers, the waiving of contingencies and sales above asking price occurring with increased regularity, and that's making the market more competitive and placing additional upward pressure on prices," she said. "Additionally, with many homeowners unwilling to sell and take on a higher interest mortgage, it has exacerbated our already tight housing supply, allowing those who do list their home for sale the opportunity to command top dollar." 
The report also found that since the end of last year, time on market continues to steadily decrease with single-family homes listed for a median of 14 days in May, compared to 34 in December, and condominiums staying on for 19 days, compared to 41 days in December.
The sold-to-list price ratio also improved in May for the third month in a row, according to the report, which found the typical single-family home sold for 103.6% of its asking price. Condominiums fared similarly, selling for 100.9% of the original asking price last month.
"For those thinking of selling, market conditions should remain favorable for doing so this summer," Socha said. "We continue to see strong pent-up demand, especially among millennials who are eager to start building equity and young families seeking a larger home and outdoor living space, which should keep buyer traffic steady for many months to come."
_________________________________________________________________________________________________________________________________
Housing bulls on Wall Street argue that this is an upturn that could last for a decade. Millions of millennials are now at a point in their lives when they are seeking single-family homes in the suburbs and exurbs. They are in good shape too. Almost 70 percent of homebuyers who took out new mortgages in the third quarter had credit scores above 760, according to the Federal Reserve Bank of New York.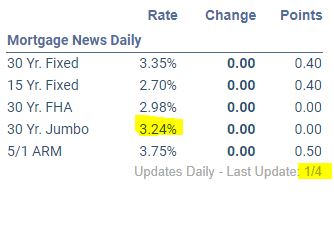 Mortgage rates started off the year at the "highest rates in 9 months", but aren't insanely higher than anything we saw last week.  From the lowest rates over the past 2 months, today's are roughly a quarter of a point higher
Loading...
______________________________________________________________________________________________________________________________
Loading...
Boston housing market 2021
The housing market hit records last month as home prices reached an all-time high and homes sold faster than ever. 
Redfin's latest report found that for the four weeks ended May 2, all of the housing measures it tracks hit record levels not seen since the firm began the report in 2012. 
The median home sales price grew 21% year over year to $348,500. The report attributed the growth to more high-end homes being sold now than they were last year. Asking prices also reached an all-time high of $360,975, up 19% from 2020, while pending home sales were up 23% from 2019.
The number of days a home stayed on the market hit a record low of 19 days, down 16 days from the same time last year. 
Forty-eight percent of homes sold for more than their list price, up 20% from the same period a year earlier. Additionally, 58% of homes had an accepted offer within the first two weeks of being listed and 45% of homes had an offer accepted within a week of hitting the market. 
The average home sold for more than 1.4% more than its asking price. 
Compared to 2019, new home listings were down 8% but were up 9% from the previous month. Additionally, active listings fell 48% from the same period in 2019.
"Right now we are seeing a substantial increase in home prices, which could be a precursor to more widespread inflation throughout the economy," Redfin Chief Economist Daryl Fairweather said in a press release. "Lumber prices are surging, which has driven up prices of new homes and indirectly drives up prices of existing homes."
Loading...
______________________________________________________________________________________________________________________________________________________________
Today's housing market is making a truly impressive turnaround, and it's also setting up some outstanding opportunities for buyers and sellers. Whether you're thinking of buying or selling a home this year, there are perks today that are rarely available, and definitely worth looking into. Here are the top two.
The most impressive buyer incentive today is the average mortgage interest rate. Just last week, mortgage rates hit an all-time low for the eighth time this year. The 30-year fixed-rate is now averaging 2.88%, the lowest rate in the survey's history, which dates back to 1971 (See graph below):
This is a huge advantage for buyers. To put it in perspective, it means that today you can get a lower rate than any of the past two generations of homebuyers in your family if you decide to purchase at this time.
In addition, the National Mortgage News notes how today's buyers have increasing purchasing power due to these low mortgage rates:
"Purchasing power rose 10% year-over-year…With interest rates hitting record lows, buyers were able to afford $32,000 "more house" as of July 23 than they could the year before with the same monthly payment."
This is a great perk for buyers who are hoping to potentially get more for their money in a home, something many are considering today as they re-evaluate the amount of space they ideally need for their families. It is an opportunity not seen in 50 years, and one not to be missed if the time is right for you to buy a home.
Today, there are simply not enough houses on the market for the number of buyers looking to purchase them. According to the National Association of Realtors (NAR):
"Total housing inventory at the end of June totaled 1.57 million units, up 1.3% from May, but still down 18.2% from one year ago (1.92 million)."
The red bars in the graph below indicate that the inventory of homes coming into the market continues to decline. It was low as we entered the pandemic and has reduced even further this year. Houses today are selling faster than they're being listed, and that's creating an even greater supply shortage (See graph below):
The lack of real estate inventory has been a challenging situation for a while now, and with low mortgage rates fueling buyer demand, inventory is even harder for buyers to find today. Buyers are eager to purchase, and because of the shortage of homes available, they're encountering more bidding wars. This is one of the factors keeping home prices strong, an advantage for sellers. Lawrence Yun, Chief Economist for NAR notes that this trend may continue, too:
"Home prices rose during the lockdown and could rise even further due to heavy buyer competition and a significant shortage of supply."
With low Boston condominium inventory and high buyer demand, homeowners can potentially earn an increasing profit on their houses and sell them quickly in this sizzling summer market.
Boston Real Estate and the Bottom Line
Whether you're thinking about buying or selling at Seaport, Midtown, or Beacon Hill condo there are some key perks available right now. Let's connect today to discuss how they may play to your advantage in our local market.
Loading...