Loading...
Boston real estate for sale and interest rates 2022
If you're planning to buy a Boston condo for sale, it's critical to understand the relationship between mortgage rates and your purchasing power.
Purchasing power is the amount of home you can afford to buy that's within your financial reach. Mortgage rates directly impact the monthly payment you'll have on the home you purchase. So, when rates rise, so does the monthly payment you're able to lock in on your home loan. In a rising-rate environment like we're in today, that could limit your future purchasing power.
Today, the average 30-year fixed mortgage rate is above 5%, and in the near term, experts say that'll likely go up in the months ahead. You have the opportunity to get ahead of that increase if you buy now before that impacts your purchasing power.
The chart below can help you understand the general relationship between mortgage rates and a typical monthly mortgage payment within a range of loan amounts. Let's say your budget allows for a monthly mortgage payment in the $2,100-$2,200 range. The green in the chart indicates a payment within that range, while the red is a payment that exceeds it (see chart below):
As the chart shows, you're more likely to exceed your target payment range as mortgage rates increase unless you pursue a lower home loan amount. If you're ready to buy a home, use this as your motivation to purchase now so you can get ahead of rising rates before you have to make the decision to decrease what you borrow in order to stay comfortably within your budget.
It's critical to keep your budget top of mind as you're searching for a home. Danielle Hale, Chief Economist at realtor.com, puts it best, advising that buyers should:
"Get preapproved with where rates are today, but also consider what would happen if rates were to go up, say another quarter of a point, . . . Know what that would do to your monthly costs and how comfortable you are with that, so that if rates do move higher, you already know how you need to adjust in response."
No matter what, the best strategy is to work with your real estate advisor and a trusted lender to create a plan that takes rising mortgage rates into consideration. Together, you can look at your budget based on where rates are today and craft a strategy so you're ready to adjust as rates change.
Even small increases in mortgage rates can impact your purchasing power. If you're in the process of buying a home, it's more important than ever to have a strong plan. Let's connect so you have a trusted real estate advisor and a lender on your side who can help you strategize to achieve your dream of homeownership this season.
_____________________________________________________________________________________________________________________________________
Loading...
Boston real estate for sale and interest rates 2021
In today's real estate market, mortgage interest rates are near record lows. If you've been in your current home for several years and haven't refinanced lately, there's a good chance you have a mortgage with an interest rate higher than today's average. Here are some options you should consider if you want to take advantage of today's current low rates before they rise.
Sell Your Boston Condo and Move Up (or Downsize)
Many of today's homeowners are rethinking what they need in a home and redefining what their dream Boston downtown condos means. For some, continued remote work is bringing about the need for additional space. For others, moving to a lower cost-of-living area or downsizing may be great options. If you're considering either of these, there may not be a better time to move. Here's why.
The chart below shows average mortgage rates by decade compared to where they are today: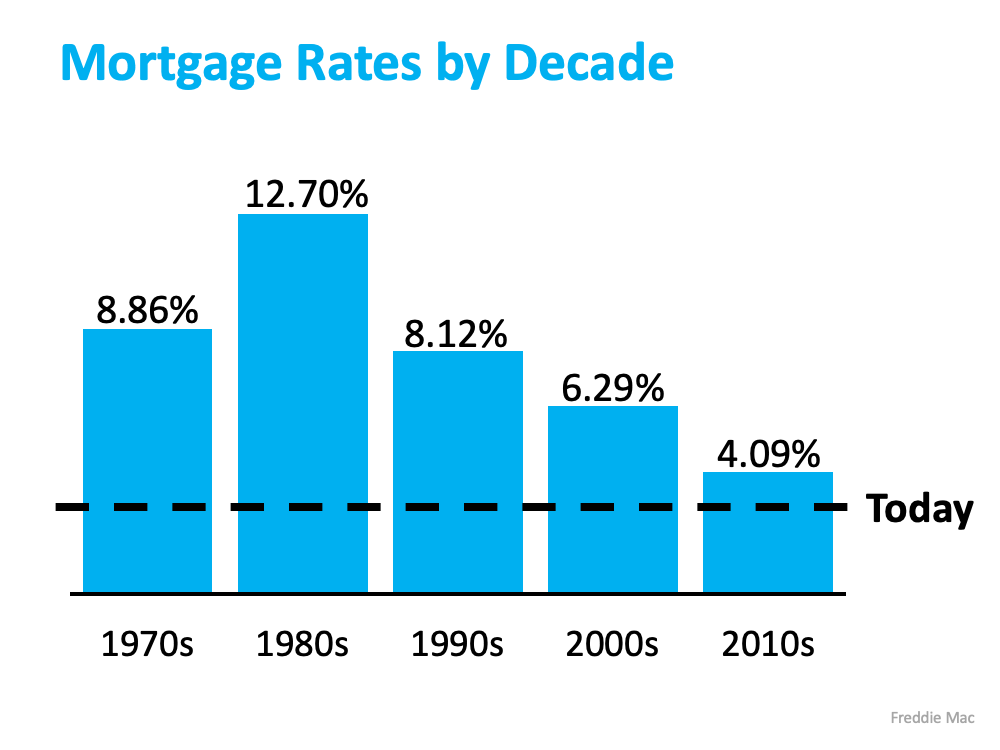 Today's rates are below 3%, but experts forecast rates to rise over the next few years.
If the interest rate on your current mortgage is higher than today's average, take advantage of this opportunity by making a move and securing a lower rate. Lower rates mean you may be able to get more house for your money and still have a lower monthly mortgage payment than you might expect.
Waiting, however, might mean you miss out on this historic opportunity. Below is a chart showing how your monthly payment will change if you buy a home as mortgage rates increase:
Breaking It All Down:
Using the chart above, let's look at the breakdown of a $300,000 mortgage:
When mortgage rates rise, so does the monthly payment you can secure.
Even the smallest increase in rates can make a difference in your monthly mortgage payment.
As interest rates rise, you'll need to look at a lower-priced home to try and keep the same target monthly payment, meaning you may end up with less home for your money.
No matter what, whether you're looking to make a move up or downsize to a home that better suits your needs, now is the time. Even a small change in interest rates can have a big impact on your purchasing power.
Downtown Boston Condo Refinancing
If making a move right now still doesn't feel right for you, consider refinancing. With the current low mortgage rates, refinancing is a great option if you're looking to lower your monthly payments and stay in your current home.
Boston Condos for Sale and the Bottom Line
Take advantage of today's low rates before they begin to rise. Whether you're thinking about moving up, downsizing, or refinancing, let's connect today to discuss which option is best for you.
_______________________________________________________________________________________________________________________________________________________________________________________________________
So far this year, mortgage rates continue to hover around 3%, encouraging many hopeful Boston downtown condo buyers to enter the housing market. However, there's a good chance rates will increase later this year and going into 2022, ultimately making it more expensive to borrow money for a home loan. Here's a look at what several experts have to say.
"Our long-term view for mortgage rates in 2021 is higher. As the economic outlook strengthens, thanks to progress against coronavirus and vaccines plus a dose of stimulus from the government, this pushes up expectations for economic growth . . . ."
"In 2021, I think rates will be similar or modestly higher . . . mortgage rates will continue to be historically favorable."
"We forecast that mortgage rates will continue to rise through the end of next year. We estimate the 30-year fixed mortgage rate will average 3.4% in the fourth quarter of 2021, rising to 3.8% in the fourth quarter of 2022."
Below are the most recent mortgage rate forecasts from four top authorities – Freddie Mac, Fannie Mae, the Mortgage Bankers Association (MBA), and NAR:
Boston Real Estate for Sale and the Bottom Line
If you're planning to buy a downtown Boston condo in 2021, purchase one before mortgage interest rates rise may help you save significantly over the life of your home loan.
Loading...
__________________________________________________________________________________________________________________________________________________________________________
With Spring comes the Boston real estate for sale market along with Red Sox games, flowers are starting to bloom, and many potential Boston condo buyers are getting ready to step into the market. If you're thinking of buying this season, here's how mortgage interest rates are working in your favor.
Freddie Mac explains:
"If you're in the market to buy a home, today's average mortgage rates are something to celebrate compared to almost any year since 1971…

Mortgage rates change frequently. Over the last 45 years, they have ranged from a high of 18.63% (1981) to a low of 3.31% (2012). While it's not likely that the average 30-year fixed mortgage rate will return to its record low, the current average rate of 3.45% is pretty close — all to your advantage."
To put this in perspective, the following chart from the same article shows how average mortgage rates by decade have impacted the approximate monthly payment of a $200,000 home over time:Clearly, when rates are low – like they are today – qualified buyers can benefit significantly over time.
Keep in mind, if interest rates go up, this can push many potential homebuyers out of the market. The National Association of Home Builders (NAHB) notes:
"Prospective home buyers are also adversely affected when interest rates rise. NAHB's priced-out estimates show that, depending on the starting rate, a quarter-point increase in the rate of 3.75% on a 30-year fixed rate mortgage can price over 1.3 million U.S. households out of the market for the median-priced new home."
You certainly don't want to be priced out of the Boston real estate for sale market this year, and waiting may mean a significant change in your potential mortgage payment should rates start to rise. If your financial situation allows, now may be a great time to lock in at a low mortgage rate to benefit greatly over the lifetime of your loan.

Loading...