Loading...
Boston real estate for sale & price appreciation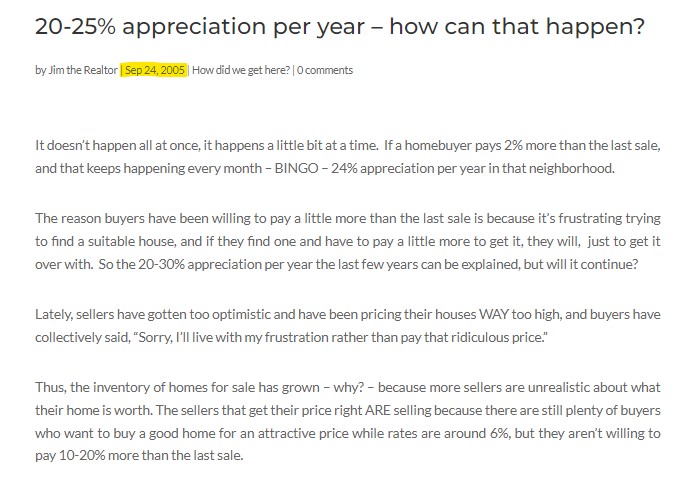 ____________________________________________________________________________________________________________________________
f you're thinking about making a move, you probably want to know what's going to happen to home prices for the rest of the year. While experts say price growth will moderate due to the shifting market, ongoing appreciation is expected. That means home prices won't fall. Here's a look at two key reasons experts forecast continued price growth: supply and demand.
Even though inventory is increasing this year as the market moderates, supply is still low. The graph below helps tell the story of why there still aren't enough homes on the market today. It uses data from the Census to show the number of single-family homes that were built in this country going all the way back to the 1970s.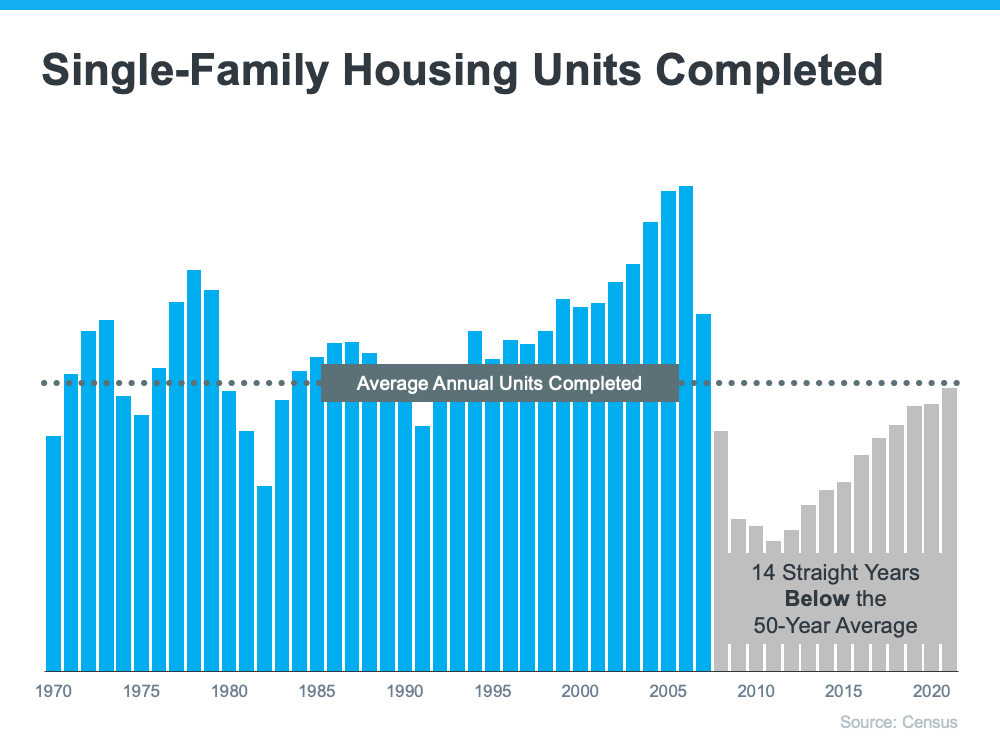 The blue bars represent the years leading up to the housing crisis in 2008. As the graph shows, right before the crash, homebuilding increased significantly. That's because buyer demand was so high due to loose lending standards that enabled more people to qualify for a home loan.
The resulting oversupply of homes for sale led to prices dropping during the crash and some builders leaving the industry or closing their businesses – and that led to a long period of underbuilding of new homes. And even as more new homes are constructed this year and in the years ahead, this isn't something that can be resolved overnight. It'll take time to build enough homes to meet the deficit of underbuilding that took place over the past 14 years.
The frenzy the market saw during the pandemic is because there was more demand than homes for sale. That drove home prices up as buyers competed with one another for available homes. And while buyer demand has moderated today in response to higher mortgage rates, data tells us demand will continue to be driven by the large generation of millennials aging into their peak homebuying years (see graph below):
Odeta Kushi, Deputy Chief Economist at First American, explains:
 ". . . millennials continue to transition to their prime home-buying age and will remain the driving force in potential homeownership demand in the years ahead."
That combination of millennial demand and low housing supply continues to put upward pressure on home prices. As Bankrate says:
"After all, supplies of homes for sale remain near record lows. And while a jump in mortgage rates has dampened demand somewhat, demand still outpaces supply, thanks to a combination of little new construction and strong household formation by large numbers of millennials."
If you're worried home values will fall, rest assured that experts forecast ongoing home price appreciation thanks to the lingering imbalance of supply and demand. That means home prices won't decline.
Based on today's factors driving supply and demand, experts project home price appreciation will continue. It'll just happen at a more moderate pace as the housing market continues its shift back toward pre-pandemic levels.
____________________________________________________________________________________________________________________________

Click Here to view: Google Ford Realty Inc Reviews
_____________________________________________________________________________________________________________________________
Loading...
When you hear the phrase home price appreciation, what does it mean to you? Through context clues alone, chances are you know it has to do with rising home prices. And as a seller, you know rising home prices are good news for your potential sale. But let's look past the dollar signs and dive deeper into the concept. To truly understand home price appreciation, you need to know how it works and why it matters to you.
Investopedia defines appreciation like this:
"Appreciation, in general terms, is an increase in the value of an asset over time. The increase can occur for a number of reasons, including increased demand or weakening supply, or as a result of changes in inflation or interest rates. This is the opposite of depreciation, which is a decrease in value over time." 
When we consider this definition and how it applies to real estate, a few words stick out: supply and demand. In today's real estate market, we're experiencing high buyer demand and very few sellers listing their homes for sale (see maps below):
No matter the industry, anytime there's more demand than supply, prices naturally rise. It happens because buyers are willing to pay more to secure the scarce product or service they're looking for. That's exactly what's happening in today's real estate market. Buyers are competing with one another to purchase a home, leading to bidding wars that drive prices up. For sellers, the rising prices mean that opportunity is knocking.
According to Quicken Loans, the national average home price appreciation rate is between 3-5% in a typical year. Today, home prices are appreciating well beyond the norm thanks to high demand. Here are the latest expert projections on the rate of home price appreciation for this year (see chart below):
Compared to the normal pace of 3-5% appreciation per year, the current average forecast of nearly 11.5% is significant.
For sellers, this means that with the current rise in prices, your house may be worth more than you realize. That price appreciation helps give your equity a boost. Equity is the difference between what you owe on the home and its market value based on factors like price appreciation. It works like this (see chart below):
You can use your built-up equity to power a move into your dream home, or you can put it toward life-changing goals like funding an education or opening a business.
But don't wait. While price appreciation is strong now, those same experts say it'll start to appreciate at a more normalized pace next year. If you list your house sooner rather than later, you'll be in a better position to capitalize on the higher-than-average home price appreciation we're seeing today.
If you're thinking of selling your Boston downtown condo, there really is no time like the present. Let's connect so you can get an expert market analysis of your home and its potential.
Loading...
Click to View Google Review
Updated: Boston Real Estate 2022

Sorry we are experiencing system issues. Please try again.

______________________________________________________________________________________________________________________
Boston real estate for sale & price appreciation
If you bought a Boston condo between 2010 and 2019, it was well worth it, especially if it was purchased in the downtown Boston area, a recent study found. 
Curious about how the housing market fared between the market crash of 2008 and the COVID pandemic, a recent PropertyShark study looked at real estate sales through the 2010s and found the 2019 national median resale price was 35% higher than it was a decade earlier. In 2019, homes sold at a median resale price of $275,000, up from $204,000 in 2009, according to the report. 
Boston and Washington, D.C., yielded the highest returns for East Coast homeowners, as large urban centers surpassed national price gains across all price ranges.
Boston tied with Seattle at No. 9 on the list of cities with the 10 highest median resale price gains in the country. The only East Coast city to make the top 10, Boston homeowners resold their homes at a 51% increase in 2019. 
The gains were uneven across price ranges, according to the report. Boston condominiums that sold between $250,000 and $500,000 did so after gaining 87% from their 2009 prices, making them the best-performing properties in terms of appreciation. Homes over $2 million resold with the highest price increase in actual dollars, going for a median $2.44 million in 2019 — an inflation-adjusted gain of $747,000.
Loading...
————————————————————————————————————————————————————————
Boston real estate price appreciation can differ depending on your price range. CoreLogic analyzed four individual home prices tiers and shares the increase in each one.
CoreLogic's Home Price Index (HPI) Report revealed,
"National home prices increased 3.6% year over year in July 2019 and are forecast to increase 5.4% from July 2019 to July 2020."
They also analyzed four individual home-price tiers, showing the increase in each.
To clarify the methodology, CoreLogic explains,
"The four price tiers are based on the median sale price and are as follows: homes priced at 75% or less of the median (low price), homes priced between 75% and 100% of the median (low-to-middle price), homes priced between 100% and 125% of the median (middle-to-moderate price) and homes priced greater than 125% of the median (high price)."
Boston real estate price appreciation can differ depending on your price range. If you're a Back Bay condo owner thinking of selling, let's get together to find out how much your Back Bay condo for sale is increasing in value, so you can price it competitively for today's market.
Loading...