Loading...
An important factor shaping today's market is the number of homes for sale. And, if you're considering whether or not to list your house, that's one of the biggest advantages you have right now. When housing inventory is this low, your house will stand out, especially if it's priced right.
But there are some early signs that more listings are coming. According to the latest data, new listings (homeowners who just put their house up for sale) are trending up. Here's a look at why this is noteworthy and what it may mean for you.
More Homes Are Coming onto the Market than Usual
It's well known that the busiest time in the housing market each year is the spring buying season. That's why there's a predictable increase in the volume of newly listed homes throughout the first half of the year. Sellers are anticipating this and ramping up for the months when buyers are most active. But, as the school year kicks off and as the holidays approach, the market cools. It's what's expected.
But here's what's surprising. Based on the latest data from Realtor.com, there's an increase in the number of sellers listing their houses later this year than usual. A peak this late in the year isn't typical. You can see both the normal seasonal trend and the unusual August in the graph below: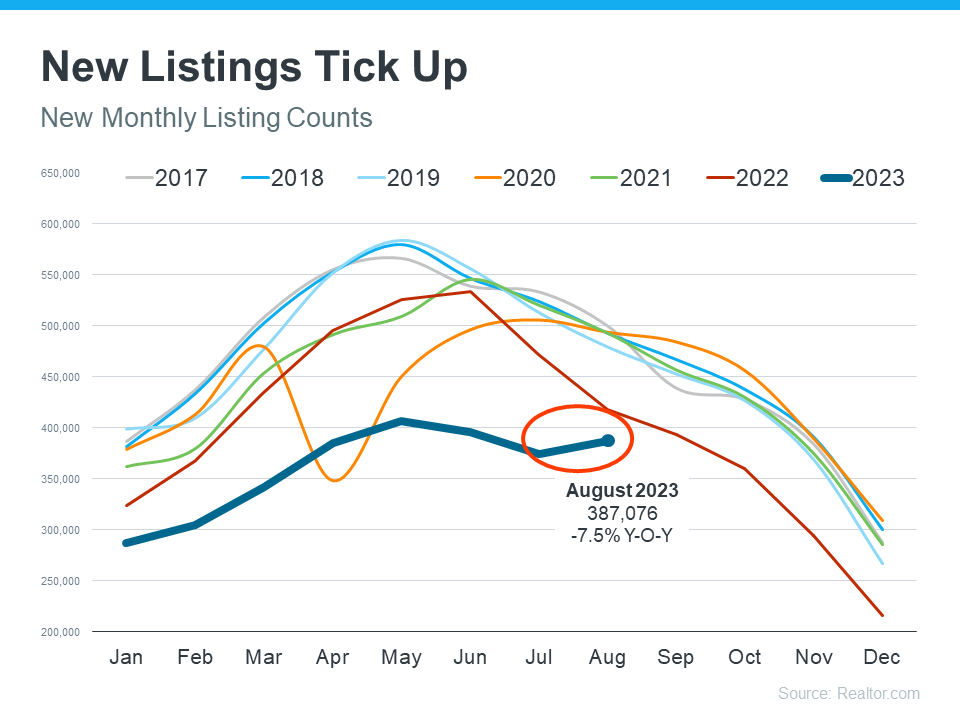 As Realtor.com explains:
"While inventory continues to be in short supply, August witnessed an unusual uptick in newly listed homes compared to July, hopefully signaling a return in seller activity heading toward the fall season . . ."
While this is only one month of data, it's unusual enough to note. It's still too early to say for sure if this trend will continue, but it's something you'll want to stay ahead of if it does.
What This Means for You
If you've been putting off selling your house, now may be the sweet spot to make your move. That's because, if this trend continues, you'll have more competition the longer you wait. And if your neighbor puts their house up for sale too, it means you may have to share buyers' attention with that other homeowner. If you sell now, you can beat your neighbors to the punch.
But, even with more homes coming onto the market, the market is still well below normal supply levels. And, that inventory deficit isn't going to be reversed overnight. The graph below helps put this into context, so you can see the opportunity you still have now: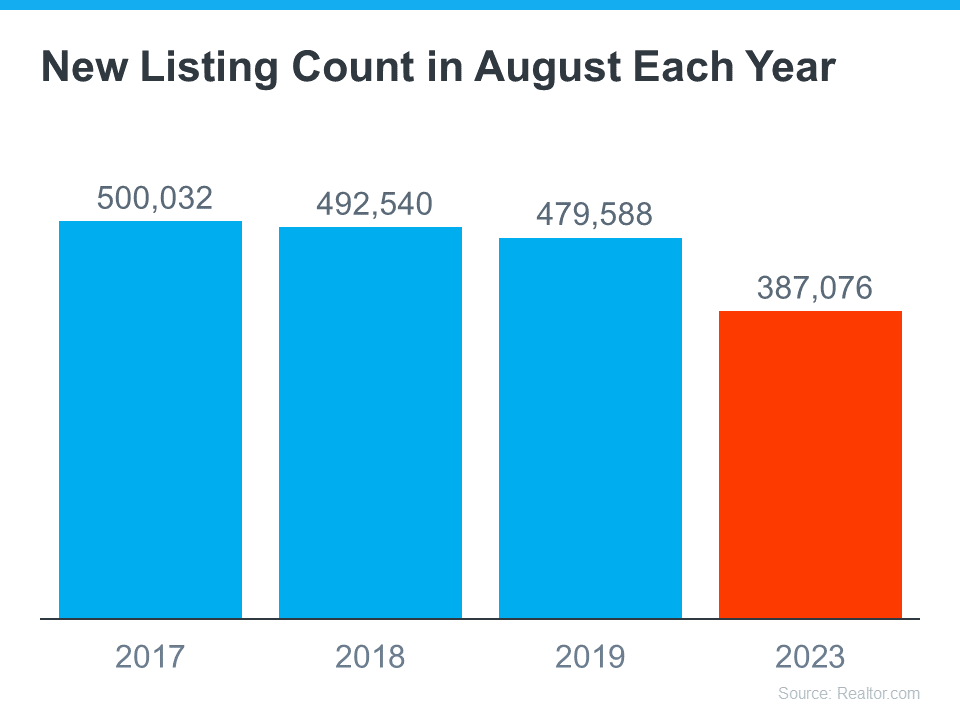 Bottom Line
Even though inventory is still low, you don't want to wait for more competition to pop up in your neighborhood. You still have an incredible opportunity if you sell your house today. Let's connect to explore the benefits of selling now before more homes come to the market.
___________________________________________________________________________________________________
One of the hottest topics of conversation in today's Boston real estate market is the shortage of available homes. Simply put, there are many more potential buyers than there are homes for sale. As a seller, you've likely heard that low supply is good news for you. It means your Boston condos for sale will get more attention, and likely, more offers. But as life begins to return to normal, you may be wondering if that's something that will change.
While it may be tempting to blame the pandemic for the current inventory shortage, the pandemic can't take all the credit. While it did make some sellers hold off on listing their houses over the past year, the truth is the low supply of homes was years in the making. Let's take a look at the root cause and what the future holds to uncover why now is still a great time to sell.
It's not just today's high buyer demand. Our low supply goes hand-in-hand with the number of new homes built over the past decades. According to Sam Khater, VP and Chief Economist at Freddie Mac:
"The main driver of the housing shortfall has been the long-term decline in the construction of single-family homes."
Data in a recent report from the National Association of Realtors (NAR) tells the same story. New home construction has been lagging behind the norm for quite some time. Historically, builders completed an average of 1.5 million new housing units per year. However, since the housing bubble in 2008, the level of new home construction has fallen off (see graph below):
The same NAR report elaborates on the impact of this below-average pace of construction:
". . . the underbuilding gap in the U.S. totaled more than 5.5 million housing units in the last 20 years." 

"Looking ahead, in order to fill an underbuilding gap of approximately 5.5 million housing units during the next 10 years, while accounting for historical growth, new construction would need to accelerate to a pace that is well above the current trend, to more than 2 million housing units per year. . . ."
That means if we build even more new houses than the norm every year, it'll still take a decade to close the underbuilding gap contributing to today's supply-and-demand mix. Does that mean today's ultimate sellers' market is here to stay?
We're already starting to see an increase in new home construction, which is great news. But newly built homes can't bridge the supply gap we're facing right now on their own. In the State of the Nation's Housing 2021 Report, the Joint Center for Housing Studies of Harvard University (JCHS) says:
"…Although part of the answer to the nation's housing shortage, new construction can only do so much to ease short-term supply constraints. To meet today's strong demand, more existing single-family homes must come on the market."
When we look at existing homes, the latest reports signal that housing supply is growing gradually month-over-month. This uptick in existing homes for sale shows things are beginning to shift. Based on recent data, Odeta Kushi, Deputy Chief Economist at First American, has this to say:
"It looks like existing inventory is starting to inch up, which is good news for a housing market parched for more supply."
Lawrence Yun, Chief Economist at NAR, echoes that sentiment:
"As the inventory is beginning to pick up ever so modestly, we are still facing a housing shortage, but we may have turned a corner."
So, what does all of this mean for you? Just because life is starting to return to normal, it doesn't mean you missed out on the best time to sell. It's not too late to take advantage of today's sellers' market and use rising equity and low interest rates to make your next move.
It's still a great time to sell. Even though housing supply is starting to trend up, it's still hovering near historic lows. Let's connect to discuss how you can list your house now and use the inventory shortage to get the best possible terms for you.
Loading...
________________________________________________________________________________________________________________________
Boston's low inventory of homes for sale can be summed up by two sets of numbers:
— 328 housing units for sale this fall; 531 units for sale last fall.
— $727,457 average unit sale price this fall; $660,864 average unit sale price last fall.
Hmmm. Maybe we should take this quiz on basic economics to help figure out if there's a correlation between the first set of numbers and the second set of numbers.
Back to Boston condos for sale homepage
Contact me to find out more about this property or to set up an appointment to see it.
SEARCH FOR CONDOS FOR SALE AND RENTALS
For more information please contact one of our on-call agents at 617-595-3712.
Updated: Boston Real Estate for Sale 2021
Loading...