Loading...
Home Prices and Mortgage Rates
Loading...
Mortgage Rates Heading for 6%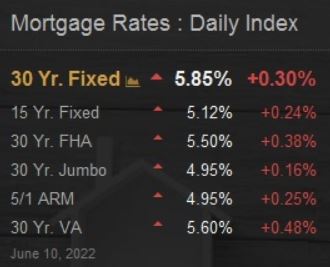 I picked a great day to start the mortgage-rate tracker in the right-hand column! >>>>
Mortgage rates haven't been in the 6% range since 2008:
Wondering how to cope? Here are my tips:
Sellers – Offer to Pay Points. Even if the buyer won't use your lender, offer to pay 1%-2% of the loan amount to buydown their interest rate. If their lender keeps the money instead of giving a lower rate, well then, heck, at least you tried. But the buyers should appreciate the effort, and two points should reduce the rate by at least 1/4%.
Sellers – Carry the Financing. If the seller carries all or part of the financing at a reasonable rate, it will help the buyers. Plus, sellers only pay capital-gains taxes on the money you receive, so you'll get a break there. The big bonus will be if the buyer stops paying – you'll get your house back too!
Buyers – Get a Short-Term Mortgage. We call them ARMs, or adjustable-rate mortgages which sounds scary after the neg-am debacle last time. But they offer a fixed-rate for the initial term – just get a seven-year or ten-year loan and refinance once we go into recession and the Feb has to back off again (because they owe $30 trillion themselves, it will probably happen sooner than later).
While the impact on the buyers' monthly payments is real, it's the market psychology that will make it worse. Buyers will be expecting lower prices, so instead, consider one of my tips above as an alternative.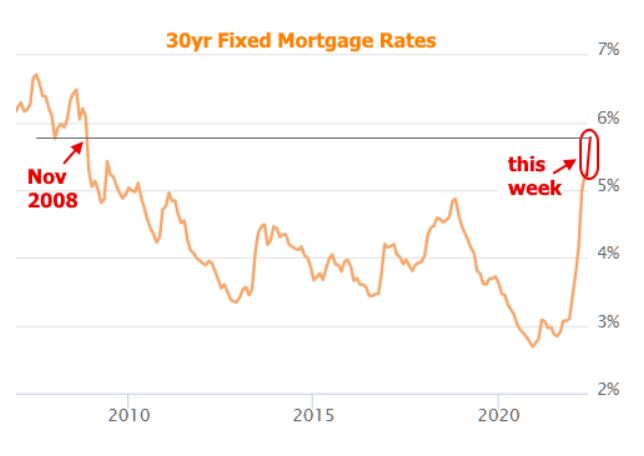 Home Prices and Mortgage Rates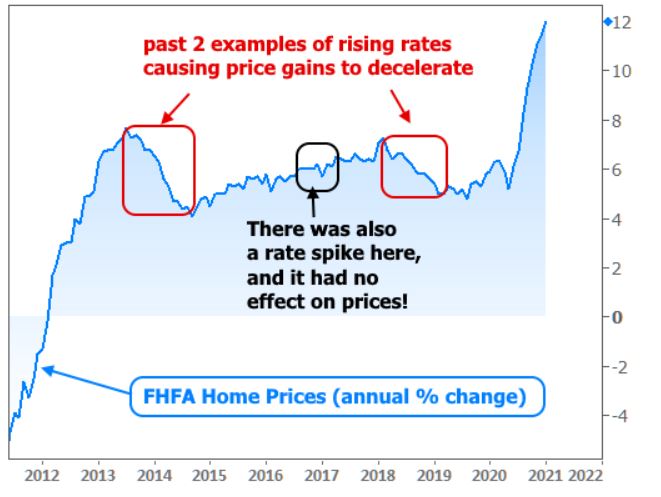 ____________________________________________________________________________________________________________________________________
Matthew makes the case here that the current uptick in mortgage rates may not affect home prices:
There was a big rate spike at the end of 2016 that had no discernible effect on prices.  This is notable because that rate spike was fueled by economic optimism as opposed to 2013's rate spike which happened after the Fed said they would begin decreasing their rate-friendly bond buying program.  2018 was somewhat similar as the Fed was continuing to tighten monetary policy and raise short term interest rates.

A case could be made that the current rate spike shares some similarities with 2016.  The path of 10yr Treasury yields (a benchmark for longer term rates like mortgages) has largely traced pandemic progress and economic recovery hopes.  Yields (aka rates) began rising late last summer as vaccine trials showed promising results and economic data began to improve.

Rates spiked more quickly in the new year as vaccine logistics ramped up and covid-relief legislation was passed.  Fiscal spending hurts rates both due to both its positive implications for the economy (a stronger economy supports higher rates) and the implication of more US Treasury issuance (more Treasury supply = lower bond prices = higher bond yields = higher rates).
But it is predicated on mortgage rates staying about where they are today, which is around 3.0% – 3.25%.  The demand has been strong enough that rates in the low-3s should be acceptable and that the bidding wars will sort out the rest of what happens to pricing.
He also makes the case that the 10-year bond yield and mortgage rates have re-connected.  The 10-year closed at 1.71% yesterday, and if things go right, it will stay in that ballpark.
But there has been times when the 10-year has kept rising. If that happens again, we might see 4% rates: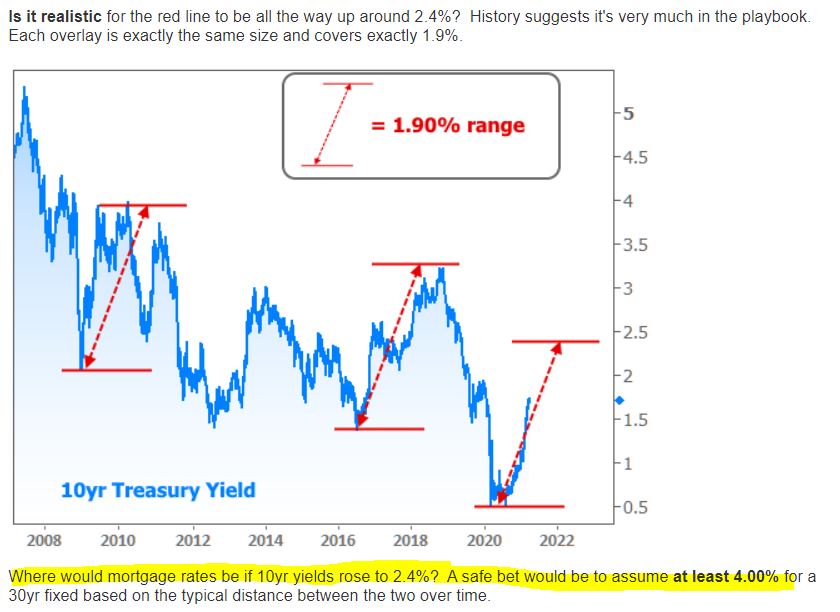 If mortgage rates get back to 4%, we should see pricing flatten out. Let's keep an eye on the 10-year yield!
Read full article here:
http://www.mortgagenewsdaily.com/consumer_rates/971650.aspx
Why home prices may be pushed higher with low interest rates.

Loading...