Loading...
Single-family vs Condo
Living in a downtown Boston Seaport condo comes with many perks, but how do condominiums stack up against single-family homes? From lower costs and fewer maintenance tasks to luxury amenities and convenient locations, there are many reasons to invest in Boston condos for sale. Common myths about condos may lead people to believe that they're less lucrative than single-family homes, but expert info suggests that they can be an excellent option for first-time buyers and seasoned investors alike. Keep reading to learn about five reasons that condos may be a better choice for some homebuyers than a single-family home.
Generally, condos cost less than single-family homes to purchase, insure, and maintain. Condos in some markets may be pricier than single-family homes in others, but they are usually the less expensive option within the same market.
Boston condos for sale come with a lower price tag than houses because they usually have less square footage and fewer spaces the owner has responsibility for maintaining and insuring. Ownership boundaries for condo investors only include the unit's interior and perhaps an outdoor terrace, while the condo's association handles landscaping and insurance for the building's roof and exterior walls.
Meanwhile, the owner of a single-family home must maintain and buy insurance for their entire house, including its roof, foundation, and any other structures on the property, such as a detached garage or in-law suite. Furthermore, single-family homes often come with higher property taxes because of their additional property. Thus, condos can save homeowners money upfront and over time.
Maintenance responsibilities are one of the most significant differences between owning a condo instead of a single-family home. Condos come with drastically fewer maintenance responsibilities relative to single-family homes because the condo association handles the condo's exterior, shared spaces, and some limited common elements.
While condo owners must maintain the interior of their units, owners of single-family homes are responsible for that and much more. In addition to the home's interior fixtures and appliances, homeowners must care for their home's exterior and the property it sits on. Maintaining a single-family home can require various tasks, like reshingling the roof, cleaning the gutters, painting the exterior, mowing the lawn, pruning plants, raking leaves, or shoveling snow.
For condos, these tasks are usually the responsibility of the condo association. Condo association dues go towards paying for this maintenance. Meanwhile, homeowners who don't want to perform these maintenance tasks themselves will need to hire an outside service, which can be more expensive than condo owners sharing the cost. While condo owners don't have as much room to customize as single-family homeowners, they're still free to implement unique condo decorating tips that save space.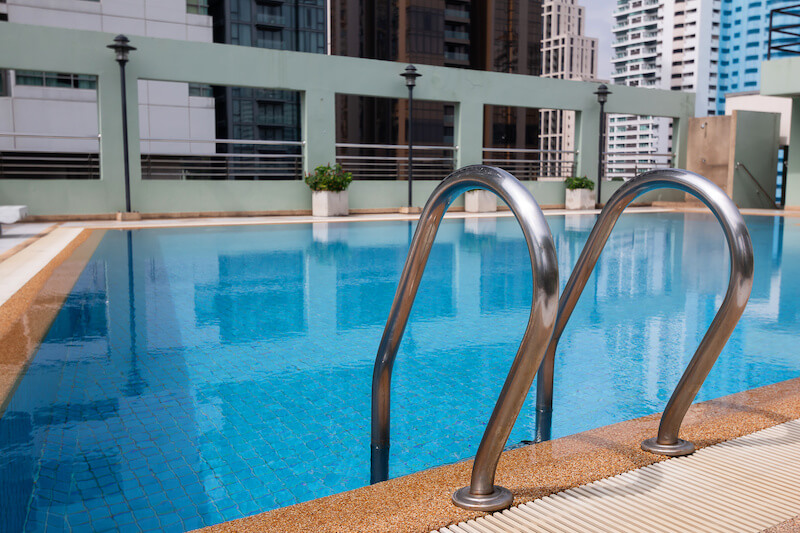 Boston high-rise amenities are one of the many perks of condo living. Many condo complexes offer on-site clubhouses, shops, and recreational facilities like pools, spas, gyms, tennis courts, golf courses, playgrounds, parks, and trails.
Living in a Boston condo provides quick and easy access to these amenities at a reduced cost compared to living in a single-family home. High-rise condos often boast facilities within the building, with many offering rooftop amenities like pools or gardens where residents can relax while enjoying incredible views. Condo association dues help pay for these on-site amenities, allowing the community to share the cost of their installation and maintenance.
On the other hand, amenities for single-family homes will vary from neighborhood to neighborhood. Neighborhoods with an established condo association may have a great variety of community amenities, but others may not have any. If they want private facilities like a pool or gym on their property, they'll need to fund it and secure any necessary permits on their own. They'll also have the responsibility for maintaining it themselves.
Living in a condo provides excellent opportunities for social interaction due to shared spaces and proximity to neighbors not found in single-family homes.
Shared hallways, parking lots, and mailrooms allow condo residents more opportunities to interact throughout their daily lives. Meanwhile, single-family homes often come with private yards and driveways that create distance between neighbors.
Condo neighborhoods are considerably more dense than neighborhoods comprised of single-family homes. This high density allows for more opportunities to interact and means there are more neighbors to befriend.
Living in a condo can also make it a breeze to find neighbors with similar interests. Community amenities like gyms, pools, and tennis courts provide great opportunities to connect with other residents while getting some exercise and having fun.
Many condos also offer spaces to entertain guests, such as community clubhouses, meeting rooms, and even rooftop terraces or parks. Some of these are always open to the community, while others offer reservations for private events.
In addition to their various on-site amenities, condos often provide quick access to attractions like restaurants, shops, entertainment venues, cultural centers, and recreational facilities.
Many condos are in densely-packed city centers or trendy walkable neighborhoods, allowing residents to enjoy many of the benefits of city life without the long commutes associated with suburban living. With plenty of businesses and other attractions just blocks away from many condos, waiting in traffic can become a thing of the past.
Banks, post offices, local restaurants, parks, and more are often just a short walk away from the condo complex. Additionally, these centrally-located condos are rarely far from transportation options like subway stations and bus stops, which can provide access to even more parts of the city.
Meanwhile, single-family home neighborhoods are less likely to be so close to these types of things. These neighborhoods often have fewer attractions within walking distance, which may require a greater reliance on cars and other forms of transportation. This greater distance also tends to result in longer times behind the wheel. However, master-planned neighborhoods typically have access to more amenities.
There are many things to consider before buying a condo. After all, homebuyers want to get the most out of their investment. Condos offer various advantages over single-family homes, but both home types are great choices that appeal to different wants and needs.
Once the kids have left the nest, you may be wondering what to do with all of the extra space in your home. Chances are, you don't need four bedrooms anymore, and it may be a great time to sell your home and downsize, maybe even into a downtown Boston condo. You've likely gained significant equity if you've lived in your home for a while, so making a move while demand for your current house is high could be your best step forward toward the retirement goals you set out to achieve several years ago.
The dilemma, though, is where to go next. A big concern for many homeowners who are ready to sell is finding a Beacon Hill condo or downtown high rise condominium to move into, given today's lack of houses available for sale. There is, however, some good news: the number of single-family 1-story homes being built today is on the rise, improving your odds of finding the right home for your changing needs. In a recent article, The National Association of Home Builders (NAHB) explains:
"Nationwide, the share of new homes with two or more stories fell from 53% in 2018 to 52% in 2019, while the share of new homes with one story grew from 47% to 48%."
Here's a map showing the breakdown of newly constructed homes being built by region, and the percentage of 1-story and 2-story homes in that mix:
What are the benefits of buying a one-story home?
Still not sure about buying a Boston condo for sale? An article from Home Talk covers several advantages of switching from two floors to one:
"It is easier to heat and cool a single-story house [than] it would be to regulate the temperatures of a multi-story house."
Most single-story homes only need one heating or cooling unit, and they typically stay cooler than a two-story home, both of which can lead to significant savings.
"Doing a general cleaning in a single story requires less effort and you will be able to see all areas that need cleaning and the areas are easily accessible."
Cleaning and maintenance of a single-story home can take less time and effort, and better upkeep helps improve the overall value of the home.
"A single-story house can be accessed by anyone, whether they are young children or the senior citizens."
If you're looking for a house that provides a safe and easily accessible environment at any age, a single-story home may be optimal.
"When buying a single-story house, you should consider the resale value should you think of reselling it in case of a circumstance that can happen. Look at the growth rate of that area. Due to the high demand of these types of houses it is [easy] to resell them and depending on the growth rate of an area, it increases in value significantly."
Single-story homes have a lot of benefits and are often in higher demand. This bodes well for future resale opportunities.
Downtown Boston Real Estate and the Bottom Line
There are many benefits to downsizing into a Seaport condo. Doing so while demand for your current house is high might make it easier than ever to make a move. Let's connect if you're ready to purchase the single-story home you need while homes are so affordable today.
Click Here: Back to Boston Real Estate Home Search
Ford Realty – Boston Real Estate Google Reviews 2021 and 2022