Loading...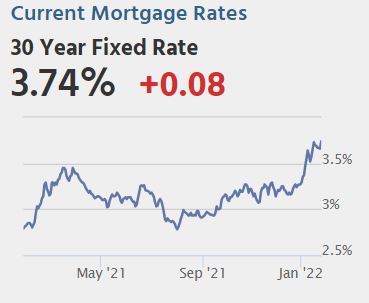 From MND:
Fed policy is critically important to interest rates and January has marked a shift in the Fed policy outlook. In not so many words, the Fed sees itself hiking rates and decreasing its bond purchased more quickly than previously expected. It has conveyed this in various ways since the beginning of the month. The latest policy announcement and press conference were just the latest iterations. They were also arguably the least equivocal.
Despite the relatively clear communication from the Fed in recent weeks, financial markets were increasingly laboring under the misapprehension that the Fed would take a softer tone in light of recent market drama. In other words, stocks have dropped significantly and rates spiked to 2-year highs as the Fed began its communication push this month, so perhaps they would "communicate" in a more market-friendly way today.
While it's not uncommon for some market participants to hope for such things, it was never very likely in this case (one of the reasons I reiterated that the Fed is not tasked with babysitting the market in yesterday's commentary). True to form, the Fed paid zero attention to recent market movement. In their view, rates are still low, and asset prices are elevated. If anything, they feel they need to hustle when it comes to hiking rates and decreasing bond purchases.
Bottom line, the market was a bit flat-footed heading into the Fed events. When the Fed stuck to the tightening script rather religiously, rates were forced to snap back to the reality they'd previously done a good job of understanding. Case in point, Treasury yields and mortgage rates are both very close to levels seen last Monday. Mortgage rates just happen to have edged slightly higher, thus earning the dubious distinction of "highest in 2 years."
Speaking of misapprehension, the potential Boston condos buyers who think home prices will come down will be disappointed. Not only will Boston condo sellers ignore such frivolity, but there will also be enough motivated Boston condominium buyers who don't care either. If they don't mind paying over list price in some situations, then they're not going to care about a silly rate hike.
The coming Fed rate hike in March appears to be already priced in. Mortgage rates have gone up 1/2% this month, and the Fed will probably only raise their rate by 1/4% next month. We could see slightly better mortgage rates 60 days from now.
In the past, Boston homebuyers have rushed to purchase before rates went up, and I think that will be the case this time too.
_____________________________________________________________________________________________________________________________
Loading...
The Federal Reserve remains open to tapering its purchases of government bonds and mortgage backed securities later this year, but won't commit to doing so while the pandemic's impact on employment remains uncertain, Fed Chairman Jerome Powell said Friday in a much anticipated speech.
Speaking at an economy policy symposium in Jackson Hole, Wyoming, Powell continued to walk the policy tightrope the Fed's been balancing on all summer. As it prepares to withdraw some of the support it's provided to the economy during the pandemic, the Fed hopes to avoid panicking bond investors and creating a "taper tantrum" that sends interest rates soaring.
What the Fed is watching
Loading...