Loading...
Boston real estate market: Please don't leave me.
Apparently, the Boston condo for sale market is no longer in the top tier of where people want to move to according to a new Zillow survey,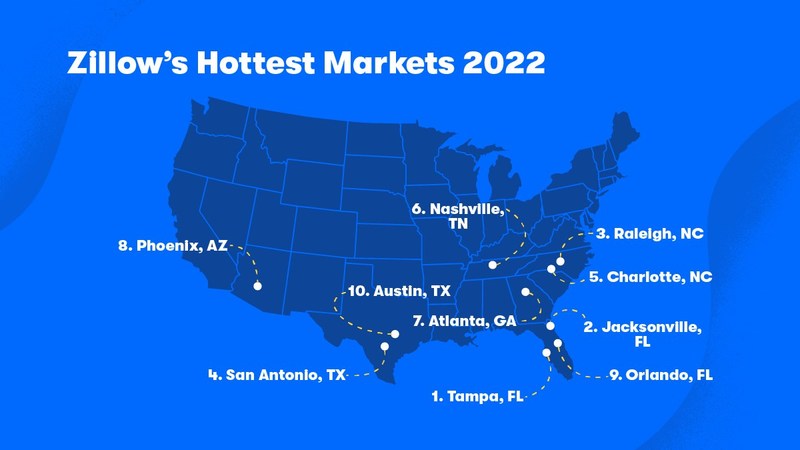 These look like the towns to which people from New York and California are moving. Excerpts:
The boomer tide in the for-sale housing market is expected to continue to rise for at least the next 8 years; younger millennials will be hitting first-time home buying age at about the same time, meaning the 2020's will be a period of sustained underlying demand in the housing market.
Year by year, these effects will be felt differently across markets.
In 2022, the market with the most demographic lift in the for-sale market is Austin, with a trend suggesting the formation of 3.4% more owning households (assuming there are homes available for them to buy). Orlando follows at 2.8%, and then Tampa at 2.7%. Of the largest 50 markets, 29 have natural owner household growth exceeding 1% in one year, the rule-of-thumb rate at which the housing stock increases nationally. The markets with the least demographic pressure for growth are Pittsburgh, Hartford and Buffalo.
There are two large known risk factors for housing markets in 2022. First, mortgage interest rates are expected to rise in 2022, making home loans more expensive for aspiring buyers. At the margin, this would restrict the inventory accessible in the most expensive markets, potentially driving up competition for the lowest-priced homes in those markets or removing them from consideration altogether.
Historically, home value appreciation in the following markets has strong negative correlation with interest rates — so if interest rates go up, these markets are likely to slow the most: San Diego, New Orleans, Washington DC, Los Angeles, San Jose and San Francisco.
Second, forecasts on the performance of stocks are incredibly wide, with analysts' 2022 year-end targets ranging from -7% to +13%, slower growth in any case than what we've seen in the last 2 years if not declines. A slower stock market would mean buyers are bringing relatively less to the table for a down payment in 2022.
This would most affect markets where there are a lot of first time buyers or where more buyers are entering from lower cost areas, bringing less equity from their previous home. (Or if housing is treated as an asset it could mean a substitution to housing in the next few months. What follows addresses only the downside risk.)
In the following markets, growth has strong positive correlation with stock market returns — so if the stock market falters next year, we'd expect home value growth in these places to slow disproportionately: Phoenix, Las Vegas, Cincinnati, Hartford, St. Louis, Miami, Cleveland, Los Angeles and San Jose.
Boston real estate blog updated 2022
____________________________________________________________________________________
Loading...
Every morning I leave Lexington Center and ride my bike to Beacon Hill where my Boston real estate office is located.
Now I'm wondering if I should just stay at home in Lexington and set up a home office
Once upon a time, millennials moved to Beacon Hill and the Seaport fueling downtown Boston renewal for Boston high rise condo growth, apparently, they're now moving out.
The stay-at-home orders brought on by coronavirus have more potential homebuyers looking for properties in the suburbs. Millennials are now the largest cohort of buyers and renters. This may explain why I have over 200 vacant Beacon Hill apartments for September 1st.
As the Boston real estate market is reeling in vacant apartments and unsold Boston condos for sale, home searches in suburban zip codes jumped 13%, according to realtor.com, one of the largest real estate listing websites. That doubled the pace of growth in urban areas.
While Boston condos and Beacon Hill apartments are spending more time on the market overall, due to complications surrounding closings, both suburban and rural markets are not experiencing that lag time as much, due to very strong demand.
Simple answer – No. More than half of the nation's 100 largest metropolitan areas are seeing increased interest in the suburbs. Real estate agents in the New York City area have reported strong demand in the surrounding suburbs, as contracts on Manhattan apartments plunged 80% annually in May, according to Jonathan Miller of real estate appraisal firm Miller Samuel.
Source: https://www.cnbc.com/2020/06/18/coronavirus-update-people-flee-cities-to-live-in-suburbs.html
According to Redfin, offers on single-family homes in August were most likely to be involved in a bidding war, at 56.6% of offers, followed by townhomes at 54.7% and condos at 41.3% – 54.5% of offers overall engaged in bidding wars.
With record-low interest rates, paltry inventory and a surge in buyers, agents are advising clients to be extraordinarily aggressive to win.
"You've got to really advise your clients appropriately, quickly and make sure that they know there's not even a week to come see the property – you've got to go," Harrison said. "The property comes on within 24 hours, and if it meets your buyers criteria you want to get them out to see it."
When it comes to counseling a client through a bidding war, education is paramount, Harrison said. Prospective buyers need to be armed with as much data as possible about the market they're targeting. Another critical element, according to agents, is not to make the deals contingent upon things like inspections and not to "nickel and dime" the seller. That will set the prospective buyer apart, Harrison said.
"I've also been encouraging them to write kind of like a love letter so to speak to the sellers, so they're not just like an offer on a piece of paper, they're giving a little color about themselves, why they're moving, why they like their house, and giving a picture of them so that the sellers can feel good about who they're selling to and it's not just about the numbers," Harrison said.
Vickie Mox, an agent with RE/MAX Dallas Suburbs, covers the Collin County area, north of Dallas. She said the surrounding towns are busiest right now.
The Dallas suburbs of Frisco and Plano are the hottest because they have low rates of inventory and are priced to sell, spurring bidding wars, Mox said.
"Houses that are more unique with large lots and that have been totally updated [sell quicker], and there's nothing for the buyer to do but move in," Mox said. "[That listing] could conceivably have 10 offers, and that's usually between the price range $250,000 to $400,000."
Once you get over $400,000 there are fewer buyers and there's less demand for the property, according to Mox.
"But a $500,000 house could have multiple offers if it has everything the buyers are looking for which is being updated to a large yard or a three-car garage, in the right neighborhood and right school district," she said.
In Colorado Springs, which Redfin said recently has the No. 1 hottest ZIP code right now, there could be at least three to five offers on a home in the first 48 to 72 hours of being listed, according to Keller Williams Associate Broker Scott Sanchez.
"The typical thing here in the Springs has been a $10,000-plus minimum to go over list price," Sanchez told HousingWire.
"Maybe two years ago it was kind of common for five grand over, maybe $10,000 tops," Sanchez said. "Last year, you start getting into the $10,000 to $15,000 range and this year it's been $20,000 on the good homes that are well marketed and even if they're priced up, they still will get 20 grand over."
Bidding wars aren't necessarily uncommon for Peck Barham, a real estate agent at TeamBarham, Keller Williams Homewood outside Birmingham, Alabama, but not at this rate.
"We haven't seen [bidding] quite like this," Barham said. "I think in August something like 600 homes went under contract in a three-week period, which for Birmingham is a lot. That's a lot of homes going real fast."
Loading...