Loading...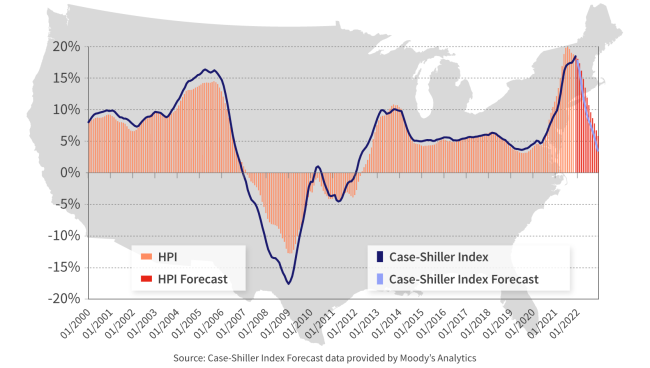 Casual observers might think this graph is saying that home prices will drop, but instead it is just the YoY change that is moderating. The MoM changes will become more interesting than the YoY changes over the next 12 months.
Home prices averaged year-over-year gains of 15 percent over the 12 months of 2021 compared to an average gain of 6.0 percent in 2020. CoreLogic's Home Price Index (HPI) ended the year up 18.5 percent compared to the prior December. Despite indications earlier in the year that price gains were beginning to decelerate, they rose 1.3 percent in December, identical to the monthly gains reported in each of the previous three months. The annual growth is up from 18 percent in September and October.
CoreLogic says, "Consumer desire for homeownership against persistently low supply of for-sale homes created one of the hottest housing markets in decades in 2021 – and spurred record-breaking home price growth. Home price growth in 2021 started off at 10 percent in the first quarter, steadily increasing and ending the year with an increase of 18 percent for the fourth quarter."
CoreLogic's price forecast for this year anticipates that appreciation will exceed 10 percent for the first months of the year but will fall steadily to 3.5 percent by December 2022. The annual increases will average 9.6 percent.
The company dismisses questions about whether the nation is currently in a housing bubble. The report says its Market Risk Indicators suggest only a small probability of a nationwide price decline, pointing instead to the larger likelihood that falling prices will be limited to specific, at-risk markets. Those locations with a high probability, over 70 percent, include Prescott and Lake Havasu City-Kingman, Arizona; Merced, California; and Worcester, MA.
"Much of what we've seen in the run-up of home prices over the last year has been the result of a perfect storm of supply and demand pressures," said Dr. Frank Nothaft, chief economist at CoreLogic. "As we move further into 2022, economic factors – such as new home building and a rise in mortgage rates – are in motion to help relieve some of this pressure and steadily temper the rapid home price acceleration seen in 2021."
Prices of detached residential properties posted an annual increase of 19.7 percent in December. This was 5.5 percent higher than the appreciation of attached properties at 14.2 percent.
The state with the greatest increase continues to be Arizona at 28.4 percent, It is followed by Florida at 27.1 percent and Utah at 25.2 percent. Two Florida cities, Naples, and Punta Gorda, posted the largest gains among metro areas at 37.6 and 35.7 percent, respectively.
Boston Real Estate Blog Updated 2022
Realtor.com has released its projections for where the hottest housing markets in the U.S. will be in 2022, listing the ten areas it sees as positioned for the most growth next year.
The real estate site reported that the areas topping its list have strong local economies with vibrant culture and opportunities for recreation – and the combination of those factors are attracting new residents looking for remote work.
Median home price: $564,062
Project home price increase: 8.5%
Projected increase in home sales: 15.2%
Combined sales and price growth: 23.7%
REAL ESTATE MARKET WILL CONTINUE TO MOVE IN 'FAST DIRECTION' AMID PENT-UP DEMAND: CENTURY 21 CEO
Median home price: $503,959
Project home price increase: 7.9%
Projected increase in home sales: 12.9%
Combined sales and price growth: 20.8%
Median home price: $419,803
Project home price increase: 7.7%
Projected increase in home sales: 12.8%
Combined sales and price growth: 20.5%
ZILLOW QUITS HOME-FLIPPING BUSINESS, CITES INABILITY TO FORECAST PRICES
Median home price: $272,401
Project home price increase: 5.5%
Projected increase in home sales: 14.8%
Combined sales and price growth: 20.4%
Median home price: $298,523
Project home price increase: 6.3%
Projected increase in home sales: 13.7%
Combined sales and price growth: 20%
Rounding out the list at number six of the top ten housing markets was the Providence-Warwick, Rhode Island, market, while the Greenville-Anderson-Mauldin, South Carolina, area ranked number seven.
Washington state's Seattle-Tacoma-Bellevue market ranked eighth, followed by Worcester, Massachusetts, at number nine on the list. Coming in at the tenth spot was the Tampa-St. Petersburg-Clearwater market in Florida.
Click Here to view: Google Ford Realty Inc Reviews
Loading...
______________________________________________________________________________________________________________________________
Take away:
4.8% year-over-year decline in home sales.
Largest decline in more than 3 years.
Second straight month of decline.
On the positive side:
12% wage gain in the last 5 years.
41% price gain in the last 5 years
Sales of detached single-family homes and condominiums softened in December amid appreciating home prices and rising inventory, according to data released today by the Greater Boston Association of REALTORS® (GBAR).

The 1,027 single-family detached homes sold in December 2017 was a 9.7 percent decrease in sales from the 1,137 homes sold in December 2016. This total was the seventh-highest on record for the month of December, and is above the monthly sales average since 2003 of 984 homes sold. The condo market also experienced a decrease in sales as 793 units were sold in December 2017, which reflects of a 14.3 percent drop in sales from the 925 units sold in December 2016, which is also the record high for December. This was the eighth most active December on record for condo sales and sits above the historical monthly average of 772 units sold.
Back to Boston condos for sale homepage
Contact me to find out more about Boston condos for sale or to set up an appointment call/text 617-595-3712.
SEARCH FOR CONDOS FOR SALE AND RENTALS
For more information please contact one of our on-call agents at 617-595-3712.
Updated:  Boston real estate blog updated 2022
Loading...