The economy and the local real estate market
Loading...
The spring Boston condo for sale market has been surprisingly active this year. Even with affordability challenges and a limited number of Seaport condos for sale, buyer demand is strong, and getting stronger.
One way we know there are interested buyers right now is because showing traffic is up. Data from the latest ShowingTime Showing Index, which is a measure of buyers actively touring homes, makes it clear more people are out looking at homes than there were prior to the pandemic (see graph below):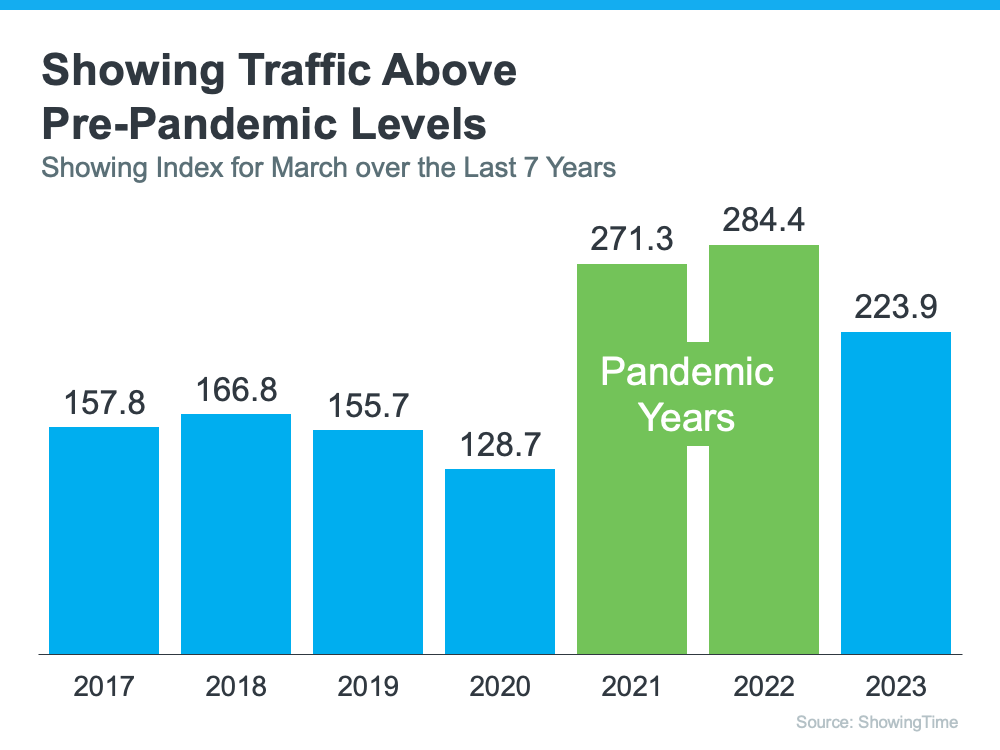 And though there's less traffic than the buyer frenzy of the past couple of years, we're not far off that pace. There are a lot of interested buyers checking out available homes right now.
But why are buyers so active at a time when mortgage rates are higher than they were just last year?
With inflation still high, the Federal Reserve (the Fed) repeatedly hiking the Federal Funds Rate, and a lot of chatter in the media about a recession, it might surprise you just how strong today's job market is. What might be even more surprising is the fact that it appears to be getting stronger (see graph below):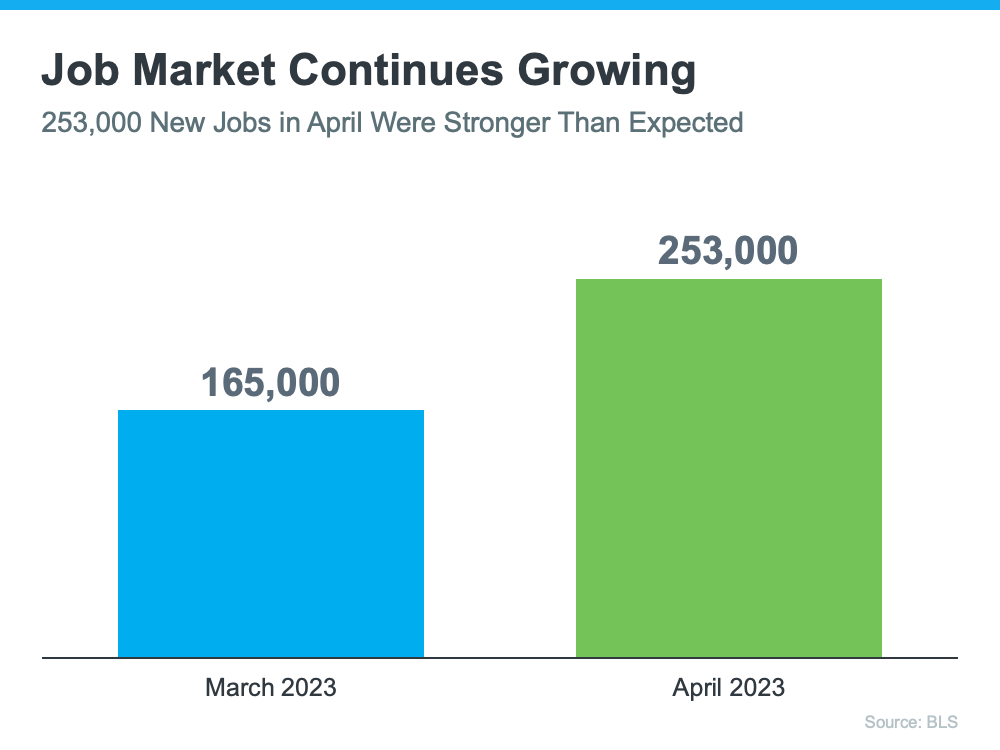 Each month, the Bureau of Labor Statistics (BLS) reports how many new jobs were added to the U.S. job market. The graph above shows 88,000 more jobs were created in April than in March. In fact, the April numbers beat expert projections. That's a solid indicator the job market is growing.
Ever since the Fed began fighting inflation, many people expected the low unemployment rate we've seen over the past couple of years to rise – but that hasn't happened.
In fact, what has happened is the unemployment rate has dropped to 3.4% – a 50-year low (see graph below):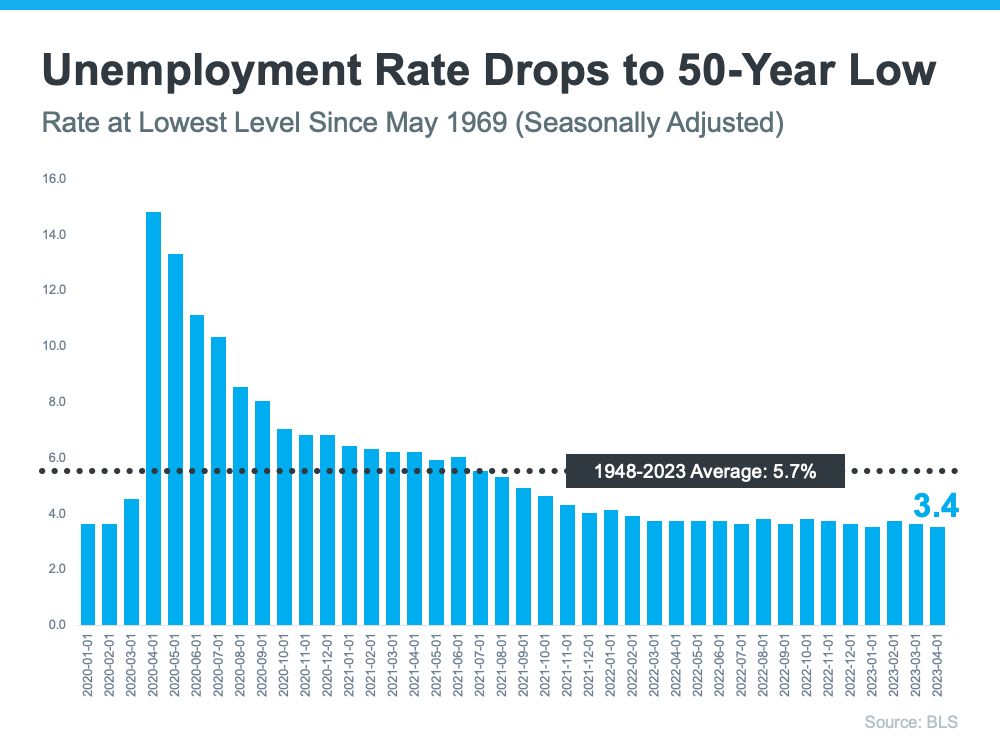 With so many people steadily employed and financially stable right now, they're still able to seriously consider buying a home.
If you're thinking about selling your Seaport condo this year, a market with active buyers is music to your ears. That's because there'll be increased interest in your home when you put it on the market, especially at a time when the number of homes for sale is so low.
To get started, your best resource is an experienced real estate agent. They can help you price your Seaport condo appropriately, navigate the offers you'll receive, negotiate effectively, and minimize your stress and hassle.
There are plenty of buyers out there right now trying to find a home that fits their needs. That's because the job market is strong, and many people have the stable income needed to seriously consider homeownership. To put your house on the market and get in on the action, let's connect.
_______________________________________________________________________________________________________________________________________
If you're thinking of buying  a condo or selling a Boston condo, chances are you're focusing on the many extraordinary ways it'll change your life. But do you know it has a large impact on your community too?
To measure that impact, the National Association of Realtors (NAR) releases a report each year to highlight just how much economic activity a home sale generates. The chart below shows how the sale of both a newly built home and an existing home impact the economy:
As the visual shows, a single home sale can have a significant effect on the overall economy. To dive a level deeper, NAR also provides a detailed look at how that varies state-by-state for newly built homes (see map below):
You may be wondering: how can a single Boston condo for sale have such a major effect on the economy?
For starters, there are multiple industries that play a role in the process. Numerous contractors, specialists, lawyers, town and city officials, and so many other professionals are all necessary at various stages during the transaction. Every individual you work with, like your trusted real estate broker, has a team of professionals involved behind the scenes.
That means when you buy a condo or sell a home, you're leaving a lasting impression on the community at large. Let the knowledge that you're contributing to those around you while also meeting your own needs help you feel even more empowered when you decide to make your move this year.
Homebuyers and sellers are economic drivers in their community and beyond. Let's connect so you have a trusted real estate advisor on your side if you're ready to get started. It won't just change your life; it'll make a powerful impact on your entire community.
Loading...
Sales of previously owned homes in November rose 1.9% from October to 6.46 million units, according to the National Association of Realtors' seasonally adjusted count.
Sales were 2.0% lower than November 2020.
HOUSTON, TEXAS – AUGUST 12: A newly sold home is shown on August 12, 2021 in Houston, Texas. Home prices have climbed during the pandemic as low interest rates and working from home has become more abundant. Home prices around the country continue to surge in the second quarter as strong demand continues to overwhelm the supply of homes for sale. Nationwide, the median single-family existing-home sales price increased by 22.9% in the second quarter. (Photo by Brandon Bell/Getty Images)
Brandon Bell | Getty Images News | Getty Images
Sales of previously owned homes in November rose 1.9% from October to 6.46 million units, according to the National Association of Realtors' seasonally adjusted count. Sales were 2.0% lower than November 2020.
These sales reflect home closings, so contracts that were likely signed in September and October.
Regionally, month-to-month, sales in the Northeast were unchanged. In the Midwest, they rose 0.7% and in the South they rose 2.9%. In the West, sales increased 2.3%.
Sales likely increased due to a strengthening job market and concerns among potential buyers that mortgage rates will be significantly higher next year, according to the NAR's chief economist Lawrence Yun.
There were 1.11 million homes for sale at the end of November, down 13% year over year. At the current sales pace that represents a 2.1-month supply.
"New listings are coming on the market, but they are being snatched up quickly," said Yun, who added that he expects to see a further decline in inventory in December.
That tight supply continued to put upward pressure on home prices. The median price of an existing home sold in November was $353,900. That is a 13.9% gain from November of 2020. Price gains are slowing from earlier annual gains of about 20%.
Sales were stronger in the more expensive categories, with homes priced between $750,000 and $1 million rising 37% year over year and those priced above $1 million rising 50%. Comparatively, homes priced between $100,000 and $250,000 fell 19%. Supply is leanest on the lower end of the market.
The market is also moving very quickly, with the average days a home stays on the market just 18 days.
The share of sales to first-time buyers was just 26%, down from 32% in November of 2020. The share of sales to investors was 15%, up from 14% the year before.
Mortgage rates did not help buyers much either. While rates are still low historically, the average rate on the popular 30-year fixed Mortgage started September at 2.92% and ended October at 3.22%, according to Mortgage News Daily. That took away significant purchasing power, especially for entry-level or first-time buyers.
"The prospect of higher interest rates in 2022 is accelerating the decision for buyers in an otherwise slower season," said George Ratiu, senior economist at Realtor.com. "However, the low number of homes for sale remains the principal challenge, stumping both existing homeowners looking for their next house and first-time buyers seeking a place to call their own."
_________________________________________________________________________________
Loading...
The September Jobs Report issued by the Bureau of Labor Statistics reported that the unemployment rate dropped to 7.9%. Though that percentage is well below what experts projected earlier this year, it still means millions of people are without work. There's no way to minimize the tremendous impact this pandemic-induced recession continues to have on many Americans.
However, the latest Home Purchase Sentiment Index from Fannie Mae shows how more and more Americans believe the worst is behind us, and their personal employment situation is good. The index revealed:
"The percentage of respondents who say they are not concerned about losing their job in the next 12 months increased from 78% to 83%, while the percentage who say they are concerned decreased from 22% to 16%. As a result, the net share of Americans who say they are not concerned about losing their job increased 11 percentage points."
Americans are naturally optimistic and have always responded to challenges with both resiliency and resourcefulness. Today is no different. As an example, the Wall Street Journal (WSJ) just reported:
"Americans are starting new businesses at the fastest rate in more than a decade, according to government data, seizing on pent-up demand and new opportunities after the pandemic shut down and reshaped the economy."
Why would someone start a business in the middle of an economic crisis? The WSJ explains:
"The jump may be one sign that the pandemic is speeding up 'creative destruction,' the concept…to describe how new, innovative businesses often displace older, less-efficient ones, buoying long-term prosperity."
The WSJ also notes that these new businesses will have a positive impact on the overall employment situation, as new businesses "are a critical engine of job creation. Startups have historically accounted for around one-fifth of job creation."
Boston Real Estate and the Bottom Line
For the millions of Americans still unemployed, we hope for a quick return to the workforce. We should, however, realize that over 90% of people are still employed, and some are venturing into new business start-ups. Perhaps the next big game-changing company is right around the corner
Updated: Boston Real Estate Blog 2022
Loading...