Loading...
With higher Boston condo mortgage rates, you might be wondering if now's the best time to buy a home. While the financial aspects are important to consider, there are also powerful non-financial reasons it may make sense to make a move. Here are just a few of the benefits that come with homeownership.
Owning your Boston condo gives you a significant sense of accomplishment because it's a space you can customize to your heart's desire. That can bring you added happiness.
In fact, a report from the National Association of Realtors (NAR) shows making updates or remodeling your home can help you feel more at ease and comfortable in your living space. NAR measures this with a Joy Score that indicates how much happiness specific home upgrades bring. According to NAR:
"There were numerous interior projects that received a perfect Joy Score of 10: paint entire interior of home, paint one room of home, add a new home office, hardwood flooring refinish, new wood flooring, closet renovation, insulation upgrade, and attic conversion to living area."
And as a homeowner, unless there are specific homeowner's association requirements, you typically won't have to worry about the changes you can and can't make.
If you rent a Boston apartment, you may not have the same freedom. And if you do make changes as a renter, there's a good chance you'll need to revert them back at the end of your lease based on your rental agreement. That can add additional costs when you move out.
There's no denying taking care of your home is a large responsibility, but it's one you'll take pride in as a homeowner. Freddie Mac explains:
"As the homeowner, you have the freedom to adopt a pet, paint the walls any color you choose, renovate your kitchen, and more. . . . Of course, along with the freedoms of homeownership come responsibilities, such as making your monthly mortgage payments on time and maintaining your home. But as the property owner, you'll be caring for your own investment."
You're not taking care of a living space that belongs to someone else. The space is yours. As an added benefit, you may get a return on investment for any upgrades or repairs you make.
That sense of ownership and your feelings of responsibility can even extend beyond the walls of your home. Your home also gives you a stake in your community. Because the average homeowner stays in their home for longer than just a few years, that can lead to having a stronger connection to your local area. NAR notes how that can benefit you:
"Living in one place for a longer amount of time creates an obvious sense of community pride, which may lead to more investment in said community."
If you're looking to put down roots, homeownership can help fuel a sense of connection to the area and those around you.
If you're planning to buy a home this year, there are incredible benefits waiting for you at the end of your journey, including the ability to customize your home, the sense of achievement homeownership brings, and a greater connection to your community. Let's connect to discuss everything homeownership has to offer.
_____________________________________________________________________________________________________________________________________________
Today's higher mortgage rates, inflationary pressures, and concerns about a potential recession have some people questioning: should I still buy a home this year? While it's true this year has unique challenges for homebuyers, it's important to think about the long-term benefits of homeownership when making your decision.
Consider this: if you know people who bought a home 5, 10, or even 30 years ago, you're probably going to have a hard time finding someone who regrets their decision. Why is that? The reason is tied to how home values grow with time and how, by extension, that grows your own wealth. That may be why, in a recent Fannie Mae survey, 70% of respondents say they believe buying a home is a safe investment.
Here's a look at how just the home price appreciation piece can really add up over the years.
Home Price Growth over Time
The map below uses data from the Federal Housing Finance Agency (FHFA) to show just how noteworthy price gains have been over the last five years. And, since home prices vary by area, the map is broken out regionally to help convey larger market trends.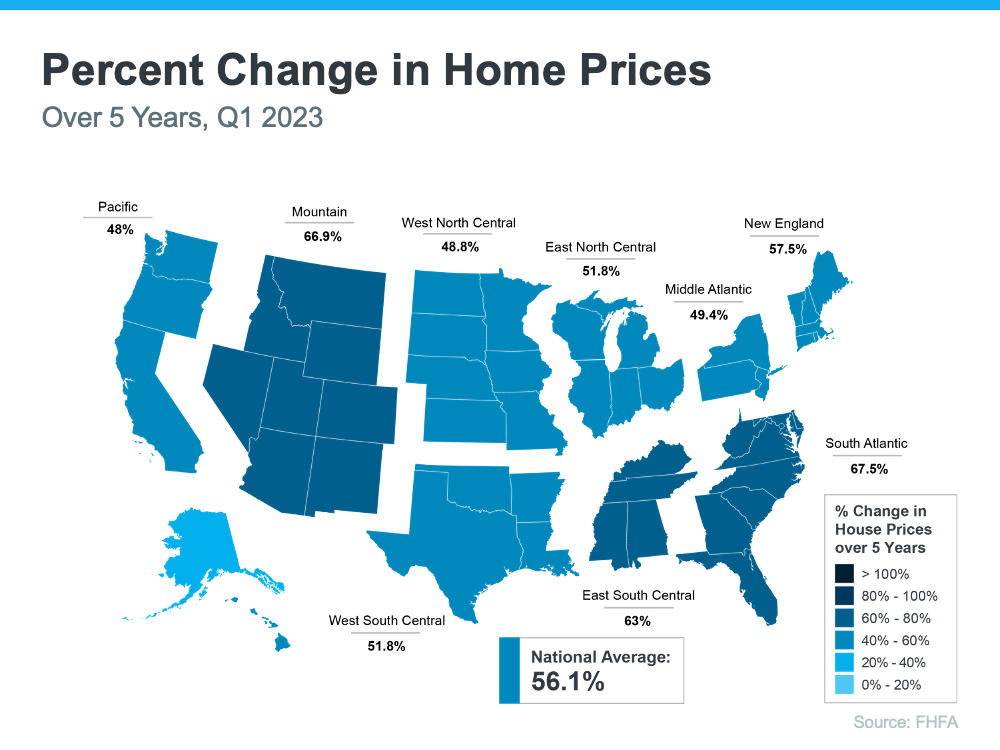 If you look at the percent change in home prices, you can see home prices grew on average by just over 56% nationwide over a five-year period.
Some regions are slightly above or below that average, but overall, home prices gained solid ground in a short time. And if you expand that time frame even more, the benefit of homeownership and the drastic gains homeowners made over the years become even clearer (see map below):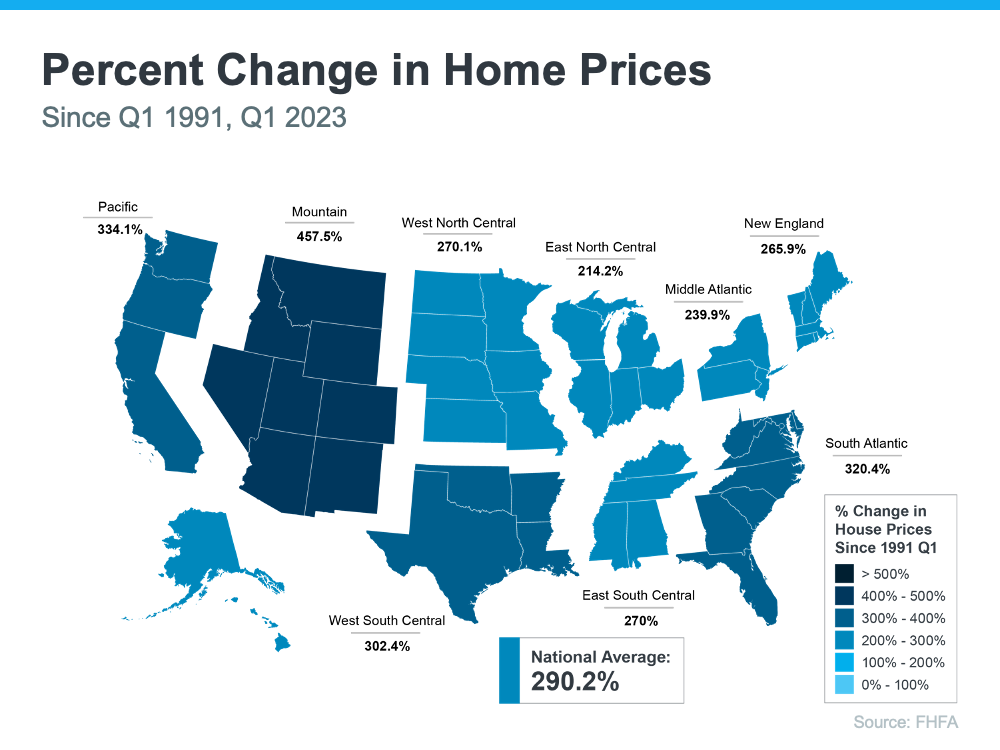 The second map shows, nationwide, home prices appreciated by an average of over 290% over a roughly 30-year span.
 This nationwide average tells you the typical homeowner who bought a house 30 years ago saw their home almost triple in value over that time. That's a key factor in why so many homeowners who bought their homes years ago are still happy with their decision.
And while you may have heard talk in late 2022 that home prices would crash, it didn't happen. Even though home prices have moderated from the record peak we saw during the 'unicorn' years, prices are already rebounding in many areas today. That means, in most markets, your home should grow in value over the next year.
The alternative to buying a home is renting, and rental prices have been climbing for decades. So why rent and deal with annual lease hikes for no long-term financial benefit? Instead, consider buying a home.
If you're questioning if it still makes sense to buy a home today, remember the incredible long-term benefits of homeownership. If you're ready to start the conversation, let's connect today.