Loading...
Many of today's homeowners bought or refinanced their homes during the pandemic when mortgage rates were at history-making lows. Since rates doubled in 2022, some of those homeowners put their plans to move on hold, not wanting to lose the low mortgage rate they have on their current house. And while today's rates have started coming down from last year's peak, they're still higher than they were a couple of years ago.
Today, 93% of outstanding mortgages have a rate at or below 6%. That means a strong majority of homeowners with mortgages have a rate below what they'd get if they moved right now. But if you're a homeowner in that position, remember that mortgage rates aren't the only thing to consider when making a move. Your mortgage rate is important, but there are plenty of reasons you may still need or want to move. RealTrends explains:
"Sellers who don't have to move won't be moving. The most common sellers will be: Homeowners downsizing . . . people moving to get more space, [households] looking for better schools…etc."
So, if you're on the fence about selling your house, consider the other reasons homeowners are choosing to make a move. A recent report from the National Association of Realtors (NAR) breaks down why homeowners have decided to sell over the past year: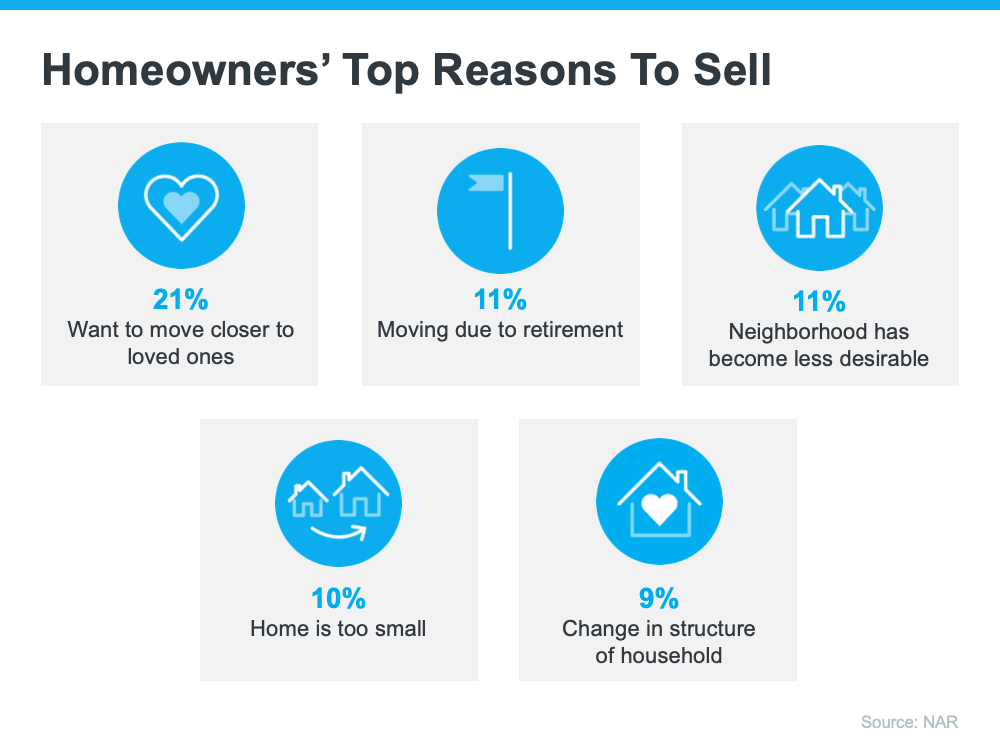 As the visual shows, the most commonly cited reasons for selling were the desire to move closer to loved ones, followed by moving due to retirement, and their neighborhood becoming less desirable. Additionally, the need for more space factored in, as did a change in household structure.
If you also find yourself wanting a change in location or needing space your current house just can't provide, it may be time to sell.
What you want and need in a home can be reason enough to move. To find out what's right for you, work with a trusted real estate professional who will offer advice and expert guidance throughout the process. They'll be able to lay out all your options – giving you what you need to make a confident decision.
Beacon Hill Condos and the Bottom Line
When deciding whether or not to move, you have a lot to consider. There are plenty of non-financial reasons to factor in. Let's connect today to weigh the benefits of selling your house.
There's no denying the housing market is undergoing a shift this season, and that may leave you with some questions about whether it still makes sense to sell your Boston Beacon Hill condo. Here are three of the top questions you may be asking – and the data that helps answer them – so you can make a confident decision.
Even though the supply of homes for sale has increased in 2022, inventory is still low overall. That means it's still a sellers' market. The graph below helps put the inventory growth into perspective. Using data from the National Association of Realtors (NAR), it shows just how far off we are from flipping to a buyers' market:
While buyers have regained some negotiation power as inventory has grown, you haven't missed your window to sell. Your house could still stand out since inventory is low, especially if you list now while other sellers hold off until after the holiday rush and the start of the new year.
If you're thinking of selling your Boston condo but are hesitant because you're worried buyer demand has disappeared in the face of higher mortgage rates, know that isn't the case for everyone. While demand has eased this year, millennials are still looking for homes. As an article in Forbes explains:
"At about 80 million strong, millennials currently make up the largest share of homebuyers (43%) in the U.S., according to a recent National Association of Realtors (NAR) report. Simply due to their numbers and eagerness to become homeowners, this cohort is quite literally shaping the next frontier of the homebuying process. Once known as the 'rent generation,' millennials have proven to be savvy buyers who are quite nimble in their quest to own real estate. In fact, I don't think it's a stretch to say they are the key to the overall health and stability of the current housing industry."
While the millennial generation has been dubbed the renter generation, that namesake may not be appropriate anymore. Millennials, the largest generation, are actually a significant driving force for buyer demand in the housing market today. If you're wondering if buyers are still out there, know that there are still people who are searching for a home to buy today. And your house may be exactly what they're looking for.
If current market conditions have you worried about how you'll afford your next move, consider this: you may have more equity in your current home than you realize.
Homeowners have gained significant equity over the past few years and that equity can make a big difference in the affordability equation, even as mortgage rates climb. According to Mark Fleming, Chief Economist at First American:
". . . homeowners, in aggregate, have historically high levels of home equity. For some of those equity-rich homeowners, that means moving and taking on a higher mortgage rate isn't a huge deal—especially if they are moving to a more affordable city." 
If you're thinking about selling your Boston Beacon Hill condo this season, let's connect so you have the expert insights you need to make the best possible move today.
Many of our Beacon Hill condo owners have been contacting us recently and exploring the possibility of selling their home. They are increasingly seeing their neighbors sell for full list price, or even above the list price, which are already above market value. So what is the cause of this recent upswing in the market?
Low Prices:
After the downturn in the economy back in 2008-09, we were left with a home sales market full of foreclosures, short-sales, and bank owned properties. These homes were then being resold by the banks to all-cash investors for slimmed down prices, causing a deflation of value in the other homes in the area. It was not uncommon to see home values drop 10% between 2008-2011, due to neighboring homes being let go. In order to shoot life back into the housing market, we saw the government dramatically…
Low Interest Rates: 
The record low interest rates are encouraging a lot of renters to jump into the buying pool, and even encouraging current homeowners to buy second homes as investments. The increase in the available buyers, mixed with the low inventory, causes multiple offer situations for homes that are priced correctly. This competition is one of the leading factors that we are attributing to the "over-list prices" that we have been seeing with Beacon Hill condos recently. Speaking of low inventory…
Low Inventory:
Thanks to the over abundance of first time home buyers in the market over the past few years, and the all-cash investors there to clean up on any of the short sells and bank owned properties, the available inventory has been slimmed down to record lows. Now we have a situation where a large number of buyers are competing with each other over a very slim inventory pool. When a new property hits the market, it is not uncommon to see multiple offers within the first week, all trying to outdo each other. This drives prices up above the "market value" and then becomes the new "comp" for the next home to list at.
Conclusion
This "perfect storm" of events has shifted the Beacon Hill condo market into a full fledged "sellers market." Not that it is a bad time to buy though! With interest rates still low, and prices beginning to rise dramatically, it is almost an IDEAL time to buy, before the prices get too high and you have to wait another 3-5 years for a return to normalcy. If you're interested selling your Downtown Beacon Hill condo, please contact us for a complimentary market review. We would love to provide you with a complimentary home evaluation and list your home for you.
View Boston Boston Beacon Hill condos for sale.

Sorry we are experiencing system issues. Please try again.

Newest Beacon Hill Condos for Sale

Sorry we are experiencing system issues. Please try again.

Buying a Beacon Hill condo for sale
Click here back to Boston Real Estate Home Search
Ford Realty – Boston Real Estate Google Reviews 2019 and 2020
Click here back to Boston Real Estate Home Search 

Sorry we are experiencing system issues. Please try again.

Beacon Hill Apartments for Rent

Sorry we are experiencing system issues. Please try again.

Click to view The Most Recent Beacon Hill Condo Sales Data Reports
Optic/Map Beacon Hill Condo Search
Boston condos for sale
Back Bay Boston condos for sale  Beacon Hill  Boston condos for sale Charlestown Boston condos for sale Navy Yard Charlestown  Boston condos Dorchester Boston condos for sale Fenway  Boston condos for sale Jamaica Plain Boston condos for sale Leather District Boston condos for sale Midtown/Downtown  Boston condos for sale Seaport District Boston condos for sale South Boston condos for sale South End Boston condos for sale  Waterfront condos for sale  North End condos for sale West End  condos for sale East Boston condos for sale
Boston condos for sale near Downtown/Midtown Boston
Back Bay Boston condos  Beacon Hill  Boston condos Charlestown Boston condos Navy Yard Charlestown  Boston condos Dorchester Boston condos Fenway  Boston condos Jamaica Plain Boston condos Leather District Boston condos Midtown  Boston condos Seaport District Boston condos South Boston new condos South End new condos  Waterfront new condos  North End  new condos  West End new condos East Boston condos
Condos around the Midtown area to rent:
Back Bay area condos for rent Beacon Hill area condos for rent Charlestown area condos for rent Navy Yard Charlestown area condos for rent Dorchester area condos for rent Fenway area condos for rent Jamaica Plain area condos for rent Leather District area condos for rent Midtown area condos for rent Seaport District area condos for rent South Boston area condos for rent South End area condos for rent Waterfront area condos for rent North End area condos for rent West End area condos for rent East Boston area condos for rent