Loading...
Will first-time homebuyers come back to market? The answer is a resounding YES! First-time homebuyers now make up 45% of current homebuyers — up 37% year over year — according to new data from Zillow. The numbers represent a rebound from the lows of the pandemic when affordability challenges limited millennial and Gen Z shoppers.
With the pandemic's high prices and tough competition, younger shoppers lost out to older — often all-cash — buyers. A past survey found that 45% of Gen Z and 38% of millennial buyers lost out to all-cash buyers at least once, compared to 30% of all buyers. But now, Zillow finds, repeat buyers are pulling back due to rising mortgage interest rates. The result is a rebalanced market that's working in favor of first-time buyers.
"First-time buyers now appear to be making relative gains as high mortgage interest rates disproportionately encourage current homeowners to stay put," Zillow Population Scientist Manny Garcia said in the report. The slowed flow of homes onto the market seems to confirm this. And though rising mortgage rates affect all buyers, Garcia said, first-time buyers are likely less deterred since rents are also so high.
However, these many first-time Boston condo buyers still face stiff competition — from one another. Starter homes will be a hot commodity in this shifting market.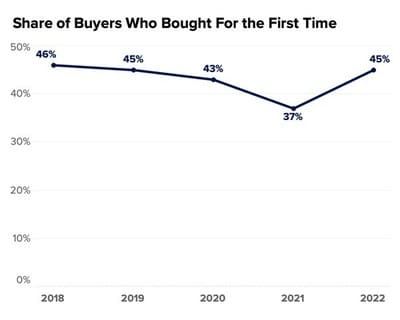 I work with many first-time homebuyers. Between January and September, I noticed a precipitous drop in my client base, as many of these buyers decided to wait out the market, first because of high home prices, and second because of uncertainty over the direction of the real estate market.
Starting in September, however, things began moving back toward a more normal mix of clients.
One of the big questions for next year is, will first-time homebuyers come back, or wait another year?

The share of first-time home buyers dropped earlier this year to its lowest level since 1987, according to the National Association of Realtors. First-time home buyers now account for 36% of home purchases, according to a study released last month by the Realtors group, down from 40% in the three previous years.

First-time buyers play a key role in the housing market. They provide a source of new demand for homes, and they also make it possible for owners of entry-level properties to trade up, creating a ripple effect that affects higher-priced sectors of the market. Declining affordability has made it difficult for first-time buyers to buy homes in many parts of the country, an important factor in the recent housing downturn.
… 45% of first-time buyers bought their home with no money down, according to the recent National Association of Realtors survey, up from 43% a year earlier.
Some analysts think prices need to come down more, and incomes increase, to bring parity.
Bank of America analyst Daniel Oppenheim says that, even with the recent price declines, he estimates that it would take a further 7% fall in home prices, combined with a 4% annual increase in nominal incomes, to bring affordability back in line with average levels over the past decade by 2008 — if interest rates remain stable.
Complete story: First-Time Home Buyers Look at Houses Again – Real Estate Journal
Contact me to find to set up an appointment to start your Boston condo buying process.
SEARCH BOSTON CONDOS FOR SALE
For more information please contact one of our on-call agents at 617-595-3712.
Updated: January 2018