Loading...
Let's take a look at how Boston condo interest rates are doing in the last 24 hrs.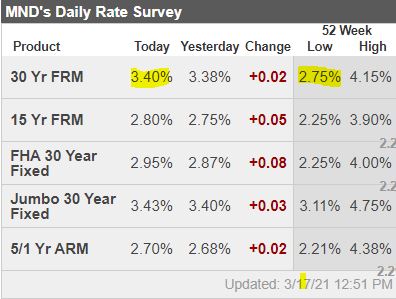 One of these days, Boston real estate rates are going to matter.
Today is probably not that day.
But when we get close to 4%, then Boston condo buyers are going to get nervous and I expect sellers to do a little something for them, price-wise.
The world of Boston condo mortgage rates is indeed complicated. And the sudden rise and the fall in the rate of interest in mortgage loans have added more complexity to it. In fact, it is because of an extremely complicated series of relationships between several factors that determine the mortgage rate. The Fed, the market, the interbank rate of interest, and of course, people's willingness to spend money, determine the rate of interest on a mortgage loan.
Before delving into what determines mortgage rates, you need to understand the Boston condo market itself. First, keep in mind the point of view of both the lenders and the Boston condo buyers, mortgages are nothing but investments. If you are a Boston Seaport condo buyer, you view mortgages as investments. Again, from a lender's point of view also, mortgages are investments. Suppose a lender provides a mortgage loan of $1M on your Boston Seaport condo at an annual simple rate of interest of 5% to a home buyer. Here the lender will receive an annual payment of $50,000.
Now, as long as there is only one lender in the marketplace, he/she can charge a high rate of interest. However, if there are many lenders in the market, offering mortgage loans, the rate of interest associated with mortgage loans will come down because of increased competition. If the rate of interest on mortgage loans goes to very low levels, buyers will look for other forms of investments where chances are more to obtain a better rate of interest.
Again, suppose a lender has a certain amount of money. Now as the number of Boston downtown condo consumers who want to borrow the money rises, the lender can charge a comparatively higher rate of interest. In other words, more Boston Midtown condo consumers imply a higher rate of interest. Apart from these, there are many other factors that influence the mortgage rates which include the expected yield by the investors, the number of investors in the market, the number of dwelling buyers in the market, and many other things.
Apart from these, of course, there are banks, lending institutions, and the FED which are responsible for influencing the rate of interest on Boston condo mortgage loans. It is not the case that banks and lending institutions sit together and do all the mathematical works themselves to calculate the interest rates on mortgage loans. Many times, it has been seen that mortgage rates are pegged to some other rates. One such index is the interest rate associated with US Treasury bonds. Sometimes, the mortgage rates are kept slightly higher than the rate of interest on mortgage loans. Since the US Treasury bonds are secured whereas there are chances of default in the case of mortgage loans, generally the rate of interest associated with mortgage loans is higher than the rate of interest on US Treasury bonds.
Related Links –
What credit score do I need to have to buy a Boston condo for sale?
What's the difference between a pre-qualified letter and a commitment letter?
How much of a downpayment do I need to buy a Boston condo for sale?

Sorry we are experiencing system issues. Please try again.